Newly Found Species on World's Large Islands Already at Risk
GLAND, Switzerland, June 27, 2011 (ENS) – At least 1,060 new species were discovered on the island of New Guinea from 1998 to 2008, but unsustainable logging and plantation agriculture are putting many of these creatures at risk, finds a new study by the global conservation organization WWF.
On another of the world's large islands, Madagascar off Africa's southeast coast, WWF has produced a separate report documenting the 615 new species that scientists discovered during the decade from 1999 to 2010.
New Guinea is the largest tropical island on Earth and is divided between the countries of Papua New Guinea in the east and Indonesia in the west. Here, the third largest rainforest in the world shelters about eight percent of the world's 250,000 species. More than two-thirds of them are unique to New Guinea and found nowhere else on Earth.
About the size of France, Madagascar is the fourth largest island in the world. This island is home to five percent of the world's plant and animal species, more than 70 percent found nowhere else on Earth.
Madagascar: "Treasure Island"
Scientists exploring Madagascar during the past decade have discovered new 41 mammals, including 28 new lemur species.
Among them are new species of mouse lemurs, the world's tiniest primates. In 1992 there were only two known mouse lemur species. "This number has since jumped to 15 thanks to the dedication of scientists with at least nine discovered in the last decade," WWF says in its report, "Treasure Island: New biodiversity on Madagascar (1999-2010)."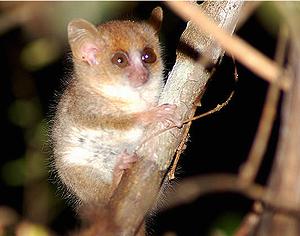 Berthe's mouse lemur, Microcebus berthae, is the world's smallest primate. (Photo by Louise Jaspar courtesy WWF Madagascar)
The report describes Berthe's mouse lemur, Microcebus berthae, discovered in 2000, the smallest of the mouse lemurs and the smallest primate in the world, found in the Kirindy Mitea National Park in western Madagascar.
The new finds also include 17 fish, 61 reptiles, 69 amphibians, 42 invertebrates and 385 new kinds of plants.
An exceptionally-colored new snake species was discovered in 2010 at the western side of the Makira plateau, within the newly created Makira National Park in the northeast of Madagascar. The snake Liophidium pattoni has a black upper side with four pink-red horizontal stripes, fading into blue grey, and a bright yellow underbelly.
Two others were discovered in Masoala National Park, a UNESCO World Heritage Site.
Yet this species is already at risk as the protected rainforests where it was found in have been recently fragmented due to "an upsurge in illegal logging for precious rosewood destined for markets in China," the WWF report states.
Like New Guinea, the habitats of Madagascar continue to face ever-growing threats, including unsustainable resource extraction including small-scale, and widespread clearance of habitats, primarily for firewood and charcoal production. Secondary threats are caused by subsistence agriculture, livestock grazing, and invasive species, the WWF reports.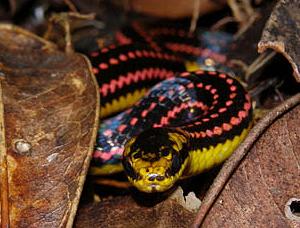 Liophidium pattoni, a newly found snake in Madagascar (Photo by Sebastian Gehring courtesy WWF Madagascar)
Analysis of aerial photographs indicates that forest cover decreased by almost 40 percent from the 1950s to about 2000, with a reduction in "core forest" of almost 80 percent.
"This forest destruction and degradation threaten thousands of species with extinction," WWF says in the report, which says Madagascar has already lost 90 percent of its original forest cover.
As a result, during the rainy season WWF says Madagascar "seems to be bleeding" as tons of soil are washed away by streams and rivers from highlands eroding as a result of deforestation. "The sediments then smother the sensitive reefs of the Indian Ocean and the Mozambique Channel."
For the unique species of Madagascar, loss of vital habitat is "a disaster" and the "increased access to species has also exacerbated the international trade in Madagascar's wildlife," says WWF, which has been doing conservation work on the island for 47 years.
Rosewood, tortoises, chameleons, geckos and snakes are the most targeted by traffickers. "Since 1995, only four Madagascar chameleon species are permitted to be exported from Madagascar and this moratorium is still in place today," says the WWF report. "Despite this, smugglers continue to flout the law."
The WWF reports that despite Madagascar's rich biodiversity, it is one of the world's poorest nations. "Poverty and the environment are inextricably linked, with the environmental degradation in Madagascar threatening the livelihoods of Madagascar's 20 million inhabitants."
New Guinea: "The Final Frontier"
In New Guinea, 12 mammals, including a unique snub-fin dolphin, were identified on the tropical island during a parallel decade, according to the WWF report, "Final Frontier: Newly Discovered species of New Guinea (1998 – 2008)."
The snub-fin dolphin, Orcaella heinsohni, was once thought to be a member of the Irrawaddy species of dolphin. But in the waters south of New Guinea in 2005 researchers found that snub-fins have different coloration, skull, fin and flipper measurements. That makes them the first new dolphin species recorded for at least 30 years.
Scientists believe these dolphins live in protected, shallow, coastal waters adjacent to river and creek mouths in the coastal zones of Australia and Papua New Guinea.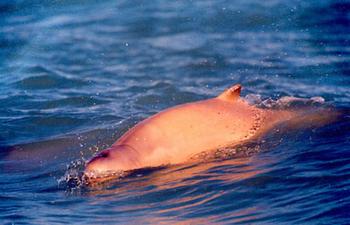 The snub-fin dolphin, Orcaella heinsohni, is the first new dolphin species recorded for 30 years.
Scientists discovered 71 new fish, among them an extremely rare 2.5 meter-long river shark.
Two new birds, 43 reptiles and 134 amphibians as well as 580 invertebrates new to science were also found.
Three new monitor lizards were discovered on tiny islands off the Vogelkop Peninsula of Papua in Indonesia. Varanus macraei, found on the island of Batanta and described in 2001, is "one of the most spectacular reptile discoveries anywhere," the WWF report states. Growing up to a meter (39 inches) in length, this species is black with a pattern of turquoise and blue.
Scientists also identified 218 new kinds of plants, nearly 100 of which are orchids.
Dr. Neil Stronach, WWF Western Melanesia's Program representative, said, "This report shows that New Guinea's forests and rivers are among the richest and most biodiverse in the world. But it also shows us that unchecked human demand can push even the wealthiest environments to bankruptcy."
New Guinea still has Asia's most pristine rivers and wetlands. Its surrounding reefs, in the heart of the Coral Triangle, have the world's highest concentration of coral and reef fish.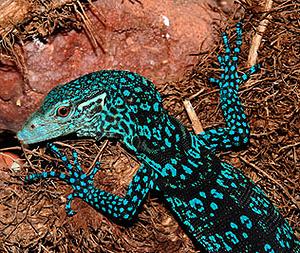 Monitor lizard Varanus macraei found in New Guinea (Photo by Lutz Obelgonner courtesy WWF)
"If you look at New Guinea in terms of biological diversity, it is much more like a continent than an island," says Dr. Stronach. "Scientists found an average of two new species each week from 1998 to 2008, nearly unheard of in this day and age."
But New Guinea's forests are being logged, both legally and illegally, and are also being cleared for palm oil plantations
Dr. Eric Verheij, conservation director, WWF Western Melanesia, said, "Despite its remote location, New Guinea's natural habitats are being lost at an alarming rate. The island's forests are facing serious threats including logging, mining, wildlife trade and conversion to agriculture, particularly oil palm."
Large forest areas on the island are being cleared for oil palm monocultures, destroying critical habitat for many endangered species. The forests are usually cleared by burning, which releases huge amounts of greenhouse gases into the atmosphere and accelerates climate change, WWF points out.
However, many oil palm producers in New Guinea and around the world are pursuing certification through the Roundtable on Sustainable Palm Oil, which WWF calls "the world's most credible sustainable palm oil initiative."
Certified Sustainable Palm Oil guarantees that social and environmental safeguards have been met during production and that high conservation value forests have not been cleared to produce the valuable edible oil, which is also used to make biodiesel fuel.
Based on a third WWF report, "Living Forests," more than 230 million hectares of forest will disappear around the world by 2050 if no action is taken. The report proposes that policymakers and businesses unite around a goal of Zero Net Deforestation and Degradation (ZNDD) by 2020 as a global benchmark to avoid dangerous climate change and curb biodiversity loss.
"As a region with high rates of poverty, it is absolutely essential that New Guinea's precious reefs, rainforests, and wetlands are not plundered but managed sustainably for future generations," says Dr. Susanne Schmitt, New Guinea Programme manager at WWF-UK. "Environmental protection and economic development must go together to ensure the survival of New Guinea's unique species and natural habitats."
Copyright Environment News Service,ENS, 2011. All rights reserved.