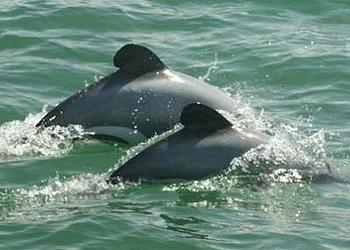 WELLINGTON, New Zealand, November 26, 2013 (ENS) – The New Zealand government Monday announced protections for Maui's dolphins but the Green Party warned that these measures will not stop their slide into extinction. Just 55 adult Maui's dolphins still exist. Found only in New Zealand waters and classed as Critically Endangered, the world's smallest and rarest dolphin species is barely clinging to survival.
"New Zealanders who love and want to protect our endangered Maui's dolphins will be dismayed at the inadequate protections the government announced today," said Green Party oceans spokesperson Gareth Hughes.
"The National Government is recklessly risking the extinction of the Maui's dolphin," Hughes said. "The government's measures will still allow deadly fishing methods to be used in areas of Maui's dolphin habitat."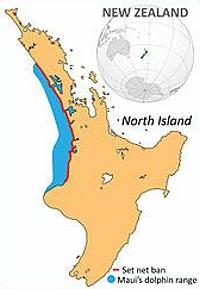 The National Government announced it will make permanent the interim set net protection measures put in place in September. The measures regulate fishing nets along the Taranaki coast, a stretch of the North Island's west coast.
In addition, the government will ban the use of set nets from between two and seven nautical miles from the coast between Pariokariwa Point and the Waiwhakaiho River, also on the Taranaki coast.
"Our greatest concern is for the Critically Endangered Maui's dolphin," said Conservation Minister Dr. Nick Smith. "The greatest threat to the Maui's dolphin is set-netting, with two confirmed and three likely deaths since 2000."
"I am proceeding with my September proposal to extend the set net fishing ban by 350 square kilometers from Pariokariwa Point and Waiwhakaiho River in Taranaki and between two and seven nautical miles offshore," Smith said.
"Ninety-five percent of the threat to Maui's dolphin is from fishing, but the new plan also includes additional non-fishing protections," he said.
A mandatory code of conduct will apply to any seismic survey work in all New Zealand fisheries waters. Another code of conduct will be developed for the inshore boat racing industry to limit the risk of vessel strikes, Smith said.
Primary Industries Minister Nathan Guy said his ministry will fund $400,000 per year for the ongoing cost of independent observers to ensure these measures are obeyed.
"The plan also includes the establishment of a Maui's dolphin Research Advisory Group to undertake research and work with stakeholders to maintain ongoing cooperation to ensure the survival of the Maui's dolphin," Guy said.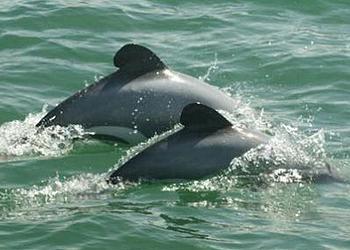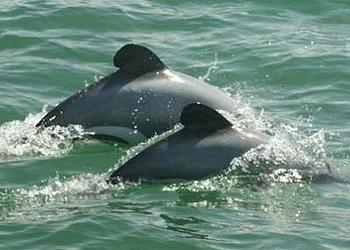 Maui's dolphin is the North Island sub-species of the Hector's dolphin, which is also covered by the government's new Threat Management Plan.
"We are hugely encouraged by the latest population estimates for Hector's dolphins on the East Coast of the South Island which has seen their estimated population increase from 1,800 to approximately 9,000," said ministers Smith and Guy on Monday.
The increase population estimates of Hector's dolphins arises from an aerial survey last summer which recorded a population range of between 6,300 and 13,100. A winter survey found between 5,200 and 10,600 Hector's dolphins.
"This positive information confirms the value of our research and will help us to make better informed decisions, said the ministers. "It also makes us more optimistic that we can ensure these amazing creatures survive for future generations."
But the Greens are not persuaded that the new measures will safeguard dolphins. "The government is still allowing the use of deadly trawl nets and set nets within parts of the West Coast North Island marine mammal sanctuary where dolphins could swim," said Hughes.
"The government should listen to the scientific consensus that gillnet and trawl fisheries need to be closed in all areas where Maui's dolphins live, out to the 100 metre depth contour," he said. "We can't afford to kill even one more Maui's dolphin."
The International Whaling Commission's 2012 Scientific Committee, the International Union for the Conservation of Nature, and the Society for Marine Mammology, with its 2,000 scientists, have called for all areas where these dolphins are found to be closed to gillnets and trawl nets out to the 100 metre depth contour.
Another threat to the Maui's dolphins comes as Texas oil giant Anadarko begins exploratory drilling in the Taranaki and Canterbury basins over the next few months.
A deep-sea oil spill could devastate some of New Zealand's favorite beaches, with the effects stretching as far as the International Date Line, suggests new computer modeling commissioned by Greenpeace New Zealand.
Greenpeace NZ asked scientists to make detailed estimates of how far an oil slick could stretch based on wind, tide and sea currents.
Dumpark ocean modeller Laurent Lebreton said, "In the North Island scenario, a deep-sea blowout will probably have dramatic consequences for the entire western coastline and harbors from Taranaki's Cape Egmont to Opononi in Northland – including Auckland's west coast beaches."
A lack of New Zealand-based equipment means it could take about 76 days to stem the flow, Greenpeace warns.
The modelling results and Greenpeace warnings have been dismissed by the government and the oil exploration industry
Copyright Environment News Service (ENS) 2013. All rights reserved.
Environment News Service (ENS) © 2013 All Rights Reserved.