New York State Funded for 325 EV Charging Stations
ALBANY, New York, June 21, 2012 (ENS) – At least 325 new electric vehicle charging stations will be installed across New York State under a new set of grants awarded by the state and the U.S. government.
"With New Yorkers facing higher prices at the pump, the state is stepping up to make owning an electric vehicle an affordable and convenient option," said New York Governor Andrew Cuomo, announcing the grants awards.
In support of the charging station installations, $4.4 million has been awarded to 10 municipalities, companies, and transport agencies. They will install the charging stations in hospitals, train stations, newspaper offices, universities and supermarkets.
"Creating an infrastructure to accommodate electric vehicles will create jobs and new economic development across the state, while reducing our carbon footprint and helping protect the environment," the governor said.
Transportation makes up about three-fourths of New York State's oil consumption, and nearly 40 percent of the state's greenhouse gas emissions.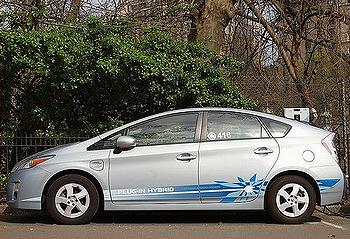 Toyota Prius Plug-In Hybrid, NYC Parks and Recreation Department, charging in Central Park, New York City (Photo by jag9889)
"Sky-high gas prices and tight budgets have left many New Yorkers struggling at the pump, but there is hope in new technology, like electric cars, that can free us from our dependence on foreign oil," said U.S. Senator Charles Schumer, who represents New York.
"By finally making electric cars more accessible to the general public, we are taking a huge step towards giving consumers another viable and affordable transportation option, and I'm proud to have fought for money for this program from the U.S. Department of Energy."
New York State's electric-vehicle charging stations are supported by a joint effort by the U.S. Department of Energy and the EV equipment demonstration program of the New York State Energy Research and Development Authority, NYSERDA.
NYSERDA funding will support charging states in the cities of Albany, Buffalo and Rochester as well as New York City.
With $200,000 of the NYSERDA funding, the Car Charging Group Inc. plans to install charging stations at up to 15 high-traffic locations in New York City, directed toward apartment dwellers who do not have parking at home. Charging stations would go in parking garages that are used primarily for monthly parking.
With NYSERDA funding worth $989,000, the New York Power Authority plans to install 124 charging stations at train and bus stations, airports and municipal parking lots across the state. Three sites would be powered in part through on-site solar power.
U.S. Representative Eliot Engel, a New York Democrat and a senior member of the House Energy and Commerce Committee, said, "America needs to end our dependence on foreign oil, and our reliance on such hostile nations as Iran and Venezuela to power our cars and homes. Alternative technologies exist, such as electric cars, and their widespread use will go a long way towards ending this reliance."
Engel co-authored the Open Fuel Standard Act that would require 50 percent of new automobiles in 2014 to operate on nonpetroleum fuels in addition to or instead of petrol-based fuels. Under that bill the percentage would rise to 95 percent in 2017.
"Between electric cars and alternative fuels, we can eventually reach a point where we no longer have to put money in the coffers of our enemies," Congressman Engel said.
With $720,000 of NYSERDA funding, the New York Port Authority plans to install seven experimental charging stations for fleet vehicles and public use that practice demand-response. This means aligning charging times with times of low power demands, which reduces charging cost and impact during times when demands on the grid are at their peak.
With $1 million from NYSERDA, EV charging station maker Coulomb Technologies will deploy 81 dual charging stations with Coulomb's ChargePoint software. The technology will demonstrate a web-based demand response program, a new low-cost installation method and a customized reservation system.
U.S. Representative Paul Tonko, who is also a former president and chief executive of NYSERDA, said, "Drivers across New York, and indeed the nation, are sick and tired of giving tax breaks to Big Oil companies while at the same time paying record prices at the pump. One competitive alternative is electric vehicles."
With NYSERDA funding worth $250,000, EV Connect Inc. plans to install EV charging stations at five Marriott hotels around New York State that make use of a unique reservation and payment system. Overnight visitors would be able to charge their vehicles while staying at a hotel.
NYSERDA also will manage a $10 million fund that offers vouchers of up to $20,000 per vehicle for the purchase of heavy-duty EV commercial trucks weighing more than 10,000 pounds.
The U.S. Energy Department will contribute a $400,000 grant to Beam Charging so the company can install 28 charging stations, each one in a separate public parking garage around Manhattan, for the purpose of gathering data to determine how well such charging stations are used.
Copyright Environment News Service (ENS) 2012. All rights reserved.