New York Moves to Classify and Control Invasive Species
ALBANY, New York, April 14, 2010 (ENS) – Zebra mussels, Sirex wood wasps and Eurasian milfoil, snakehead fish and giant hogweed – these are among the non-native species invading New York state. Now state officials are proposing a system that could help control invasive species, one of the state's fastest growing environmental threats.
For the first time, the state of New York would classify non-native plants and animals to help prevent the spread of these invasives through waterways, forests and farmlands. The new proposal comes from the state Invasive Species Council, a group of nine state agencies co-led by the Department of Environmental Conservation and the Department of Agriculture and Markets.
The council has released for public comment a draft report, "A Regulatory System for Non-Native Species," that calls for a multi-pronged approach. The proposed four-tier regulatory system, with penalties for violations, is intended to prevent the importation and/or release of non-native animal and plant species.
"Invasive species have a devastating impact, not only on the environment but also the economy," said Pete Grannis, who heads the state Department of Environmental Conservation. "They have wiped out certain tree species, hurt recreational and commercial fishing, and tainted water supplies."
"The best way to prevent their spread is to focus on the many pathways by which plants and animals are moved around the globe. The system the council is proposing strikes the right balance of minimizing the major threats to our ecology and economy while allowing for the careful use of plants and animals that pose lower risks," Grannis said.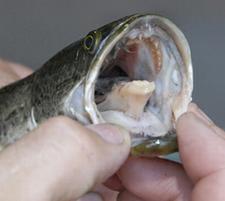 Invasive snakehead fish, Channa argus, native to China and Russia, threaten New York's native fishes. (Photo courtesy DEC)
The council is proposing a new assessment system for invasive species that would allow the state to categorize them as "prohibited," "regulated" or "unregulated" to help restrict movement of potentially harmful plants and animals.
State Agriculture Commissioner Patrick Hooker says that in recent years "significant progress" has been made in restricting non-native plant and animal species that threaten the state's economic and environmental sustainability, but more needs to be done.
"The process we have put forth for comment evaluates various invasive species and considers the level of harm and/or benefit that they offer," said Hooker. "New York needs to ensure that harmful non-native species are not purposefully introduced as pets, nursery stock, food or other uses."
Stakeholders from state and federal agencies, scientists, conservationists, farmers, pet store owners, nursery and landscape specialists collaborated in drafting the proposal, which has been in the works for the past two years.
Landowners would have no obligation to remove invasive species that spread on to their lands through no fault of their own under the proposed regulation.
The proposal recognizes the business needs of nurseries and pet businesses to be able to plan and to manage existing stocks, some of which represent years of investment. It would include "grace periods" to avoid needlessly penalizing such industries.
The proposal encourages the nursery industry to develop varieties that are sterile so that market demands could be satisfied without posing ecological and economic threats.
The council released the draft report for public comment through May 14. Following finalization, the report will be sent to Governor David Paterson and the state Legislature for possible action.
Click here to view the council's draft report.
The comment period runs through May 14, 2010. Comments can be sent via e-mail to: invasivesreport@gw.dec.state.ny.us or by writing to: NYSDEC – Office of Invasive Species Coordination, Fifth Floor, 625 Broadway, Albany, NY 12233.
Copyright Environment News Service (ENS) 2010. All rights reserved.
© 2010 – 2012, Jim Crabtree. All rights reserved.