New York Demands Fire Safety Enforcement at Indian Point Reactors
ALBANY, New York, March 28, 2011 (ENS) – The Indian Point nuclear power plant is currently in violation of fire safety regulations and is seeking more than 100 exemptions from those regulations, New York Attorney General Eric Schneiderman said Monday.
Today Schneiderman petitioned the federal Nuclear Regulatory Commission to take enforcement action against the plant for its failure to comply with fire safety regulations to ensure that the facility would be able to safely shut down during and after an emergency.
Located about 40 miles north of New York City, on the Hudson River in Buchanan, New York, more than 20 million people live, work and travel within 50 miles of Indian Point, the attorney general said.
"In the wake of Japan's crisis, our country's nuclear facilities should be bolstering their safety measures, yet Indian Point is looking to weaken its precautionary measures," Schneiderman said. "It is absolutely essential for the Nuclear Regulatory Commission to compel the facility to comply with all fire safety measures – both to secure the plant's emergency systems and ensure the safety of the tens of millions of people living in the region."
Following a lawsuit last month pressing the NRC to study the safety impact of storing spent nuclear fuel on site, today's action is the latest in a series Schneiderman has taken to promote "comprehensive, transparent and vigilant" reviews of the aging nuclear plant before decisions are made on whether to extend its operating license for another 20 years.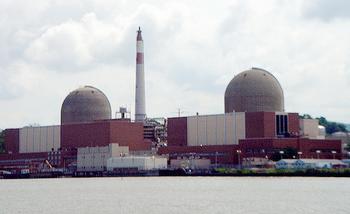 Indian Point nuclear power plant (Photo credit unknown)
"Whether or not you support nuclear power or the relicensing of Indian Point, we can all agree that the plant must be required to operate within full compliance of all safety measures," said the attorney general.
Schneiderman points out in his petition that the plant has not installed required fire detectors or fire suppression systems in various locations.
The plant has not strengthened electrical cables to withstand fire damage for one to three hours, a regulation established to provide necessary plant security in the event of an emergency, according to the petition.
Rather than installing automatic response systems, the plant would resort to employees to perform a series of complex manual actions, which the NRC has not authorized as a means of adequately protecting nuclear facilities in the event of a fire, Schneiderman said.
The NRC established fire safety standards for nuclear power plants in 1980. "Today, thirty years after the regulations became effective, the Indian Point reactors still do not comply with those fire safety regulations," the petition states.
A spokesman for Entergy, which owns and operates Indian Point, said number of fire safety violations at the power plant is only one-third the number cited by the state. Plant spokesman Jerry Nappi told Reuters, "I don't believe there's ever been a fire that affected safety systems."
Schneiderman said the NRC itself is not doing enough to ensure fire safety at Indian Point and other U.S. nuclear power plants, pointing out in his petition, "Recent reports by NRC's own Office of the Inspector General and the Government Accountability Office found significant deficiencies in the NRC's exercise of its responsibilities with respect to fire protection issues."
In June 2008, the NRC confirmed that fires account for "approximately one-half of the core damage risk at operating reactors."
Earlier this month, Schneiderman called on the NRC to consider seismic risk, which it has so far not taken into account in the relicensing process, before making a decision on whether to extend Indian Point's operating license for another 20 years.
Copyright Environment News Service (ENS) 2011. All rights reserved.