NEW YORK, New York, April 29, 2013 (ENS) – New York City is expanding its recycling program to allow for the first time the recycling of all rigid plastics, including toys, hangers, shampoo bottles, coffee cups and food containers.
"Starting today, if it's a rigid plastic – any rigid plastic – recycle it," said Mayor Michael Bloomberg on Wednesday. "There is no more worrying about confusing numbers on the bottom of the container. This means that 50,000 tons of plastics that we were sending to landfills every year will now be recycled and it will save taxpayers almost $600,000 in export costs each year."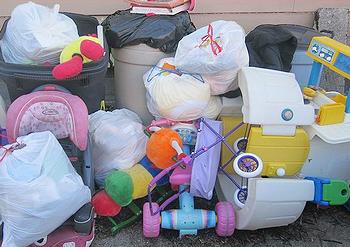 The expansion of plastics recycling is part of the city's Solid Waste Management Plan. It is made possible, in part, through a partnership with SIMS Municipal Recycling whose recycling facilities are equipped to handle the broad range of plastic recycling.
"With the expansion of plastics recycling we are making the New York City curbside program as inclusive as any in the nation," said Robert Kelman, president of SIMS North America Metals.
"This is exactly the type of advance that was envisioned when we entered into this long term collaboration with the city, and we remain hopeful that increasing the types of plastics recycled will lead to higher recycling rates for metal, paper and other recyclables," Kelman said.
SIMS will transfer plastics that the city was previously unable to recycle to facilities that can handle a wide range of plastic recycling. Because it is cheaper to recycle than to ship waste to landfills, the city will save hundreds of thousands of dollars as recyclables are diverted from landfills.
Later this year, SIMS will bring its sorting and recycling technology to New York City when they open the largest household recycling plant in North America on the Sunset Park waterfront in Brooklyn. The plant will be powered by one of the largest solar installations in New York City and will include an education center to teach children about recycling.
"New York City residents and the environment will benefit with our expanded plastics recycling program," said Sanitation Commissioner John Doherty. "With many more plastics now going into the recycling bin as opposed to the trash can, residents won't have to think twice about what can and cannot be recycled."
"Add all your rigid plastics to your metal, plastic and glass recycling bin, and we will pick it up," said Doherty. "We fully support this initiative, and look forward to expanding our growing recycling programs in the future."
It takes 70 percent less energy to make plastic from recycled plastics rather than from raw materials, so the new system is going to help New York City further reduce its carbon footprint, the officials said.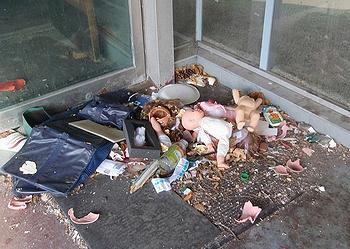 The city also will expand the organics recycling pilot project underway in public schools in Brooklyn and Manhattan to residents in the Westerleigh neighborhood of Staten Island next month, to other neighborhoods this fall and to all New York City schools over the next two years.
The food waste composting pilot project cut the amount of garbage participating schools sent to landfills by up to 38 percent.
Both programs are part of the Bloomberg Administration's effort to make recycling easier for New Yorkers. In his 2013 State of the City speech, the mayor promised an expansion of the recycling program, renewing the administration's commitment to doubling the city's recycling rate to 30 percent by 2017.
The recycling program expansion of the city's 20-year Solid Waste Management Plan and is the largest expansion of the city's recycling efforts since the late Mayor Ed Koch launched curbside recycling 25 years ago.
"Today's announcement represents the largest expansion of our city's recycling efforts in 25 years," said Deputy Mayor Cas Holloway. "We were able to take this step because of the major commitment we made to recycling as part of the City's Solid Waste Management Plan in 2006."
New Yorkers will receive mailers that describe the expansion of the recycling program and include easy-to-understand illustrations of what they can recycle and how. The city will also send decals to landlords and homeowners to replace the current labels on their recycling bins.
The new program started April 24, although the city does not begin enforcement until rules are adopted in July.
Copyright Environment News Service (ENS) 2013. All rights reserved.