New York City Awards $4.6 Million in Watershed Protection Grants
NEW YORK, New York, April 26, 2012 (ENS) – New York Mayor Michael Bloomberg and Department of Environmental Protection Commissioner Carter Strickland have awarded $4.6 million in grants to community-based green infrastructure projects to improve the water quality of New York Harbor by reducing overflows of combined sewage and stormwater.
Grants will go to plant green roofs at The New School's Gold University Center building and the flagship campus of Pratt Institute, and install a porous pavement parking lot at Bronx Zoo.
"New York City's waterways are a critical resource that we must preserve, and by investing in these impressive projects, we are committing to improving water quality and meeting our PlaNYC sustainability goals," said Mayor Bloomberg. "Through creative, cost-effective approaches, we can better manage our stormwater overflows and the City is proud to have partnerships that make these solutions a priority.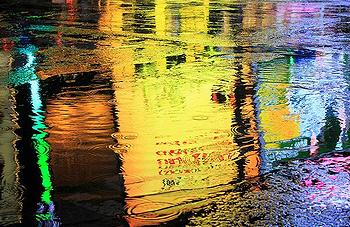 Rain in New York's Times Square, July 8, 2011 (Photo by ax3182)
New York City, like other older urban centers, is largely serviced by a combined sewer system carrying stormwater and wastewater through a single pipe. During heavy storms, the system can exceed its capacity, and must discharge a mix of stormwater and wastewater into New York Harbor.
Green roofs and rain gardens will be contructed with these grants. The Natural Resources Defense Council headquarters building, located within the East River watershed, will build a green roof system with native plantings and a plot for fruits and vegetables maintained and harvested by NRDC staff. There will be a viewing platform for visitors to see the green roof, trees, rainwater collection system, beehives, and solar panels.
In Queens, UA Local 1 Plumbers will build a green roof system that reduces the urban heat island effect and reduces stormwater runoff into the East River watershed. The project also includes a rainwater collection cistern that will reuse water for supplementary irrigation. With its location at the headquarters of the largest plumbers union in the nation, the project will serve as an educational tool for advancing green best practices, reducing the union's carbon footprint, and promoting energy conservation.
In the Bronx, the Wildlife Conservation Society's Bronx Zoo was awarded a grant for a redesign of the Asia Parking Lot to improve water quality in the Bronx River. One mile of the Bronx River flows through the center of the zoo. The project would manage stormwater runoff by including permeable pavement with drainage layers beneath to slowly disperse water to the subsurface.
"The 11 winning projects illustrate how businesses, private citizens and community organizations can come together to improve the environment for the greater good, and there's no better time than Earth Week to give these projects the green light," said Commissioner Strickland.
The awardees will provide a total of $3.3 million in matching contributions for their selected projects.
In March, the city's Department of Environmental Protection signed an agreement with the New York State Department of Environmental Conservation incorporating the NYC Green Infrastructure Plan into Clean Water Act compliance.
Under this agreement, called an amended consent order, the city will invest $187 million over the next three years and an estimated $2.4 billion in public and private funding over the next 18 years in green infrastructure technologies.
Of the $2.4 billion investment, $1.5 billion will come from public funds while $900 million is expected from new development, the Mayor's Office said in a statement.
In total, the agreement is expected to save $3.4 billion through elimination or deferral of gray infrastructure investments while still achieving equivalent water quality benefits.
By shifting from the exclusive use of gray infrastructure to green infrastructure, the city will reduce combined sewer overflows by more than 12 billion gallons per year by 2030, a 40 percent reduction.
In addition to the $3.6 million the city had already allotted for grants, an agreement with the state added an additional $1 million to the program.
As described in the amended consent order, $1 million of the total grant award will be funded through the Environmental Benefits Program and will be undertaken in connection with the settlement of an enforcement action taken by New York State and the Department of Environmental Conservation for violations of New York State law and regulations.
This year's grants mark the second round of funding awarded by the Green Infrastructure Grant Program, which last year awarded 13 projects a total of $3.6 million in funds.
Preference for grants was given to projects that would provide cost effective stormwater controls, matching funds or other contributions, and other benefits such as increased shade, decreased energy use for cooling buildings, increased awareness about stormwater management, and increased community stewardship.
The projects were selected through an interagency review committee made up of representatives from the city's departments of Transportation, Buildings, Parks and Recreations, Environmental Protection, Design and Construction, and the state Department of Environmental Conservation.
Copyright Environment News Service (ENS) 2012. All rights reserved.
© 2012, Jim Crabtree. All rights reserved.