New 'Wild Lands' Designation Established to Protect American Wilderness
DENVER, Colorado, December 23, 2010 (ENS) – Today the Obama administration restored protections for the wild public lands under the jurisdication of the Bureau of Land Management by creating a new classification known as "Wild Lands."
In Denver, Secretary of the Interior Ken Salazar signed a Secretarial Order directing the Bureau of Land Management to designate areas with wilderness characteristics as "Wild Lands" and to manage them to protect their wilderness values.
The new Wild Lands designations will be based on the input of the public and local communities through the BLM's existing land management planning process, said Secretary Salazar, who grew up farming and ranching in Colorado.
For the last seven years, the BLM, which manages 245 million acres – more land than any other federal agency – has not had a comprehensive national wilderness policy, Salazar explained.
"That is because the wilderness management guidance in the agency's handbook was revoked in 2003 as part of a controversial out-of-court settlement between then-Secretary of the Interior Gale Norton, the State of Utah, and other parties," he said.
"But the fact is," said Salazar, "Americans love the wild places where they hunt, fish, hike and get away from it all, and they expect these lands to be protected wisely on their behalf."
Salazar held the signing event at an REI store. The retailer sells outdoor equipment and clothing and will benefit from the new federal government policy, the secretary said.
"The wild backcountry here in Colorado, and across the West, is also a huge economic engine for local communities," he said. "Outfitters, guides, hotels, restaurants, and retailers like this one all have a stake in the protection of America's great outdoors. Wise stewardship isn't just the right thing to do, it's good for business and it's good for jobs."
With this secretarial order, I am directing the Bureau of Land Management, based on the input of the public and local communities through its existing land management planning process, to designate appropriate areas with wilderness characteristics under its jurisdiction as "Wild Lands" and to manage them to protect their wilderness values.
Salazar also directed the BLM to maintain a current inventory of public lands with wilderness characteristics. He said the inventory will "contribute to the agency's ability to make balanced, informed land management decisions, consistent with its multiple-use mission."
This Secretarial Order "does not lock up western lands from other uses, as I am sure some people will claim," Salazar stressed. "If an area is designated as a Wild Land through the public land management planning process, that designation can be modified later based on a new public planning process."
This policy has no effect on lands that are not under BLM's jurisdiction, nor does it change the management of existing Wilderness Study Areas pending before Congress or congressionally designated Wilderness Areas.
BLM may still develop recommendations, with public involvement, regarding possible Congressional designation of lands into the National Wilderness Preservation System.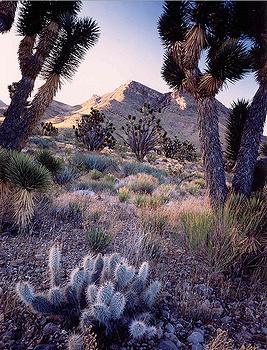 Disputed wilderness in the Beaver Dam Mountains of Washington County, Utah (Photo by Scott Smith courtesy The Wilderness Society)
"The important thing about this secretarial order is that it provides a clear policy for the management of public lands with wilderness characteristics, and it gives local communities a strong voice in that process," Salazar said.
BLM Director Bob Abbey said, "On the public lands, we oversee outdoor recreation, oil and gas development, livestock grazing, cultural and historic preservation, and – more and more – a renewable energy frontier that is springing to life under the Obama administration."
"Our goal is to strike the right balance in our management so that we sustain the health and productivity of the public lands for the use and enjoyment of present and future generations," Abbey said. "Today's secretarial order will help the BLM take a giant step toward meeting its goal of balanced stewardship."
But Utah Governor Gary Herbert says the new designation "could undermine efforts made in Utah to protect the land."
"The timing of this decision is suspect, coming the day before Christmas Eve," Governor Herbert said. "State officials were not notified of the Department's intent, nor were we offered an opportunity to discuss it with Interior officials beforehand, which strikes me as political posturing."
The Governor's Balanced Resource Council, led by Governor Herbert's environmental advisor Ted Wilson, has been working with local governments, environmental groups, concerned citizens and others on wilderness designation throughout the state, which has three million acres of wilderness study areas.
"This decision may unintentionally damage all of the good will that we have worked so hard to build between the state, local governments, the environmental community and federal officials," Governor Herbert said.
"The ironic fallout of this decision is that it could stifle our ability to resolve wilderness issues through cooperation and compromise, like we saw in Washington County and are beginning to see throughout the State," Governor Herbert said.
Wilderness was recently designated in Washington County, Utah after a lengthy effort involving residents, local government and environmental groups. Similar efforts are underway in San Juan, Emery, Piute and Beaver counties.
The governor said a Washington DC-based BLM based process of designating Wild Lands may "undercut the trust necessary to successfully conclude these tough negotiations."
The governor expressed his concerns on a phone call with Abbey today and invited the BLM director to visit Utah in January to explain the federal agency's intent for the new designation and its potential consequences.
Copyright Environment News Service (ENS) 2010. All rights reserved.