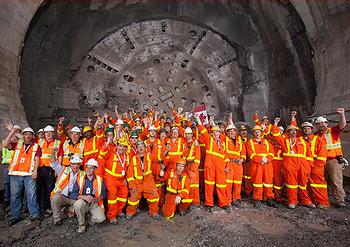 TORONTO, Ontario, Canada, April 4, 2013 (ENS) – The province of Ontario is harnessing more renewable electricity from Niagara Falls through the just-completed Niagara Tunnel Project, as part of its plan to phase out its coal-fired power plants by the end of 2014.
The new tunnel, which is more than 10 kilometers (six miles) in length, carries water from the Niagara River to the Sir Adam Beck Generating Station. This will supply Ontario with enough electricity to power the homes and businesses of a city the size of Barrie, a central Ontario city of 136,000.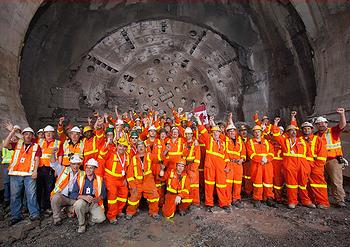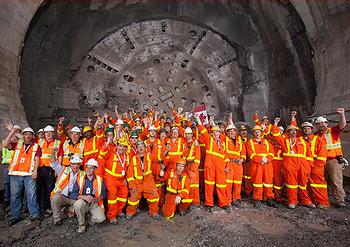 Built at a cost of C$1.5 billion, the tunnel will annually produce more power, on average, than Ontario cities the size of Niagara Falls or Kingston use every year.
The largest hydroelectric project to come into service in Ontario for the past 50 years, the Niagara Tunnel Project took more than seven years to build. While under construction, it was the largest renewable energy project of its type anywhere in the world.
The sluice gate at the exit of the tunnel was opened March 22 in the presence of the principal stakeholders, Ontario Power Generation, engineering consultants Hatch Mott MacDonald and the Austrian construction group Strabag, one of Europe's largest construction companies, which built the tunnel.
As high as a four-story building, the tunnel will propel water at a rate of 500 cubic meters per second, fast enough to fill an Olympic-sized swimming pool in seconds.
"This project is a source of pride as an engineering feat and as a practical solution for meeting Ontario's energy needs through clean sources," said Bob Chiarelli, Minister of Energy. "The completion of this project will provide Ontario with a source of clean energy for the next 100 years."
Tom Mitchell, president and CEO of Ontario Power Generation, said, "Congratulations to our contractor Strabag and the hundreds of men and women who worked with extremely difficult rock conditions to safely complete this engineering marvel. This was a large, complex project that will serve Ontario for more than 100 years."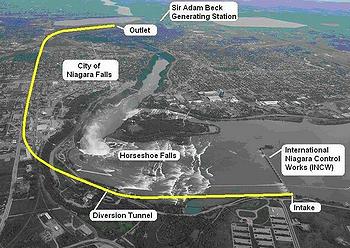 The government of Kathleen Wynne, Ontario's first female premier, took office in February. In her first policy speech, Wynne said renewable energy is in and coal-fired power generation is out.
Her government will "work to end coal-fired energy generation, the single largest climate change initiative currently underway in North America," said Premier Wynne.
In addition to hydropower, nuclear generation is the backbone of Ontario's energy system.
Ontario Power Generation, OPG, operates 65 hydroelectric, five thermal and two nuclear stations producing more than 19,000 megawatts of electricity.
OPG is making the transition to a lower carbon future with the phasing out of its four coal-fired thermal electricity generating stations by the end of 2014.
Four coal-fired generators at Nanticoke and two generators at Lambton – both in southwestern Ontario – have been retired. Nanticoke will shut down its remaining units by the end of this year, and Lambton will shut down its remaining units by the end of September.
OPG has been exploring options to convert some of its coal-fueled electricity generating stations to natural gas and/or biomass from forest and field.
The small Atikokan Generating Station in northwestern Ontario, now fueled with low-sulphur lignite coal from Western Canada, is expected to covert to biomass sometime next year at a cost of C$170 million.
On March 14, the Canadian Nuclear Safety Commission issued its approval for the refurbishment of the four reactors at OPG's Darlington Nuclear Generating Station.
A refurbished Darlington station will provide 3,500 megawatts of electricity for the people of Ontario for an additional 25 to 30 years.
Copyright Environment News Service (ENS) 2013. All rights reserved.