JAKARTA, Indonesia, December 18, 2012 (ENS) – Indonesia has identified the bird flu virus that has killed hundreds of thousands of ducks over the past few weeks as a virulent type which is new to the country.
More than 300,000 ducks in several provinces on the island of Java have died since November, a poultry breeders' association reported to the Indonesian Agriculture Ministry.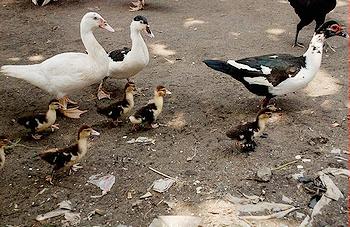 In a letter to local government offices and the World Health Organization, the ministry's veterinary chief Syukur Iwantoro explains that the newly identified viral strain of avian A/(H5N1), called a "clade," is "very different to the avian influenza found before" in Indonesia.
"We found a highly pathogenic avian influenza sub-type H5N1 with clade 2.3.2.," Iwantoro wrote.
Iwantoro recommended further research into whether the virus previously found in the country has mutated, or whether the new strain originated overseas. The new strain may have been introduced from outside Indonesia by migratory wild ducks or by poultry imports from other countries.
Now, the new viral strain has claimed its first human victim. A four-year-old boy died from West Java died from bird flu on December 6 at the the Tangerang District Hospital about 25 km west of Jakarta.
Investigations conducted by the hospital and other agencies involved found a possible risk factor of direct contact with poultry carcasses, "including possible exposure to entog (ducks) in the neighborhood," said a statement December 12 from three agencies – the Ministry of Health, the Directorate General of Disease Control, and the Environmental Health Service.
This is the first confirmed human case of avian A/(H5N1) influenza virus infection in Indonesia since July 30, 2012. There have been no other reports of human cases from elsewhere during this period.
The World Health Organization says, "Ongoing circulation of H5N1 viruses in poultry continues to pose threats to public health, as these viruses have both the potential to cause serious disease in people and may have the potential to change into a form that is more transmissible among humans."
The H5N1 virus subtype, a highly pathogenic avian influenza virus, first infected humans in 1997 during a poultry outbreak in Hong Kong.
Since its widespread re-emergence in 2003 and 2004, this avian virus has spread from Asia to Europe and Africa and has become entrenched in poultry in some countries, resulting in millions of poultry infections, several hundred human cases, and many human deaths.
The global total of human cases since 2003 now becomes 609 with 359 fatalities.
Indonesia has had a greater number of human fatalities from bird flu than any other country – with 159 deaths out of 359 worldwide – according to data from the World Health Organization.
Animal diseases are a threat to global security warned Director General of the World Organisation for Animal Health (OIE), Dr. Bernard Vallat.
On December 10 at the meeting of government parties to the Biological Weapons Convention, Dr. Vallat called for action against the rising threat that animal pathogens pose to the world's security.
Today's movements of people, animals and consumer goods enables the rapid global spread of infectious animal diseases: SARS, avian flu, mad cow disease, and Ebola are all examples highlighting the potentially disastrous consequences that animal pathogens can pose if they are not eliminated at their  primary source," he said.
"The best way to protect the entire world from rising bio-threats linked with animal pathogens is to ensure that all national veterinary services comply with OIE international standards on quality," he said. "This must be a basis for bio risk management policies."
"It is a shared responsibility of governments to use all means available and apply existing recommendations that we give to prevent and control animal diseases," Dr. Vallat stressed. "This will reduce the significant risks that these pathogens present."
Copyright Environment News Service (ENS) 2012. All rights reserved.