Natural Disaster Victims Identified Fast with New Global Database
LYON, France, July 30, 2010 (ENS) – The rapid identification of multiple victims or missing persons following natural disasters and in day-to-day police work is being spearheaded by the International Criminal Police Organization INTERPOL in collaboration with European partners.
Following the Indian Ocean tsunami in December 2004 that claimed the lives of more than 230,000 people in 14 countries, the INTERPOL General Assembly adopted a resolution in 2005 recognizing the need to establish a centralized database to identify and link missing persons with unidentified bodies.
As a result, the FAST and efficient international disaster victim IDentification (FASTID) project is being developed with experts from Germany, Denmark and the UK, INTERPOL announced today.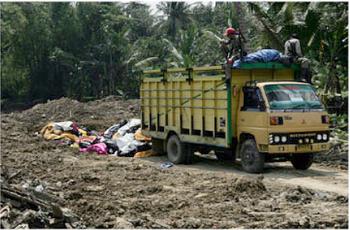 Near Bande Aceh, Indonesia, bodies are added to mass grave sites daily, as teams find tsunami victims amid the hundreds of miles of debris. (Photo by Operation Blessing)
"After a major tragedy, such as the Asian tsunami, it is vital that with so many countries involved either in terms of victims or first responders, that there are standardized and recognized procedures to ensure the fast and efficient identification of victims so that they can be repatriated as quickly as possible," said Peter Ambs, INTERPOL's FASTID project leader.
FASTID is based on INTERPOL's tools, including its globally recognized Disaster Victim Identification protocols combined with its Yellow Notices, for missing persons, and Black Notices, to seek information on unidentified bodies.
The FASTID project is aimed at providing a "one stop shop for teams in the field responding to a disaster or national police trying to locate a missing person," Ambs said.
"The combined elements of this database and its accessibility to law enforcement across the world via INTERPOL's global network will help meet the needs of both day to day policing and for those responding to disasters, where and when required," said Ambs.
As part of the FASTID project, research is being carried out into image retrieval methods.
The project will develop a computerized system to browse and identify potential matches to help forensic identification in relation to faces, tattoos, body jewelery and clothing.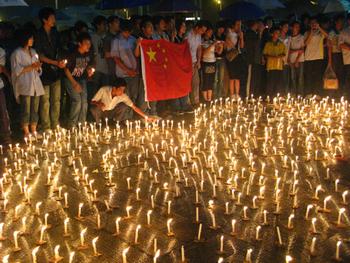 Candles are lit during the official mourning for some 50,000 victims of a 2008 earthquake in Sichuan Province, China. May 19, 2008. (Photo by Life in AsiaNZ)
In addition to commonly used identifying methods, such as fingerprints, dental and DNA information, craniofacial reconstruction, 3D morphing and superimposition also will be examined by the project team to establish if these techniques can also be implemented and integrated into the system.
Development partners include the German Federal Criminal Police Bundeskriminalamt, the Danish company PlassData, the University of Dundee and Crabbe Consulting Ltd.
In addition, the IOSB and IGD Institutes of the Fraunhofer-Gesellschaft in Germany are involved in developing the FASTID project.
The IGD is contributing its expertise in computer graphics research, image-based and model-based visual computing and biometrics.
The new Fraunhofer-Institute of Optronics, System Technologies and Image Exploitation, known by its German acronym IOSB, is contributing its expertise in the automatic exploitation and fusion of images from diverse networked sensors such as infrared, laser, radar or from video sequences, among other competencies.
Co-funding is coming from the European Union's Seventh Framework Programme.
Copyright Environment News Service (ENS) 2010. All rights reserved.