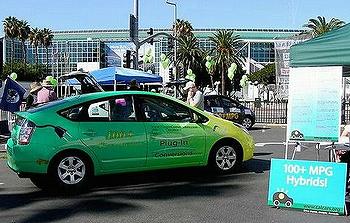 BOSTON, Massachusetts, September 19, 2012 (ENS) – Electric vehicles will star Sunday, September 23 for National Plug In Day, America's largest grassroots EV event.
Nonprofit groups Plug In America, the Sierra Club, and the Electric Auto Association are joining forces for a second year to create a nationwide celebration of the environmental and economic benefits of plug-in electric vehicles through simultaneous events staged around the United states.
Thousands of people in 62 cities coast-to-coast will celebrate plug-in vehicles for the second annual National Plug In Day.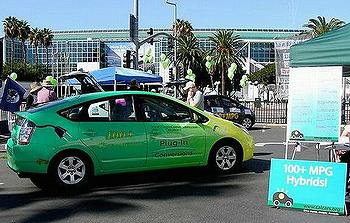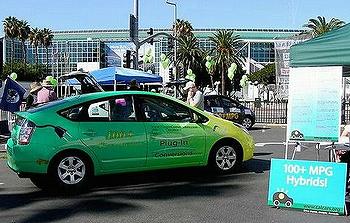 Events from Spokane, Washington to Sarasota, Florida to the island of Maui, Hawaii will highlight the fun, clean-air benefits and cost savings of electric cars.
Events are planned that include ride 'n drives, rallies, tailgate parties, charging-infrastructure demos, city proclamations, press conferences, community and business leader presentations, and EV-readiness awards.
The inaugural event will kick off Plug-In Day with the Boston Cup on the Boston Common, America's oldest public park. The show will be centered around the Parkman Bandstand, now celebrating its 100th year, and will benefit the Fund for Boston Parks and Recreation.
On display will be 100 invitation-only concours quality vehicles from the old to the new organized by country: United States, Italy, France, Germany and Great Britain. All will be competing for the prestigious Boston Cup. New car manufacturers will display their latest models.
"We drive electric. You can, too," is the motto of this nonprofit organization that works to accelerate the shift to plug-in vehicles to reduce America's dependence on petroleum and improve the global environment.
Among the plug-in vehicles available for ride-n-drives will be the Tesla Model S and the Tesla Roadster, the Nissan Leaf, Chevy Volt, Mitsubishi iMiEV, Toyota's Plug-in Prius, the Ford Focus EV, Honda Fit EV, the Fisker Karma, BMW ActiveE, the Coda electric car, Zero Motorcycles, the Tesla Roadster and Toyota RAV4 EVs.
"Only a few years ago, major automakers were literally crushing electric cars. Today, virtually every auto company in the world is selling or developing a plug-in car, and consumers are snapping up each and every one, stimulating our economy while helping the environment," says Plug In America co-founder and Sierra Club member Paul Scott.
Plug In America is taking a grassroots organizing approach to stimulating the electric vehicle market. "Tell automakers to build plug-ins," the organization urges on its website. "Tell them you won't buy another new vehicle until it has a plug."
Plug In America encourages electric car owners to host an Electric DriveWay Party to educate their friends who may have never driven a plug-in car.
"While the numbers are going in the right direction, most people still don't even know somebody that has a plug-in vehicle," the organization says. "Not only have they not driven one, they have not ridden in one or even seen one. They have many questions about this 'new' technology, especially given the people that are working hard to keep plug-ins from being adopted by repeatedly raising myths about plug-in vehicles, even though they have long been addressed."
The Sierra Club is using National Plug In Day as the launching pad for its new national campaign to promote electric vehicles, just as new EV models are hitting the roads.
The point of National Plug In Day is to popularize EVs and familiarize the public with this fast-emerging driving technology.
Th federal government is increasingly EV friendly. Last year, the Obama administration announced that federal fleets will buy 100-percent alternative fuel, hybrid, or electric vehicles by 2015. A growing number of businesses and municipalities are following suit.
The celebration has spread to Canada with an event planned in Toronto, Ontario by Canadian partner Plug'n Drive.
Click here to find National Plug In Day events.
Environment News Service (ENS) © 2012 All Rights Reserved.