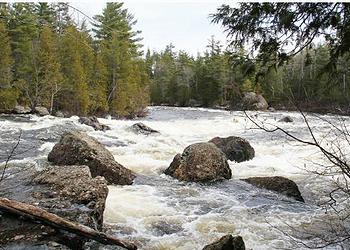 WASHINGTON, DC, August 25, 2016 (ENS) – The U.S. National Park Service turns 100 years old today. In celebration, President Barack Obama has designated 87,500 pristine acres in north-central Maine as the Katahdin Woods and Waters National Monument.
The land was donated to the U.S. government by Elliotsville Plantation, Inc., the foundation of philanthropist Roxanne Quimby, co-founder of the Burt's Bees personal care products company.
In addition to the land itself, the $100 million gift includes $20 million to supplement federal funds for initial park operational needs and infrastructure development at the new monument, and a pledge of another $20 million in future philanthropic support.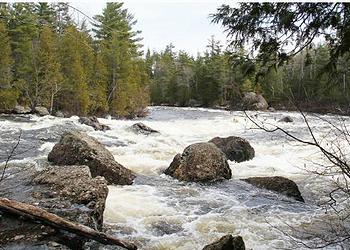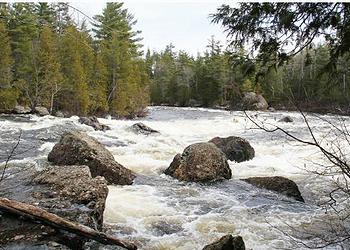 The new national monument will further protect the East Branch of the Penobscot River, a National Wild and Scenic River, as well as a portion of the Maine Woods that is rich in biodiversity and known for its outstanding opportunities to hike, canoe, hunt, fish, snowmobile, snowshoe and cross-country ski.
The White House said in a statement, "Following years of support from many local and state elected officials, tribal leaders, businesses and members of the public across the state, this designation will build on the robust tradition of growing the park system through private philanthropy, and will reinforce the need to continue protecting our great outdoors as we enter the second century of the National Park Service."
In his weekly address to the American people, President Obama said Friday, "All across the country, the National Park Service is preparing for a big year. We're revitalizing a grove of giant Sequoias in Yosemite; repairing the Lincoln Memorial; and enhancing the iconic entrance to our first national park at Yellowstone."
Yellowstone National Park was also the world's first national park. Located primarily in the U.S. state of Wyoming, Yellowstone also extends into Montana and Idaho. It was established by the U.S. Congress and signed into law by President Ulysses Grant on March 1, 1872.
"As President, I'm proud to have built upon America's tradition of conservation," said Obama. "We've protected more than 265 million acres of public lands and waters – more than any administration in history. We've recovered endangered wildlife species and restored vulnerable ecosystems."
President Obama has just five months left in his term of office, but he hinted that the Katahdin designation will not be his last, saying, "…we've got more work to do to preserve our lands, culture, and history. So we're not done yet."
The president is using his executive power under the Antiquities Act to protect public lands from the consequences of the planet's rising temperature.
"As we look ahead," he said, "the threat of climate change means that protecting our public lands and waters is more important than ever. Rising temperatures could mean no more glaciers in Glacier National Park. No more Joshua Trees in Joshua Tree National Park. Rising seas could destroy vital ecosystems in the Everglades, even threaten Ellis Island and the Statue of Liberty."
"So in the coming years and decades, we have to have the foresight, and the faith in our future, to do what it takes to protect our parks and protect our planet for generations to come," said Obama. "Because these parks belong to all of us. And they're worth celebrating – not just this year, but every year."
Research has shown that every dollar the United States invests in its national parks generates $10 for the national economy, most of which stays in the local communities.
U.S. national parks, forests and other public lands attract visitors from around the world, fueling local economies and supporting an estimated $646 billion national outdoor economy.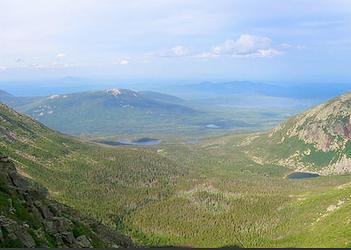 Maine's biggest national park, Acadia, which began as a national monument designated in 1916 by President Woodrow Wilson with lands donated to the federal government, was the nation's ninth most visited national park last year.
In 2015, Acadia National Park attracted nearly three million visitors, who spent an estimated $247.9 million in local communities.
Nevertheless, national monument critic Maine Governor Paul LePage, a Republican, struck a sour note, saying, "That's one way to get out of paying taxes to the state of Maine. It's also an ego play for Roxanne Quimby and [U.S. Senator for Maine] Angus King."
"It's sad that rich, out-of-state liberals can team up with President Obama to force a national monument on rural Mainers who do not want it," LePage told the "Bangor Daily News."
House Committee on Natural Resources Chairman Rob Bishop, a Utah Republican, is also opposed to the new monument.
"The President is using the Centennial as a cover to subvert the will of Maine's citizens and leaders. The only votes taken on this proposal, at the local and state level, have demonstrated opposition from Mainers," complained Bishop. "If the President cared about local voices and improving our National Park System, he would have done this through the public process and not behind closed doors. Instead, he's hijacked a moment of celebration to advance powerful elite special interests over Maine's economy and citizens."
To find out just what the people of Maine themselves think of the new national monument, National Park Service staff will hold a series of public listening sessions throughout the Katahdin region starting the week of September 12 to begin work on the management plan that will be developed during the first three years.
Details of the listening sessions, including dates and locations, will be shared with local newspapers and posted to the monument's website www.nps.gov/kaww.
The new national monument, which will be managed by the National Park Service, is the 413th park unit in the National Park System.
U.S. environmental groups are enthusiastic about the new National Monument.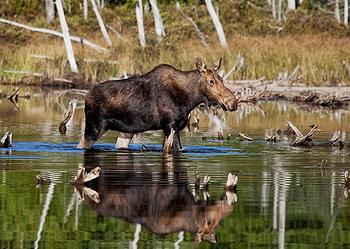 "This new designation is a phenomenal way to celebrate the National Park Service centennial," said Collin O'Mara, president and chief executive officer of the National Wildlife Federation.
"By setting aside nearly 87,500 acres of public lands, the President is ensuring that Maine's magnificent forests, mountains, and waterways will continue to be rich in biodiversity and safeguard these ecosystems," said O'Mara. "Wildlife in the region like moose, lynx, and loons are also big winners as they will now receive critical new protections that will ensure their long term survival."
Environment America's Executive Director Margie Alt said, "By creating the Katahdin Woods and Waters National Monument, President Obama protected one of the last and largest undeveloped tracts of land in the eastern United States. The monument protects Maine's remote North Woods, east of Mount Katahdin, the state's highest peak. With dense forest, roaming bears and moose, and streams and lakes throughout nearly 88,000 acres of donated land, a new Maine Woods and Waters Monument will provide plenty of opportunities for camping, hunting, fishing, boating and more – and help create hundreds of jobs to boot."
National Park Service supporters, visitors and staff are celebrating the 100th anniversary of the National Park Service this week nationwide.
Hundreds of events are taking place around the country to celebrate the National Park Service Centennial in fun, unique ways. Visitors can enjoy a concert, have "Lattes with Lincoln" in Washington, DC, take nature hikes or attend historical presentations, or join NPS staff in forming a living version of the National Park Service's iconic arrowhead emblem.
Visitors can check out classic cars and a six-foot-high disco ball at Anacostia Park, while participating in a free roller skate for 100 minutes on August 27 in the only roller skating pavilion in the National Park System while DJs play hits from the 1970s.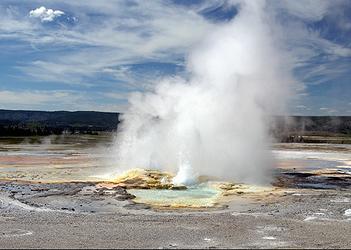 Tonight, National Park Service Director Jonathan Jarvis is celebrating the Centennial at Yellowstone National Park where he is hosting "An Evening at the Arch" at 7 pm.
Jarvis will join Secretary of the Interior Sally Jewell, Montana Governor Steve Bullock, Wyoming Governor Matt Mead, and other distinguished guests and performers as they kick off the second century of the National Park Service, highlight the importance of the partnerships, and recognize completion of the first phase of restoring the park's Gardiner Gateway.
Yellowstone's "An Evening at the Arch" event will be live streamed to the public here.
"I'm honored to celebrate our Centennial at Yellowstone National Park, our first national park and the birthplace of what is often called 'America's Best Idea'…the National Park Service," said Jarvis. "To stand in this iconic park with so many strong supporters and partners to commemorate not only where we have come as a service, but what we are doing to preserve these spaces for our future generations, is a highlight of my 40-year ranger career."
"The National Park Service is unlike any other federal agency. We serve not only as stewards of the nation's greatest landscapes, but also as keepers of its cultural heritage," Jarvis said. "This Centennial is a celebration of our founders and their foresight to create an organization that embodies our highest ideals, our most symbolic places, and stands as the best national park system in the world."
This weekend, Secretary Jewell will visit the national monument in Penobscot County, to celebrate the designation with state and local officials and members of the public.
"As the National Park Service begins a second century of conservation this week, the President's designation of Katahdin Woods and Waters National Monument serves as an inspiration to reflect on America's iconic landscapes and historical and cultural treasures," said Jewell.
"Through this incredibly generous private gift for conservation," Jewell rejoiced, "these lands will remain accessible to current and future generations of Americans, ensuring the rich history of Mainers' hunting, fishing and recreation heritage will forever be preserved."
Copyright Environment News Service (ENS) 2016. All rights reserved.