NASA Summit Fosters Cleaner, Greener Aviation Future
MOFFETT FIELD, California, September 8, 2010 (ENS) – The National Aeronautics and Space Administration has a "critical responsibility" to the flying public to develop environmentally responsible solutions to the nation's most pressing aviation problems, NASA Administrator Charles F. Bolden Jr. said Wednesday.
Speaking to 200 aviation experts at the Green Aviation Summit underway through Thursday at NASA's Ames Research Center, Bolden said air travel is one of the safest modes of transportation and vital to the U.S. economy, but increasing air traffic is taking a toll on the environment and the nation's aviation infrastructure.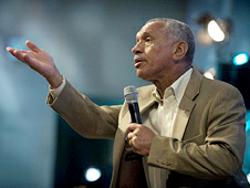 NASA Administrator Charles F. Bolden, Jr.
"We need to make some changes both in the design of aircraft and in the way they transit through our skies to not only maintain, but improve safety and efficiency," Bolden said. "That's a huge challenge, but we at NASA enthusiastically accept it."
Conservation through improved performance, efficiency and safety is an aim that has guided NASA's research goals for decades, said Bolden, a retired United States Marine Corps major general, and former NASA astronaut. "Green is not just a buzzword to us."
In the past, NASA has developed green technologies such as winglets and chevrons. Designed to reduce fuel consumption, winglets are the vertical attachments that can be seen on the wingtips of many commercial airliners in service today.
Chevrons are the scalloped edges on the engine nozzles of some models of commercial and cargo aircraft just now entering the market, and are designed to reduce noise.
The Green Aviation Summit is exploring ways to reduce aircraft noise, emissions and fuel consumption and ensure the safe and manageable growth of the aviation system.
Ames Research Center Director Simon "Pete" Worden opened the summit by crediting NASA research for today's understanding of climate change and the effects of global warming on the environment.
"As the world travels even more," said Worden, "we're going to have a very serious global warming issue, as well as lots of other environmental impacts of aviation."
Summit participants are sharing their work on airplanes that will be designed and built with unconventional configurations, super-efficient engines and lightweight, damage-tolerant materials to increase lift, reduce drag, and deflect noise.
Future innovations will capitalize on the potential of alternative fuels and advanced power technologies, both at NASA and in the private sector.
A Washington State University effort to develop aviation bio-fuel was announced in July as a strategic initiative called the "Sustainable Aviation Fuels Northwest" project – the first of its kind in the United States.
In partnership with Alaska Airlines, Boeing, the Port of Seattle, The Port of Portland, and Spokane International Airport, the project will look at biomass options within a four-state region as possible sources for creating renewable jet fuel.
Because biomass sources absorb carbon dioxide while growing and can have higher energy content than fossil-based fuel, their increased efficiency and use as aviation biofuel could potentially save millions of tons of aviation greenhouse gas emissions.
In addition, the Federal Aviation Administration last year awarded a grant to the X Prize Foundation to spur development of renewable aviation fuels and technologies.
NASA now has a suite of goals for demonstrating the feasibility of aircraft technology and air traffic management techniques that can minimize the environmental effects of air transportation.
The first goal is to enable aircraft to burn 33 percent less fuel than today's most efficient models by 2015, 50 percent less by 2020, and better than 50 percent less by 2025.
A second goal is to cut engine emissions of nitric oxide and nitrogen oxide, which contribute to ozone creation. NASA aims to cut these emissions 20 percent by 2015, 50 percent by 2020, and better than 50 percent by 2025, when compared with today's best engines.
Reducing the amount of fuel burned reduces emissions of carbon dioxide, which contribute to global warming.
And finally, NASA aims to reduce the nuisance noise footprint around airports to one-third its current size by 2015 and one-sixth by 2020, and containing it within the airport property boundary by 2025.
NASA technology will become increasingly important because of the lack of available space for new airports says NASA Associate Administrator for Aeronautics Research Dr. Jaiwon Shin.
"We really are helping the country to advance to the next generation of air transportation and aviation by working together," Shin said. "This summit signifies our strong commitment."
NASA invites undergraduate and grad students to propose ideas and designs for future aircraft that use less fuel, produce less harmful emissions, and make less noise. Click here to find out how to get involved.
Copyright Environment News Service (ENS) 2010. All rights reserved.