Moving Planet Rallies Prompt Global Climate Action
NEW YORK, New York, September 24, 2011 (ENS) – More than 2,000 "Moving Planet" clean-energy demonstrations took place today around the world – at UN Headquarters in New York, in all 50 U.S. states and in 175 countries.
"The planet has been stuck for too long with governments doing nothing about the biggest problem we've ever faced," said Bill McKibben, founder of the nonprofit 350.org, the international climate campaign coordinating the demonstrations.
The campaign is named after the safe upper concentration of carbon dioxide in the atmosphere, 350 parts per million. Right now, the atmosphere contains 392 ppm of the greenhouse gas.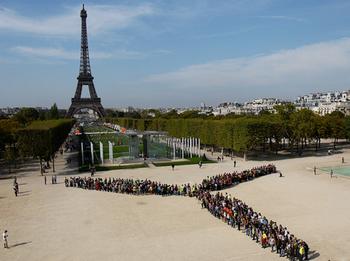 People formed a human wind turbine at the rally in Paris (Photos courtesy Moving Planet.org)
"This is the day when people will get the Earth moving, rolling towards the solutions we need," McKibben said.
In the United States, there are more than 700 events in all 50 states. Highlights include a 2,000 person bike ride from Boulder to Denver, Colorado; a 5,000 person rally in Seattle with Mayor Mike McGinn; a massive bicycle parade in San Francisco; and a rally at the United Nations General Assembly in New York.
At the UN rally, speakers included Vice President Mohammed Waheed Hassan of the Maldives, a Pacific island nation at risk of becoming uninhabitable due to coastal erosion and sea level rise.
Also on the podium at the UN's Dag Hammarskjold Plaza was NASA climate scientist Dr. James Hansen, Laura Flanders of GritTV, and a delegation of indigenous leaders from across the United States.
In Boston, 3,000 people marched and rally at Columbus Waterfront Park.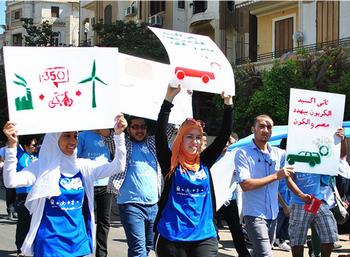 Moving Planet marchers in Cairo, Egypt
In Chicago, 500 people protested at a coal plant in Downtown Chicago with Greenpeace Executive Director Kumi Naidoo.
"Moving Planet, is a global expression of unity, urgency and purpose to show political and business leaders they need to move from rhetoric to action," said Naidoo. "Today, we're beginning to move in the right direction."
In Colorado, some 3,000 cyclists rode their bikes from Boulder to Denver, protesting coal plants along the way.
In Minneapolis, 2,000 people rode their bikes to Minneapolis State Capitol to call for clean-energy legislation.
In San Francisco, 5,000 people took to the streets to ride bikes and march to City Hall to hear from McKibben and from Sierra Club Executive Director Mike Brune.
"People in record numbers are waking up to the fact that since too few of our elected leaders in Congress are actually leading, we're going to have to," McKibben said.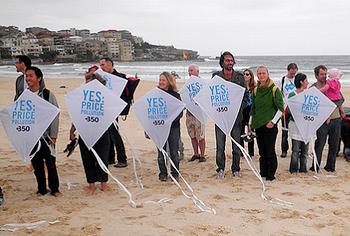 Message kites on Sydney's Bondi Beach
"The truth is," says McKibben, "we've got lots of work to do to solve the climate crisis: big polluters are doing everything in their power to delay real climate action, and they are spending huge amounts of money to distort the truth and block progress. But this weekend's events can show the world that a vibrant movement is coming to life – and that people everywhere are ready to do whatever it takes to move the world beyond fossil fuels."
International events included a march through downtown Cairo, Egypt; a 500 person cycle rally in Delhi, India; the formation of a giant, human bicycle in London, and on the Pacific island of Tuvalu disaster drills and swimming lessons.
From Sydney, Australia, Blair Palese tweets, "More than 200 on Bondi Beach in Sydney flying kites that said YES PRICE POLLUTION! As the nation waits for a Parliamentary vote on an emissions trading scheme, 43 events around Australia showed large-scale public support for action!"
Photos from the day's events were displayed on a giant screen outside the United Nations General Assembly in New York City, reminding leaders the world expects progress at climate negotiations in South Africa this November-December and the Rio+20 Earth Summit next June.
Copyright Environment News Service (ENS) 2011. All rights reserved.