By Juan Pablo García Medina
GUADALAJARA, Jalisco, Mexico, May 9, 2012 (ENS) – For over 500 years, the Wixaritari Indians of Mexico have suffered from poverty, malnutrition and racism – today, they are also victims of global climate change.
For this ancient indigenous people living in the Sierra Madre Occidental mountain range of northwestern Mexico, droughts are growing more severe and more frequent, until now many communities have little or no water supply.
Climate change is affecting the Sierra Madre Occidental, with bigger droughts each year. The current drought has lasted for two years, making life much more difficult and increasing poverty in Wixaritari communities.
Drought has more serious consequences for the Wixaritari than it does for people in the cities, who are served by water pipes from large lakes.
In the Wixaritari communities, water scarcity has become the main issue. Women, old and young, walk many miles every day seeking a natural water source. They carry plastic bottles on their backs, hoping they can fill them all to supply the thirsty children awaiting their return – the children who are their most valuable treasures.
"We are looking for people to help our community. We don't have water. We want to see if we can construct a dam," says Urra Muire, a Wixárika leader who lives in the community of San Andres.
"It does not matter if help comes from Mexico, or from our brothers in the north or there in the other side in Europe. We are asking to whosoever that might come to help us so we can deal with the water problem," says Muire.
"It is the challenge that I must overcome to help my people," Muire says. "Since there is no water, wherever I go I speak of my community's necessity. I want the whole world to be aware."
Some Wixaritari communities do have a water supply based on a pump, hose and storage tank, but none are able to cleanse the water through an effective water treatment process.
Their water is contaminated with pesticides and mining residues as well as bacteria and organic compounds. As they have no water treatment, no contaminant is removed.
"Even though there is enough water in some of the communities; conducting, treating and storing it are three specific necessities," says Omar Chiquete Anaya, community development coordinator for Desarrollo Integral de la Familia, or family integral development, in Jalisco's Wixárika region.
"Water has become the main issue for this people," says Anaya, a committed person who tries to alleviate Wixárika poverty every day.
Anaya and his team are focused on supplying food assistance. He is also scouting for organizations or people who are interested on contributing to water project development in Wixaritari communities.
Descended from the Aztecs, the Wixaritari have moved through the Sierra Madre Occidental mountains due to the Spanish conquest and earlier wars between ancient cultures.
For outsiders, naming this group can be confusing. Wixaritari is how they name themselves in the plural. In the singular, the correct term is Wixárika. While they are best known to the outside world as Huichol, this term was applied to them by the Spanish as a derogatory name.
In the states of Jalisco, Zacatecas, and Nayarit today some 43,925 Wixárika Indians live in the three largest communities: San Sebastian, Santa Catarina and San Andres, spread across 450,000 hectares.
Wixaritari communities have many needs. For instance, in 2010 the zone of Mezquitic in Jalisco state reported that of the 18,000 Wixaritari people living there: 36 percent live below the poverty line, 64 percent live in homes without sewage pipes, 45 percent live in homes without water pipes, half live in homes without electricity, and more than half of the Wixaritari live in communities without an elementary school.
While women seek water and care for children and elderly people, men walk to the nearest towns or cities with the intention of getting a dignified job. But discrimination against Wixaritari people is strong enough to keep them out of urban societies.
There is another reason most do not migrate to the cities and attempt to find jobs despite the discrimination against them.
The Wixaritari are deeply attached to their land. They venerate earth, water, plants and animals as their ancestors have done for centuries at Caliguey, the sacred temple, where ceremonies take place
The Wixaritari want to remain on the land, if they can find uncontaminated water.
Yet another serious problem confronts the Wixaritari and affects the quality of their water supplies.
Mexico's Ministry of Economy has granted 22 concessions to Vancouver-based First Majestic Silver Corporation through its Mexican subsidiary, Real Bonanza, S.A.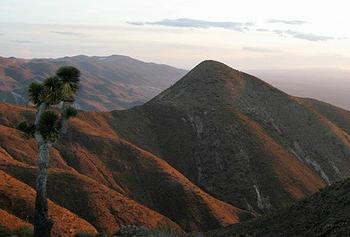 Sunset from the slopes of Cerro Quemado, looking down over Wirikuta (Photo by Paul Liffman / First Peoples' Blog)
The concession area, extending over 6,325 hectares, covers Wirikuta, the most sacred place for the Wixaritari, who travel there each year to collect the sacred hallucinogenic cactus peyote, hold ceremonies and leave offerings.
Located near the historic city of Real de Catorce on the high plains of San Luis Potosi and Zacatecas states, Wirikuta is part of the World Network of Sacred Sites, designated by UNESCO in 1988.
An ecological reserve, supposedly set aside for conservation, it is on the tentative list for inclusion on the UNESCO List of World Heritage.
For the Wixaritari, world started at Wirikuta, with the birth of the Sun. According to tradition, they walk through woods and across deserts to reach this land and venerate their gods with ceremonies.
These ceremonies have been closed to those who are not Wixaritari, but last February 6, along with representatives of all the Wixaritari communities, media representatives were invited to witness an unprecedented gathering called to protect Wirikuta lands against the mining concessions.
After this event, the Mexican government temporarily suspended the concessions to First Majestic, but the fight continues.
Now, an open pit gold mine in the heart of Wirikuta is being surveyed by another Canadian company, Revolution Resources, Inc., also based in Vancouver, British Columbia.
Paul Liffman, writing on the First Peoples' blog, says the gold mine proposal has generated "widespread disgust, alarm, and the beginnings of a nationalist backlash in the Mexican public."
Liffman is a professor at the Center for Anthropological Studies at the Colegio de Michoacán and a member of the National Research System of Mexico.
Writes Liffman, "an unprecedented alliance of ceremonial and political authorities, activists, lawyers, reporters, anthropologists, neo-indigenous religious groups, and elements of the cultural wing of the government itself – the Instituto Nacional de Antropología e Historia (INAH) and the Consejo Nacional de Cultura y las Artes (CONACULTA), among others" has formed to protest the final approval of mineral extraction by the Secretary of the Environment and Natural Resources.
Mining contaminates soil, groundwater and surface water with chemicals used in mining processes. Logging is done in the vicinity of mines to increase the available room for storage of the displaced debris and soil. Mining can have adverse effects on surrounding surface and ground water if protective measures are not taken, resulting in high concentrations of arsenic, sulfuric acid and mercury.
If these mining operations are approved, clean water will never come from the mountains for the Wixaritari people.
Copyright Environment News Service (ENS) 2012. All rights reserved.