Most Europeans Care Deeply About the Environment
BRUSSELS, Belgium, June 23, 2011 (ENS) – The environment is an important personal concern to more than 90 percent of Europeans in all 27 EU Member States, finds the latest public opinion survey by the European Commission.
A large majority of respondents agreed that using natural resources more efficiently and protecting the environment can boost economic growth in the European Union.
Carried out in across the European Union between April 13 and May 8, the survey of the attitudes of European citizens towards the environment involved face-to-face interviews in their mother tongue with 26,825 respondents from different social and demographic groups.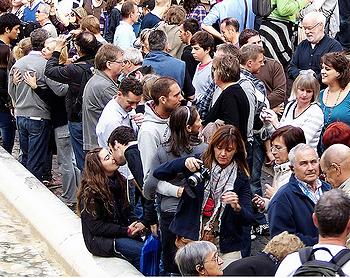 Crowd at the Trevi Fountain in Rome, Italy, October 2010 (Photo by Gregory Melle)
When asked about their top five environmental concerns, more than three in 10 Europeans surveyed now think about the depletion of natural resources – 33 percent, up from 26 percent in a similar survey conducted in late 2007.
This year, pollsters found that 41 percent think about water pollution as their top environmental concern, 33 percent think about the growth of waste (up from 24 percent in 2007), and 19 percent think about consumption (up from 11 percent).
By contrast, concern for biodiversity loss remains low – only 22 percent are concerned first about the loss of species and habitats.
The survey found that 72 percent of Europeans are willing to pay more for products that are specifically environmentally friendly, compared to 75 percent in a similar survey conducted in late 2007.
The survey reveals a growing awareness of the pressures on natural resources, with 69 percent of those questioned saying they are not doing enough to use natural resources efficiently.
When asked about solutions, eight in 10 want businesses to do more to use natural resources more efficiently, more than seven in 10 want nationals governments to do more, and almost seven in 10 think citizens themselves should do more.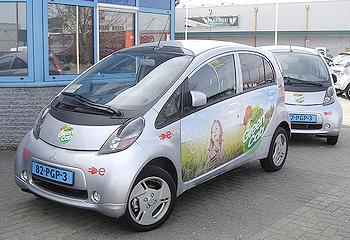 Electric taxis in Utrect, The Netherlands, April 2011 (Photo by Harry_nl)
Despite the economic crisis, almost nine in 10 Europeans polled think EU funding should be allocated to support environmentally friendly activities.
There is also support for legislation at the EU level. More than eight in 10 respondents agree that EU legislation is necessary to protect the environment in their country.
Environment Commissioner Janez Potocnik said, "Many of these trends show that Europeans are more strongly engaged with the environment than ever before. And these are actions, and not just good intentions. Two in three Europeans say they have separated waste for recycling in the last month, over half are trying to cut their energy consumption, four in 10 are trying to use fewer disposable goods, and greater numbers of Europeans are choosing more environmentally friendly forms of transport."
"The findings are also an important vindication of the European project," Potocnik said. "They offer unambiguous support for environmental legislation at the EU level."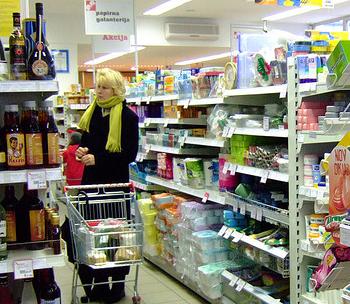 Grocery shopper in Ljubljana, Slovenia (Photo by Amy Standen)
Despite the economic crisis, 89 percent of Europeans think that more funding should be allocated to support protecting the environment.
By a majority of 81 percent, respondents support environmentally-focused legislation at the EU level as a necessary means of protecting the environment, just one point lower than the 2007 survey.
Almost 60 percent of Europeans think that environmentally friendly procurement procedures are the most effective way of tackling environmental problems, with less than 30 percent favoring solutions that are merely cost-effective.
Action and financial support beyond the EU borders also received strong backing, with 79 percent believing that the EU should help to support non-EU countries to protect the environment.
While 60 percent of those surveyed feel reasonably well informed about the environment, information deficits were identified.
Some 50 percent of Europeans surveyed feel that current labeling systems do not allow them to identify environmentally friendly goods with confidence.
European citizens also would like to be better informed about the impact of common chemicals on their health (40 percent), about the use of genetically modified organisms in farming (37 percent), about agricultural pollution from pesticides and fertilizers, and about the depletion of natural resources (27 percent).
Copyright Environment News Service,ENS, 2011. All rights reserved.
© 2011 – 2012, Jim Crabtree. All rights reserved.