Montana Governor Bars Brucellosis-Infected Yellowstone Bison
HELENA, Montana, February 15, 2011 (ENS) – Montana Governor Brian Schweitzer today signed an executive order stopping the importation of Yellowstone bison exposed to a livestock disease into the state of Montana for 90 days.
This action grants a stay of execution to 217 bison, also called buffalo, that have tested positive for the infectious abortive disease brucellosis.
At least 525 bison are currently being held in the Stephens Creek bison trap on the Yellowstone border, because Montana ranchers fear the wild bison will transmit the disease to their livestock, imperiling the state's brucellosis-free status and making it impossible to sell their cattle.
Yellowstone National Park officials had planned to transport the diseased Yellowstone bison into Montana for slaughter at Montana facilities, but the executive order says that plan "presents an unacceptable risk for the transmission of brucellosis to Montana livestock."
The Yellowstone herd of about 3,500 animals is the only continuously wild population of American buffalo that remains. About half of all Yellowstone animals carry brucellosis, says the executive order, and Governor Schweitzer said he is using the executive order to send a message to the Obama administration that the 10 year old Interagency Bison Management Plan is not working.
"More than anything else, this is a direct signal to the Department of Interior in Washington, D.C. to get their hat screwed on right and manage this bison population," Schweitzer told reporters. "Their plan is, when there gets to be a lot of snow, buffalo will go into Montana and then somebody else will have to deal with it."
The executive order states that, "for over ten years management under the current court-ordered Interagency Bison Management Plan has resulted in no reduction in the prevalence of brucellosis in bison, nor has it resulted in a sustainable population control model for Yellowstone bison."
State Veterinarian Dr. Marty Zaluski said the U.S. Department of Agriculture is currently reviewing its approach to brucellosis management nationwide. "The proposed concept would de-emphasize state status and allow brucellosis to be managed on a case-by-case basis," he said.
On Monday, U.S. District Judge Charles Lovell issued a ruling denying a request from sportsmen, Indian tribes and environmentalists for a restraining order to stop the bison kill.
"Distasteful as the lethal removal may be to some, it is clearly one of the foremost management tools, time honored, necessarily utilized to protect the species, the habitat, and the public," Judge Lovell wrote.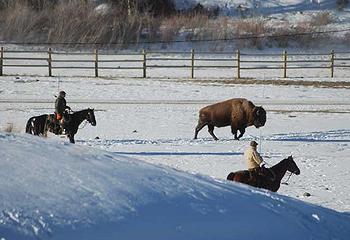 Officials on horseback herd wild buffalo toward a capture area on the border of Yellowstone National Park. (Photo by Lance Koudele courtesy Buffalo Field Campaign)
"For those of us who admire the Yellowstone bison," Judge Lovell wrote, "it is easy to be sympathetic to an emotional appeal to 'stop the slaughter.' Yet it is clear that this population of wild bison, diseased and healthy, ought not to be allowed to reproduce prolifically beyond the capacity of its range without the institution of scientific management."
An attorney for the plaintiff group Western Watersheds Project said an appeal is planned.
"One of the twin goals of the bison management plan is 'to ensure the wild and free-ranging nature of American bison'," said Tom Woodbury, Montana director for Western Watersheds Project, "but 10 years into the plan, there is still zero tolerance for bison being bison on our public wildlands."
The plaintiff groups seek to prevent a repeat of the 2008 slaughter of over 1,400 wild bison captured on public wildlands near the border of Yellowstone National Park in Montana.
Many of the same factors that contributed to the mass slaughter in 2008 – heavy snowpack, bison population size, and the continuing agency intolerance for migrating bison – are in place this year as well, the plaintiffs say.
With the Stephens Creek bison trap inside the park near capacity, and more bison migrating toward their natural winter range in Montana to forage at lower elevations, Park Service spokesperson Al Nash indicated that the agencies may begin sending hundreds of bison to slaughter whether they carry the disease brucellosis or not.
The plaintiff group Buffalo Field Campaign says, "While it is concern over the possible transmission of brucellosis to cattle that is the justification offered for preventing bison from utilizing their winter range in Montana, at the present time there are no cattle present in the bison's winter range corridor, and no risk of transmission."
Rosebud Sioux tribal elder Rosalie Little Thunder, chairperson for plaintiff Seventh Generation Fund, said, "The continuing slaughter of wild buffalo by the National Park Service is an affront to indigenous peoples and an abrogation of the government's trust responsibilities to the American people and American Tribes."
Copyright Environment News Service (ENS) 2011. All rights reserved.