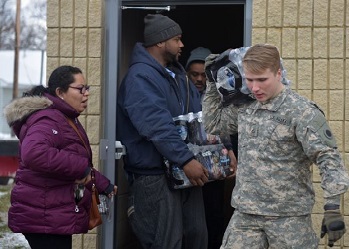 LANSING, Michigan, January 15, 2016 (ENS) – Michigan Governor Rick Snyder, a Republican, Thursday asked President Barack Obama to declare both an emergency and an expedited major disaster for Genesee County as a result of ongoing emergency water response efforts in the city of Flint.
Snyder requested federal aid in the form of individual and public assistance to help residents and state and local government agencies to protect the health, safety and welfare of Flint's more than 102,400 residents.
Located along the Flint River, 66 miles northwest of Detroit, Flint is the largest city and county seat of Genesee County, Michigan.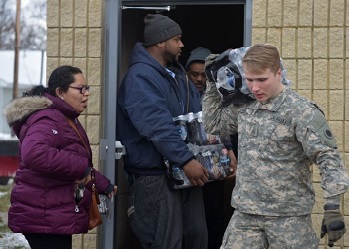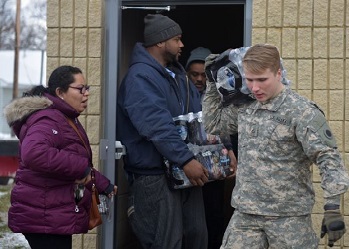 The water crisis that has lead-laden water flowing from household taps started with an April 2014 decision by Flint officials to turn off the supply of treated Lake Huron water from the city of Detroit and to begin treating raw water from the Flint River instead.
They had hoped the change could save their cash-strapped city about $5 million over the first two years.
But Flint River water now has been linked to elevated blood lead levels in some of the city's children, forcing Flint residents to rely on bottled water for drinking, cooking and bathing as they fear for their health.
The federal Agency for Toxic Substances warns that exposure to lead can damage the nervous system, kidneys, and reproductive system  and is particularly dangerous for young and unborn children. Harms include premature births, smaller babies, decreased mental ability in the infant, learning difficulties, and reduced growth in young children. "Some of these effects may persist beyond childhood," the agency says.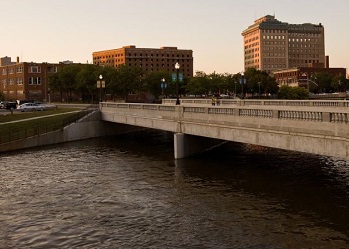 Another complication was revealed this week. From June 2014 to November 2015, 87 cases Legionnaires' disease were confirmed in Genesee County. Ten people have died of the disease.
Governor Snyder announced the outbreak Wednesday at a press conference with Michigan health officials, although officials have said there is no evidence of a clear link between the outbreak and the water system change.
On Wednesday, a Virginia Tech university professor who has spent months studying Flint's water crisis said the failure to treat Flint River water to make it less corrosive could have been responsible for the Legionnaires' disease outbreak.
If federal aid is approved, assistance can include grants for temporary housing and home repairs, low-cost loans to cover uninsured property losses and some of the costs incurred by state and local governments due to damage to public facilities and infrastructures, such as city schools and the water system.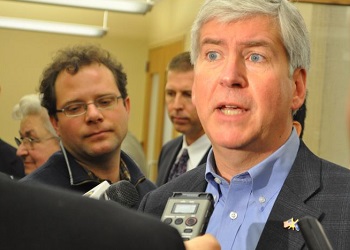 "We are utilizing all state resources to ensure Flint residents have access to clean and safe drinking water and today I am asking President Obama to provide additional resources as our recovery efforts continue," Snyder said.
Snyder's request will be reviewed by the Federal Emergency Management Agency, FEMA, which will advise President Obama whether an emergency and major disaster declaration should be granted.
In addition, Snyder requested support from FEMA on Tuesday to help coordinate an interagency recovery plan with other federal agencies to provide resources to Flint.
Snyder declared a state of emergency on January 5 for Genesee County, following the county's local emergency declaration the previous day. The declaration makes available all state resources in cooperation with local response and recovery efforts in Genesee County as outlined in the Michigan Emergency Management Plan.
By declaring a state of emergency, Snyder has made available all state resources in cooperation with local response and recovery operations. The declaration authorizes the Michigan State Police, Emergency Management and Homeland Security Division to coordinate state efforts.
In addition to the emergency declaration, Snyder activated the State Emergency Operations Center to coordinate state response and recovery activities.
Snyder also activated the Michigan National Guard to help distribute clean water supplies at five water resource sites established in Flint.
"The health and welfare of Flint residents is a top priority and we're committed to a coordinated approach with resources from state agencies to address all aspects of this situation," Snyder said. "Working in full partnership with the Flint Water Advisory Task Force, all levels of government and water quality experts, we will find both short-term and long-term solutions to ensure the health and safety of Flint residents."
Michigan Attorney General Bill Schuette today said he will investigate to determine what, if any, Michigan laws were violated in the process that resulted in the contamination crisis.
"The situation in Flint is a human tragedy in which families are struggling with even the most basic parts of daily life. While everyone acknowledges that mistakes were made, my duty as attorney general requires that I conduct this investigation," said Schuette.
"As a husband and father I greatly empathize with the fears of Flint parents and family members, who are rightly concerned for their health. In 21st century America, no one should have to fear something as basic as turning on the kitchen faucet.
Schuette said that the process for moving forward with the investigation will begin immediately. While office policy usually precludes the confirmation of investigations, in this situation Schuette said that the people of Flint and throughout Michigan are rightly concerned and worried about this situation.
In December, Michigan Department of Environmental Quality Director Dan Wyant resigned and other staff changes have been made in the department as a result of the crisis, but that does not satisfy Flint's best-known native son.
Documentary filmmaker Michael Moore has joined the call for criminal action against Governor Snyder in connection with the Flint water crisis.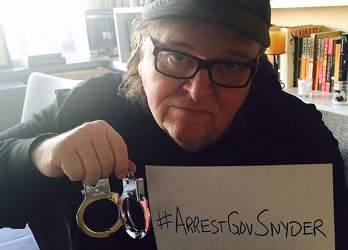 Moore has posted a petition on his website that demands governor's immediate resignation and arrest on charges of "corruption and assault."
"Thanks to you, sir, and the premeditated actions of your administrators, you have effectively poisoned, not just some, but apparently ALL of the children in my hometown of Flint, Michigan," Moore writes. "And for that, you have to go to jail."
"Your staff and others knew that the water in the Flint River was poison," writes Moore, "but you decided that taking over the city and 'cutting costs' to "balance the budget" was more important than the people's health (not to mention their democratic rights to elect their own leaders). So you cut off the clean, fresh glacial lake water of Lake Huron that the citizens of Flint (including myself) had been drinking for decades and, instead, made them drink water from the industrial cesspool we call the Flint River – a body of 'water' where toxins from a dozen General Motors and DuPont factories have been dumped for over a hundred years."
"And then you decided to put a chemical in this water to 'clean' it – which only ended up stripping the lead off of Flint's aging water pipes, placing that lead in the water and sending it straight into people's taps."
Copyright Environment News Service (ENS) 2016. All rights reserved.
Environment News Service (ENS) © 2016 All Rights Reserved.