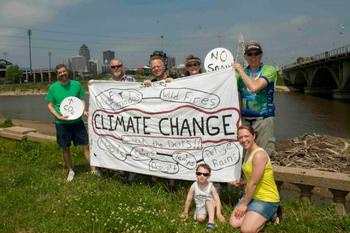 WASHINGTON, DC, June 17, 2013 (ENS) – As unprecedented extreme weather and climate change wreak havoc across the country, 48 local elected officials today committed themselves to fortifying their cities, towns, and counties.
As the "inaugural signatories" of the Resilient Communities for America Agreement letter, the officials pledged to take cost-effective actions to prepare and protect their communities from the increasing disasters and disruptions fueled by climate change – heat waves, floods, droughts, severe storms, and wildfires.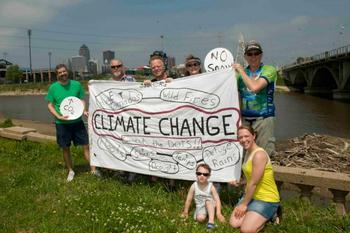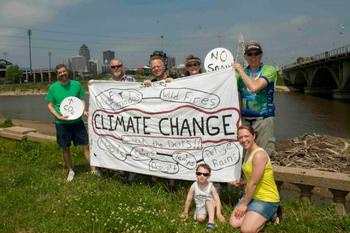 The signatory mayors pledged to evaluate local vulnerabilities to extreme weather and a changing climate, from heat waves and air pollution to droughts and floods.
They will work to reduce the carbon footprint in their cities, implement energy efficiency programs and transition to renewable energy to achieve greater energy independence, protect communities from price spikes, and ensure more reliable power during heat waves and other disruptions.
At the campaign launch event at the National Press Club today, the local officials called for more action at the federal level.
"Local governments have always been the leaders on climate action, but we need more support from the federal government," said Mayor Frank Cownie of Des Moines, Iowa. "We need better local-federal coordination on disaster preparedness, and we need them to address our aging and inadequate infrastructure, which has been underfunded for far too long."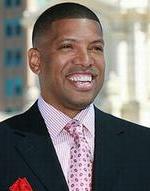 "A new national movement is emerging, led by mayors who believe that now is the time to take powerful, proactive steps to safeguard our communities, adapt to extreme weather and energy challenges, and transform adversity into economic opportunity," said Mayor Kevin Johnson of Sacramento, California, who chairs the Resilient Communities for America campaign.
"Today I call on my fellow mayors and county leaders across the country to join the campaign and make your own commitment to creating more resilient communities that are strong, self-reliant, prepared, and prosperous," said Mayor Johnson.
Inaugural signatories include Mayor Vincent Gray, Washington, DC; Mayor Bob Filner, San Diego, California; Mayor John Cook, El Paso, Texas; Mayor Michael Hancock, Denver, Colorado; Mayor Mark Mallory, Cincinnati, Ohio; Mayor Sly James, Kansas City, Missouri; Mayor Greg Fischer of Louisville, Kentucky; and Mayor Kristin Jacobs of Broward County, Florida.
View the full list at www.resilientamerica.org.
"By signing the Resilient Communities for America Agreement, these elected officials have demonstrated their leadership, which will in turn inspire hundreds more cities and counties to take action and sign on," said Michael Schmitz, executive director of ICLEI USA, a branch of the worldwide association ICLEI – Local Governments for Sustainability.
ICLEI USA is one of the four organizations to coordinate the multi-year Resilient Communities for America campaign, together with the U.S. Green Building Council, the National League of Cities, and the World Wildlife Fund.
World Wildlife Fund's Director of Renewable Energy Keya Chatterjee said, "Just last week, NOAA reported that extreme weather events caused a staggering $110 billion in damage in 2012, took countless lives, and impacted virtually every part of the country. As greenhouse gas emissions rise from our fossil fuel use, we know that heat waves, severe storms and rising seas will only worsen."
"By improving energy efficiency and expanding use of renewable energy," said Chatterjee, "our most resilient cities are reducing emissions, saving money, creating local jobs, and strengthening local energy independence."
The sign-on agreement states, "Communities across the country are on the front lines of three related challenges: record-breaking extreme weather fueled by climate change, unreliable and costly energy, and ongoing economic uncertainty. As the pace of change quickens, city and county governments must work to make communities more "resilient": able to bounce back from disruptions in a sustainable way and maintain a good quality of life for all."
"Leading local governments understand that focusing on preparedness is incredibly cost-effective," said Jason Hartke, vice president of national policy at the U.S. Green Building Council. "For every $1 spent on disaster preparedness, a community can save $4 in avoided costs."
"After Superstorm Sandy, New York City reflects this understanding with Mayor Bloomberg's bold resilience plan to protect the city from future storms and floods," said Hartke. "And in El Paso, Mayor Cook's world-renowned leadership on water conservation and management has lessened the impact of a devastating drought."
New York's Mayor Michael Bloomberg has not yet signed the Letter of Agreement, but last week he announced a $20 billion plan to fortify the nation's largest city from the impacts of extreme weather and climate change by building integrated flood protection systems, sea walls, levees, bulkheads and dune systems.
"Over the next two years, the Resilient Communities for America campaign will connect local governments with one another to share the best solutions and innovations and help them accelerate their efforts—because we don't have the luxury of time," Hartke explained.
"Today, these local leaders are pledging to take action and not just offer platitudes. By participating in Resilient Communities for America campaign, these leaders are demonstrating great foresight that will save communities long-term dollars and even lives," said Clarence Anthony, executive director of the National League of Cities.
"The campaign's valuable technical resources and tools will help cities reach their own goals on climate preparedness, infrastructure renewal, energy security, and economic competitiveness," Anthony said.
Copyright Environment News Service (ENS) 2013. All rights reserved.