Marine World Heritage Managers' First Gathering Celebrates Hawaiian Islands
HONOLULU, Hawaii, December 6, 2010 (ENS) – Managers of the 43 marine sites on UNESCO's World Heritage List met for the first time last week in Honolulu to explore ways of conserving these unique areas jeopardized by industrialization, acidification and overfishing.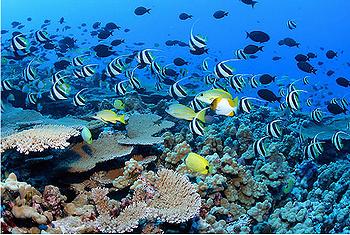 Schools of pennantfish, pyramid and milletseed butterflyfish on a healthy coral reef in the Papahānaumokuākea Marine National Monument (Photo courtesy NOAA)
"World Heritage – the very words evoke the global mission to protect the most exceptional and iconic places in the world," said Francesco Bandarin of Italy, UNESCO's assistant director general of culture.
"Out of nearly 6,000 marine protected areas now designated worldwide, only 43 have the highest internationally recognized status for conservation, UNESCO World Heritage Listing," he said.
Marine World Heritage was first recognized by UNESCO in 1981 with the inscription of Australia's Great Barrier Reef Marine Park on the World Heritage List.
Today, 1.4 million square kilometers of ocean – about 0.4 percent of the world's oceans or an area about the size of the Gulf of Mexico – are protected under the World Heritage Convention, including five of the world's 10 largest marine protected areas. World Heritage status can provide governments and conservationists with the leverage to halt damaging economic development.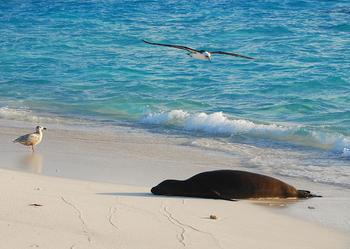 Endangered Hawaiian monk seal, gull and albatross on Tern Island, part of the Papahānaumokuākea Marine National Monument (Photo by Kelli Birkenshaw)
Highlighting the event was Friday's commemoration of Papahānaumokuākea Marine National Monument's inscription on the World Heritage List.
The Papahānaumokuākea Marine National Monument, a string of tiny islands, atolls, shoals, and banks stretching across 1,200 miles of the Pacific Ocean northwest of the main Hawaiian Islands, was created by former President George W. Bush on June 15, 2006.
The name Papahānaumokuākea (pronounced Pa-pa-hah-now-mo-koo-ah-keh-ah) comes from an ancient Hawaiian tradition concerning the genealogy and formation of the Hawaiian Islands.
Papahānaumoku is a mother figure personified by the Earth and Wākea is a father figure personified in the expansive sky; the two are honored ancestors of Native Hawaiian people. Their union resulted in the creation, or birthing, of the Hawaiian archipelago.
On July 30, 2010, Papahānaumokuākea was designated as the first mixed UNESCO World Heritage site in the United States. It is the world's first cultural seascape recognized for its continuing connections to living indigenous people.
On Friday at the Hawaii Convention Center, hundreds of conservation managers, marine scientists, conservation activists, government officials, political leaders and policy makers joined in celebrating the inscription.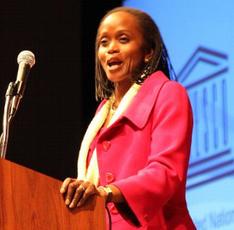 Esther Brimmer, assistant secretary of state for international organization affairs at the Hawaii Convention Center (Photo courtesy NOAA)
"The inscription of Papahānaumokuākea reflects U.S. efforts to strengthen our engagement at the United Nations and at UNESCO," said Esther Brimmer, assistant secretary of state for international organization affairs. "It is also an opportunity to recognize the important role of the World Heritage Convention, which, four decades after its adoption by the General Conference of UNESCO, remains a crucial international instrument for the protection and promotion of cultural and natural heritage."
"It is fitting that our nation's first inscription in 15 years recognizes a place with such unique cultural and natural heritage," said Tom Strickland, assistant secretary of the interior for fish and wildlife and parks. "The addition of Papahānaumokuākea to the network of World Heritage Sites demonstrates the commitment of the United States and the state of Hawaii to conserve and protect our important marine sites."
Larry Robinson, assistant secretary of commerce for conservation and management, said, "As one of the crown jewels of the National Marine Sanctuary System, Papahānaumokuākea is a remarkable treasure trove of biodiversity, a sentinel site for helping measure the impacts of global climate change, and as the UNESCO World Heritage Committee acknowledged four months ago, a place that is truly deserving of global recognition for its universally outstanding natural and cultural features."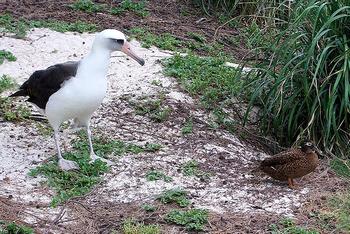 A Laysan albatross, left, and a Laysan duck on Midway Island, part of the Papahānaumokuākea Marine National Monument. (Photo by M.E. Hughes)
"As a World Heritage site, Papahānaumokuākea will give people from across the globe a greater appreciation of the importance of protecting our natural and cultural resources – values that native Hawaiians and all the people of Hawaii hold dear," said outgoing Governor Linda Lingle on her last working day in office.
"The inscription of Papahānaumokuākea on the World Heritage List is the culmination of the hard work, dedication and love for these special islands by countless individuals throughout Hawaii and our nation," said Lingle, a Republican.
In 2005 Governor Lingle signed regulations establishing a state marine refuge in the near-shore waters of the Northwestern Hawaiian Islands that excluded all extractive uses, except those permitted for research or management. She advocated for the creation of the marine national monument with the Bush administration, and guided the process of applying for UNESCO World Heritage status.
The far-flung archipelago with its healthy coral reefs provides safe haven for fish, threatened green sea turtles, endangered monk seals and millions of central Pacific seabirds.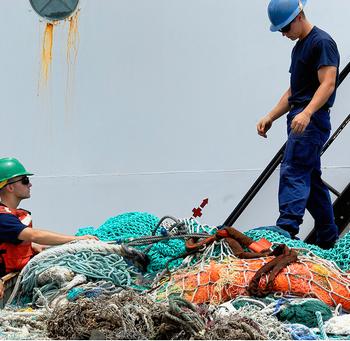 Marine debris collected from Papahānaumokuākea Marine National Monument, June 2008. (Photo courtesy U.S. Coast Guard)
More than 99 percent of the world's Laysan albatrosses and 98 percent of the world's black-footed albatrosses return to these islands each year to reproduce. For species such as Bonin petrels and Tristram's storm-petrels, the predator-free islands provide the last safe nesting places since islands in other parts of the Pacific are becoming infested with rats.
For land birds, the islands have provided less secure habitat, but four of the seven original species still remain. Three endangered passerines – the Nihoa finch, Nihoa millerbird, and Laysan finch – and the world's rarest duck, the Laysan duck, are found on these islands.
Most of the threats to the ecosystems of marine World Heritage sites are posed by human activities, such as dumping of wastewater from vessels and the proliferation of marine debris that entangles birds and animals or that they ingest.
Current uses of the Papahānaumokuākea World Heritage site are limited to management activities by the three agencies that jointly manage the site, research, education, Native Hawaiian practices, a small scale commercial bottomfishing and pelagic trolling operation, as well as recreational trips and visits to historical sites at Midway Atoll.
Also celebrated was the 10th anniversary of the Northwestern Hawaiian Islands Coral Reef Ecosystem Reserve, established by former President Bill Clinton on December 4, 2000. At that time, the reserve became the single largest nature preserve ever established in the United States.
Chairman of the Reserve Advisory Council Tim Johns said, "I think it's one of the last great places left on Earth. It's been protected for a lot of years just by its distance from man, but when you get up there you realize that there are still places on this Earth, where the hand of God still touches the Earth. And so just knowing that a place like that is still existing, and is now going to be protected in perpetuity is just a really great thing."
Copyright Environment News Service (ENS) 2010. All rights reserved.
Environment News Service (ENS) © 2010 – 2012 All Rights Reserved.