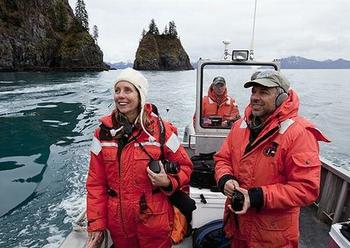 SEWARD, Alaska, June 10, 2013 (ENS) – "How sad it is that garbage and debris are what is calling us to wild shores," Carl Safina said as he joined an international team of scientists, artists and educators in Seward on Friday.
Dr. Safina and the others are taking part in Project Gyre, a marine debris expedition and exhibition of marine debris art from the giant rotating ocean current that is the North Pacific Gyre.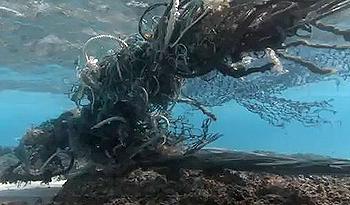 The project is a collaboration between the Anchorage Museum and the Alaska SeaLife Center in Seward, a private, non-profit marine science facility.
The team sailed out of Seward on June 7, aboard the research vessel R/V Norseman to study the global marine debris crisis as it affects the southwest Alaska coast.
Headed 450 nautical miles west from Resurrection Bay along the Kenai Peninsula coast, they will cross the Kennedy Entrance channel to Shuyak and Afognak islands.
The expedition includes representatives from the Smithsonian Institution, National Oceanic and Atmospheric Administration, National Geographic, Alaska Marine Stewardship Foundation, Anchorage Museum and Ocean Conservancy.
Howard Ferren of the Alaska SeaLife Center is heading the 1,000 mile long expedition.
The expedition's lead scientist, Dr. Safina, is a professor in the Journalism Program at Stony Brook University in New York, the founding president of Blue Ocean Institute and host of the PBS series "Saving the Ocean."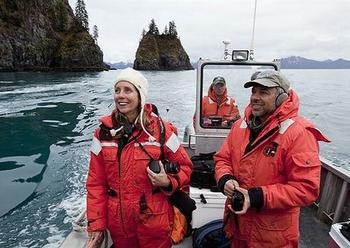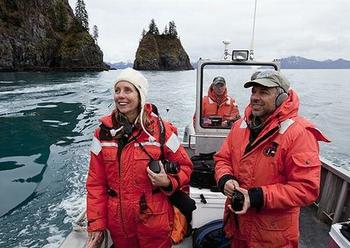 "I am hugely looking forward to a trip-of-a-lifetime to some of the planet's best remaining places with some of the planet's most committed people. It's such an honor," said Safina. "On the other hand, how sad it is that garbage and debris are what is calling us to wild shores, that massive windrows of trash are the new sirens."
Everyone is excited – National Geographic will be doing a feature on the expedition this fall, artist and expedition member Pam Longobardi blogged on Sunday. [Link to her blog: http://driftersproject.net/2013/06/gyre-expedition-updates-and-gallery/]
As they go the team will focus their attention on shoreline trash, and they're finding plenty of that. Longobardi has seen more styrofoam balls and sponge-foam miniature sports balls – soccer, basketball and volleyballs – than any other type of trash on Alaska beaches.
"No matter how overwhelming the sheer volume of plastic is, I can't leave a beach without collecting and carrying out as much of it as I physically can," blogged Longobardi. "What one person can remove is just a drop in the ocean, but every piece we take is one less piece that will end up in a bird, a turtle or smashed to smithereens of microplastic."
"I am particularly interested in the black plastic: it more symbolically represents the dark nature of plastic," she wrote. "I am imagining an artwork that juxtaposes a giant black form spewing forth the multicolored eye-candy of floats, nets, products."
Phase two of the Gyre project culminates in a 7,500-square-foot "Gyre" art and science exhibition on view at the Anchorage Museum, scheduled for February 2014.
Following its Anchorage debut, the "Gyre" exhibition will be repackaged by the Smithsonian Institution for a tour of the continental U.S.
"The whole project is unusual," said Safina on a video made by Blue Ocean Institute. "We're not only in unusual times, we're in unprecedented times. A generation ago this problem didn't exist and had never existed before in the history of the planet."
The Gyre expedition will end with an intensive cleanup of Hallo Bay in Alaska's Katmai National Park, a remote area that has experienced an influx of debris from the March 2011 Japanese tsunami.
Copyright Environment News Service (ENS) 2013. All rights reserved.