Malaria Experts Plan to Battle Drug-Resistant Parasites
GENEVA, Switzerland, January 14, 2011 (ENS) – The parasites that cause malaria are developing resistance to the most effective drug used to combat the debilitating disease, the World Health Organization warned Wednesday, releasing a new action plan to fight the drug resistant parasites.
Combination therapies based on a derivative of the plant artemisinin, or wormwood, are the most potent weapon against falciparum malaria, the deadliest form of malaria. But parasites resistant to artemisinins have already emerged in some areas along the Cambodia-Thailand border.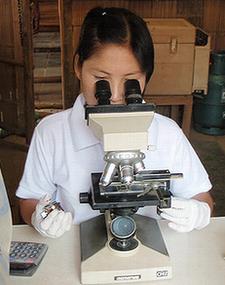 A nurse checks blood samples for malaria in Thailand's Ratchaburi province. (Photo by Echo Rio)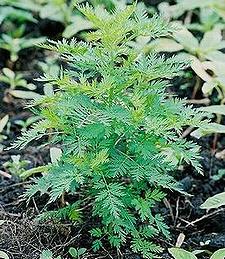 Artemisia annua, or wormwood, the plant which yields artemisinin-based combination therapies (Photo by Scamperdale)
"The usefulness of our most potent weapon in treating malaria is now under threat," said Dr. Margaret Chan, WHO Director-General. "The new plan takes advantage of an unprecedented opportunity in the history of malaria control – to stop the emergence of drug resistance at its source and prevent further international spread."
"The consequences of widespread artemisinin resistance compel us to seize this opportunity," she said.
"We must work together to stop the spread of resistant parasites, increase monitoring and surveillance efforts, promote more rational use of artemisinin-based combination therapies with quality assured diagnostics, increase investment in research, and mobilize resources to contain resistance," said Professor Awa Marie Coll-Seck, executive director of the Roll Back Malaria Partnership, WHO's partner in developing the new plan.
Malaria is a mosquito-borne infectious disease that is widespread in tropical and subtropical regions, including Asia, Africa and 22 countries in the Americas.
After infecting the liver, malaria parasites multiply in red blood cells, causing symptoms that include fever, headache, and in severe cases, hallucinations, coma, and death.
Globally each year, there are more than 250 million cases of malaria, killing between one and three million people, mostly young children in sub-Saharan Africa.
Over the past decade, the number of malaria cases has fallen by more than 50 percent in 43 countries, WHO estimates.
A recent modeling analysis of malaria prevention in 34 African countries estimates that more than 730,000 lives were saved between 2000 and 2010; nearly three quarters of them since 2006, when the use of both insecticide treated mosquito nets and artemisinin-based combination therapies became more widespread.
"We have made tremendous progress over the past decade in the fight against malaria," said Dr. Robert Newman, director of the WHO Global Malaria Programme. "If we are to sustain these gains and achieve the health-related Millennium Development Goals, then it is essential that we work together to overcome the threat of artemisinin resistance."
One of the UN's Millennium Development Goals, agreed by all governments, is near-zero malaria deaths by 2015.
Malaria health experts warn that the loss of artemisinin-based combination therapies as an effective treatment would send the malaria-related death toll soaring again.
The Global Plan for Artemisinin Resistance Containment was developed by the WHO Global Malaria Programme through consultation with over 100 malaria experts from across the Roll Back Malaria Partnership. Funding was provided by the Bill and Melinda Gates Foundation.
The new plan aims to contain and prevent artemisinin resistance through five steps:
Stop the spread of resistant parasites. A fully funded and implemented malaria control agenda would address many of the needs for the containment and prevention of artemisinin resistance. Additional funding will be needed to stop the spread of resistant parasites in areas where there is evidence of artemisinin resistance.

The global plan estimates that it will cost an additional US$10-20 per person in areas of confirmed resistance along the Cambodia-Thailand border and US$8-10 per person in the at-risk locations within the Greater Mekong area.

Increase monitoring and surveillance for artemisinin resistance. WHO estimated in 2010 that only 31 of the 75 countries that should be conducting routine testing of the efficacy of artemisinin-based combination therapies actually did so. There is a risk of artemisinin resistance emerging silently in areas without ongoing surveillance.
Improve access to malaria diagnostic testing and use artemisinin-based combination therapies only to combat malaria. These therapies are frequently used to treat causes of fever other than malaria, which can increase the risk of resistance. To reduce the number of patients who do not have malaria taking the therapies, WHO recommends diagnostic testing of all suspected malaria cases before treatment.
Invest in artemisinin resistance-related research. There is an urgent need to develop more rapid techniques for detecting resistant parasites, and to develop new classes of antimalarial medicines to eventually replace the artemisinin-based combination therapies.
Motivate action and mobilize resources. The success of the global plan will depend on a well coordinated and adequately funded response from many stakeholders at global, regional and national levels.
"Effective containment of artemisinin resistance will significantly improve our capability to sustain current control achievements at country level," said Professor Coll-Seck.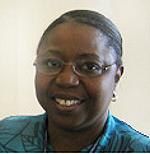 Awa Marie Coll-Seck (Photo courtesy RBM)
Introducing the global action plan at WHO headquarters in Geneva on Wednesday, Coll-Seck said that as a physician and former Minister of Health of the west African country of Senegal, she changed Senegal's national policy for antimalarial treatment in 2001.
"After years of hesitation, the country finally agreed to implement WHO's recommendations, and adopted artemisinin-based combination therapies as the first-line treatment for malaria over chloroquine and sulfadoxine pyrimethamine which were becoming increasingly ineffective," she said.
"Despite clear evidence that chloroquine resistance was progressively spreading from Southeast Asia to sub-Saharan Africa, no global containment strategy was prepared or adopted. As a result, malaria mortality was increasing worldwide, with hundreds of thousands of additional deaths occurring every year, particularly in sub-Saharan Africa," Coll-Seck recalled. "Thus, the malaria parasite defeated the international community."
"We must not let the widespread failure of malaria drugs happen again, particularly now that remarkable progress has been achieved in a large number of malaria-endemic countries," she said.
Coll-Seck reminded the international donor community, "We now have a coordinated plan to stop the spread of resistant parasites, but we need additional funding to fully implement it."
Copyright Environment News Service (ENS) 2011. All rights reserved.
Environment News Service (ENS) © 2011 – 2012 All Rights Reserved.