Majority of Upton's Constituents Oppose His Bill to Disempower EPA
WASHINGTON, DC, February 10, 2011 (ENS) – A majority, (62%) of House Energy and Commerce Committee Chairman Fred Upton's constituents surveyed in a public opinion poll last week oppose his bill that would remove the U.S. EPA's power to regulate climate-warming greenhouse gases.
The EPA is preparing the country's first regulations limiting greenhouse gas emissions from power plants and refineries.
Upton, a Republican, has introduced the Energy Tax Prevention Act, which states its purpose as: "To amend the Clean Air Act to prohibit the Administrator of the Environmental Protection Agency from promulgating any regulation concerning, taking action relating to, or taking into consideration the emission of a greenhouse gas due to concerns regarding possible climate change, and for other purposes."
The Public Policy Polling survey of voters in Congressman Upton's Michigan district, conducted for the Natural Resources Defense Council, found that 67 percent – including 60 percent of Republicans – agreed with the statement that "Congress should let the EPA do its job," as opposed to the minority who believe that "Congress should decide" what actions are taken to curb carbon pollution.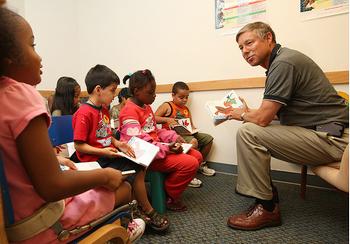 Congressman Fred Upton with the children of constitutents at the Family Health Center in Kalamazoo, Michigan. August 22, 2008. (Photo courtesy Kalamazoo Public Library)
Upton is holding hearings in his committee this week with respect to the draft discussion bill.
Pete Altman, Climate Campaign director at the Natural Resources Defense Council, which commissioned the poll, said, "The bottom line is now clearer than ever – Democrats, Republicans and Independents across America want politicians to protect the health of America's children rather than the profit-driven agenda of big polluters."
"Chairman Upton and other members of the House Energy and Commerce Committee will now be hard-pressed to ignore the fact that their constituents want Congress to let the EPA do its job of safeguarding the health of American families," said Altman.
The PPP survey of 595 registered voters in Michigan's 6th congressional district was conducted February 4-5, 2011 and has a margin of error of plus or minus four percent.
Surveys of voters in the home districts of eight other key committee members turned up similar findings. Voters were polled in the districts of five Republicans: Reps. Mary Bono Mack of California; Cory Gardner of Colorado; Adam Kinzinger of Illinois.; Charlie Bass of New Hampshire; and Leonard Lance, of New Jersey; and three Democrats: Mike Doyle of Pennsylvania; Charles Gonzalez of Texas; and Gene Green of Texas.
In every district, a majority of those surveyed agreed with the statement that "Congress should let the EPA do its job." The majority percentages ranged from 59 percent in Mack's district to 74 percent in Doyle and Lance's districts.
"What we see in the findings across the board is a strikingly consistent affirmation by Americans that they support the EPA and its anti-pollution, pro-public health role," said Tom Jensen, director, Public Policy Polling. "Whether they are in rural or urban districts, Americans clearly believe that Congress should be doing what's best for public health, not polluters."
Altman said the NRDC worked with the pollsters to develop the language of the questions. They used quotes from detractors of the EPA such as the American Petroleum Institute and the National Association of Manufacturers to use as the con case and quotes from health organizations such as the American Lung Association and the American Public Health Assocation to explain the case for the EPA.
Jensen said, "These questions were really good, they let the respondents hear both sides of the arguement in the words of people on both sides of the argument. You have to give people a good amount of background information to be able to think through it and let them decide which side they fall on."
The districts polled are a good cross section of America racially and politically, said Jensen.
"Republicans and Democrats and Independents flip back and forth over the years, but public health concerns trump everything else on what voters are looking for," he said. "It's no surprise that this is not a party line issue. There is nothing more important to Americans than the health and wellness of those closest to them."
Said Altman, "It is our sincere hope that Congress members will take thse results to heart. There are various riders and proposals circulating in Congress to strip the EPA of money so it wouldn't be able to do its job. We believe voters would have a similar reaction – that's not what voters in Chairman Upton's district want and that's not what voters polled in other districts want."
For further ENS coverage of this issue, see: U.S. House Battles Over U.S. EPA Greenhouse Gas Regulations See also: House Republicans Try to Undo EPA Air Pollution Rules
Copyright Environment News Service (ENS) 2011. All rights reserved.