Louisiana Ordered to Test for Pollutants, Radioactivity in Oil Production Water
NEW ORLEANS, Louisiana, June 14, 2011 (ENS) – The Louisiana State Court of Appeal has ordered the state Department of Environmental Quality to test the environmental impact of discharges of "produced waters" from oil and gas production into the Gulf of Mexico. Tests must be conducted for contaminants, including radioactivity.
Produced waters include deck drainage, produced water, well treatment and work-over fluids, hydrostatic test and other waste waters related to exploration, development and production by oil and gas companies.
The ruling by Judge Kay Bates issued Friday upholds the position of the Louisiana Environmental Action Network, LEAN, that the state agency failed to protect the public from pollution and possible radiation poisoning when it issued oil and gas permits for exploration without proper monitoring of the resultant impact on Louisiana's shallow territorial waters.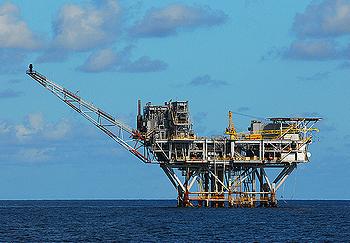 Oil rig in the Gulf of Mexico (Photo by Eduardo Sorensen courtesy Oceana)
The Court's decision recognizes the merit of LEAN's allegation that dangerous amounts of naturally occurring radioactive material are released into the Gulf waters every year when commercial oil and gas discharges are dumped directly into the sea.
"The crisis in the Gulf goes well beyond the oil and dispersant from last year's BP spill," said New Orleans attorney Stuart Smith, who represented LEAN. "There is also lots of radioactive material being dumped into our waters year after year by oil and gas companies. And as we know, radioactive material poses a long-term threat because it takes so long, in many cases hundreds of years, to break down."
LEAN appealed a district court judgment affirming the LDEQ decision to issue a National Pollutant Discharge Elimination System, NPDES, permit for discharge of pollutants from oil and gas production into the territorial seas of Louisiana.
The original NPDES permit issued by the U.S. Environmental Protection Agency in 1997 expired on December 3, 2002 but was administratively continued by the LDEQ pending its review of the application for renewal of the permit.
LDEQ issued its discharge permit October 13, 2009 and it took effect January 1, 2010.
LEAN's lawsuit documented that the Louisiana Department of Environmental Quality was not requiring rig owners to test for radioactive material in their produced water discharge or requiring an independent environmental impact statement to assess the risk of these discharges.
"LEAN has worked on the environmental and human health impacts of produced waters throughout its 25-year history," said LEAN Director Mary Lee Orr. "We thank the court for recognizing the problems with this process and for being a guardian of the environment."
The production of oil and gas generates several different waste streams that arise from every oil and gas formation, or reservoir, LEAN explains.
The toxins associated with these streams can be categorized as:
organic elements like benzene
inorganic heavy metals including lead, chromium and cadmium
naturally occurring radioactive material, or NORM,
Radioactive elements such as radium, thorium and uranium are known byproducts of the oil production process. These toxic elements are extracted from the ground along with the oil and gas, and are separated from the fossil fuels as part of the production process.
The most abundant NORM compounds in produced water are radium-226 and radium-
Environment News Service (ENS) © 2011 – 2012 All Rights Reserved.