Los Angeles Tops Nation in Energy Efficient Buildings
WASHINGTON, DC, March 24, 2010 (ENS) – Los Angeles has the largest number of energy efficient buildings that earned the U.S. EPA's Energy Star rating in 2009, topping the list of energy efficient U.S. metropolitan areas issued by the agency on Tuesday.
With 293 Energy Star buildings, Los Angeles held the top spot for the second year and is far ahead of the number two ranked city, Washington, DC which has 204 Energy Star buildings. The nation's capital moved up the list from last year, when it ranked in fourth place.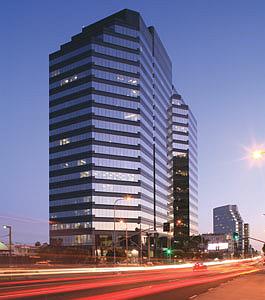 Office building 12100 Wilshire in Los Angeles is an Energy Star labeled building. (Photo courtesy Hines)
"These cities see the importance of taking action on climate change," said Gina McCarthy, assistant administrator for EPA's Office of Air and Radiation. "Communities from Los Angeles to Louisville are reducing greenhouse gases and cutting energy bills with buildings that have earned EPA's Energy Star."
The EPA first issued its ranking of cities with the most Energy Star labeled buildings last year.
San Francisco slipped from number two last year to rank third on the 2009 list with 173 Energy Star buildings. Denver moved up from seventh place last year to fourth in the current list, and Chicago edged up from sixth place last year to fifth.
New to the top 10 Energy Star cities is little Lakeland, Florida. This city with a population of 89,100 contains 120 Energy Star labeled buildings covering more than 11.5 million square feet. The EPA estimates that these buildings will save an estimated $8.3 million annually in lower energy bills, and avoid over 6,300 metric tons of greenhouse gas emissions.
Also new to the top 10 is New York City with 90 Energy Star buildings covering 50.4 million square feet. New York rated number 12 in the 2008 ranking.
Across the country in 2009, nearly 3,900 commercial buildings earned the Energy Star, representing annual savings of more than $900 million in utility bills and more than 4.7 million metric tons of avoided carbon dioxide emissions.
Energy use in commercial buildings accounts for 17 percent of U.S. greenhouse gas emissions at a cost of over $100 billion per year.
To qualify for the Energy Star, a building or manufacturing plant must score in the top 25 percent based on EPA's National Energy Performance Rating System that compares energy use among other, similar types of facilities.
Thirteen types of buildings can earn the Energy Star, including schools, hospitals, office buildings, retail stores and supermarkets.
Since EPA awarded the first Energy Star to a building in 1999, nearly 9,000 buildings across America have earned the Energy Star as of the end of 2009, representing more than a 40 percent increase over last year's total.
Overall annual utility savings have climbed to nearly $1.6 billion and greenhouse gas emissions equal to the emissions of more than one million homes a year have been prevented, according to EPA calculations.
Copyright Environment News Service (ENS) 2010. All rights reserved.