Los Angeles Lawmakers Advance Single-Use Bag Ban
LOS ANGELES, California, April 5, 2012 (ENS) – A Los Angeles City Council committee recommended Wednesday that single-use plastic bags be banned from food store checkout lines across the city and that paper bags be phased out.
The five-member Energy and Environment Committee proposed that City Council conduct an environmental review of a single-use bag ban and draft an ordinance establishing it.
Once the ordinance is in effect, city officials would give six months' warning to affected stores, such as supermarkets and other retailers that sell food, that plastic bags would be banned as of a date certain. That six months would be used to educate the public about the ban.
After the plastic bag ban is in place, stores would be required to charge 10 cents for each paper bag. Six months later, paper bags would be banned as well, in favor of reusable bags, said Councilman Paul Koretz, who wrote the proposal.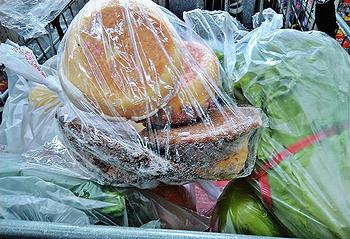 Plastic bags hold food in a Los Angeles grocery store. (Photo by summer.vogue)
The full City Council will debate the proposal within the next two weeks, city officials said.
At its meeting on December 16, 2011, City Council considered a Department of Sanitation staff report recommending adoption of a policy banning all single-use carryout bags.
City Council then asked the Sanitation Department to conduct an outreach effort to test public opinion about a single-use bag ban. The department was also instructed to report on environmental review requirements under the California Environmental Quality Act and what actions are being taken by other municipalities as well as on legislation currently proposed at a state level regarding single-use bag policies.
The proposal was then referred back to the Energy and Environment Committee, which received the Sanitation Department's report at its meeting Wednesday.
The outreach team captured the opinions of: grocery store shoppers, grocery store managers, businesses, industry and manufacturing associations, environmental groups, Neighborhood Councils, homeowner associations, minority and low income groups, the Los Angeles Unified School District, Solid Waste Integrated Resources Plan stakeholders, libraries, municipalities already implementing a bag ban, Channel 35, media relations, and various elected and appointed officials at the state and local levels.
"Overall, a majority of comments that were submitted showed support for the double ban, with the understanding that a transition phase would be needed to better inform the public and affected stores about the ban, and affect behavioral change," the outreach team found. "In this light there was public support for a phased in approach where plastic bags are banned first, and paper bags are phased out over three years, with an ultimate ban on both."
Some people said a ban would reduce litter on parkways and streets, reduct pollution in rivers and lakes and is "good forward-thinking policy that reduces litter in the future."
Others said they want the convenience of single-use plastic bags. Opponents said grocery store purchases may be limited by the number of reusable bags people have with them, while some were concerned about the loss of jobs in factories making plastic bags.
Mark Daniels is vice president of sustainability and environmental policy for Hilex Poly, a U.S. manufacturer and recycler of plastic bags, and chair of the American Progressive Bag Alliance.
"The proposed policy will have no real impact on litter, instead it will only force residents to purchase less environmentally-friendly alternatives like reusable bags, nearly all of which are not recyclable, are less sanitary, are made in China using foreign oil, and often contain heavy metals," Daniels said.
"Worse, bag bans inflict a regressive tax on the disadvantaged, impose a burden on small businesses, and are a threat to local manufacturing jobs," he said.
Submitted by Sanitation Department Director Enrique Zaldivar, the report states, "The issue of what is the appropriate CEQA clearance for single-use plastic bag bans has undergone intense legal and administrative scrutiny recently as many jurisdictions have implemented, or attempted to implement, various bans."
The City of Manhattan Beach prevailed at the California Supreme Court in the lawsuit over whether their single-use plastic bag ordinance requires an Environmental Impact Report, with the court ruling that an EIR was not required. However, this decision is limited to its facts – a ban by a small municipality, "is of questionable relevance to the City," the department reports.
Several cities, such as Oakland, were directed by the courts to prepare an EIR before an ordinance banning single-use plastic bags could be adopted. Other communities, such as the County of Los Angeles, City of Santa Monica, and City of San Jose, prepared and certified EIR's for their single-use ban policies.
Concilman Koretz said he is "embarrassed" that the city has been so slow to ban single-use bags and has lost the chance to be a leader on this issue. "Now we are being surpassed by other cities," he said.
The "Los Angeles Times" editorial staff has come out in favor of a ban, writing on Wednesday, "L.A.'s delay in banning single-use, carry-out plastic bags has put it behind dozens of other municipalities in the state. With a recycling rate of only 5%, the bags are an environmental menace that we can easily do without."
Copyright Environment News Service (ENS) 2012. All rights reserved.