Legal Science Panel Links Teflon Chemical to High Blood Pressure in Pregnancy
WASHINGTON, DC, December 7, 2011 (ENS) – There is a "probable link" between C8 exposure and elevated blood pressure in pregnancy, a legal science panel has determined after studying exposed women in the mid-Ohio Valley.
The panel also concluded that a "positive association" exists between cumulative blood levels of C8 and thyroid disease occurrence.
Exposure to C8, also known as perfluorooctanoic acid, or PFOA, is the subject of class action settlement of a lawsuit involving releases of the chemical from DuPont's Washington Works in Parkersburg, Wood County, West Virginia.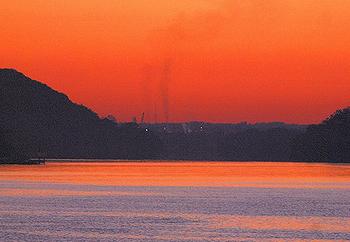 Sunset on the Ohio River with DuPont's Washington Works in the distance (Photo by Patrick)
Manufactured since the 1940s in industrial quantities, C8 has been used in the manufacture of such prominent consumer goods as Teflon, a non-stick cookware coating, and Gore-Tex, a water-repellant fabric.
Convened specifically to determine to what extent PFOA is associated with disease in the Mid-Ohio Valley, the so-called C8 Science Panel is made up of three scientists, agreed upon by both DuPont and the plaintiffs, from universities in London, UK; Atlanta, Georgia and Providence, Rhode Island.
They are asked to determine whether a probable link exists between C8 and any human disease.
Dr. Tony Fletcher is a senior researcher and lecturer at the Department of Social and Environmental Health Research in the London School of Hygiene & Tropical Medicine.
Dr. Kyle Steenland is an environmental and occupational epidemiologist. He is a professor in the Department of Environmental and Occupational Health at the School of Public Health, Emory University in Atlanta, Georgia.
Dr. David Savitz is professor of Community Health, Epidemiology Section, and Obstetrics and Gynecology at Brown University. From 2006-2010 he served as director of the Disease Prevention and Public Health Institute at Mount Sinai School of Medicine.
In its first assessment, released Monday, the panel concluded that there is a probable link between C8 and pregnancy-induced hypertension and preeclampsia.
Also referred to as toxemia, preeclampsia is marked by high blood pressure accompanied with a high level of protein in the urine. Pregnant women with preeclampsia will often also have swelling in the feet, legs and hands. Preeclampsia usually appears during the second half of pregnancy, generally late in the second or in the third trimester.
The panel determined that there is no probable link between C8 and birth defects, preterm births, low birth weight, or pregnancy loss.
Steenland and Fletcher described their work as "the most comprehensive study of C8 and human health ever done."
They are conducting 10 separate studies, calling them important pieces of the overall picture that will help determine whether C8 is associated with human health problems.
Eight studies will focus on diseases such as cancer, heart disease, stroke, diabetes and aneurysm, immune function, liver and hormone disorders, and birth outcomes. Two studies will examine C8 exposure. The results of each study will be announced as each project is completed.
The first report, released in November 2008, found the C8 levels in the blood of C8 Health Project participants was 28 parts per billion, much higher than the U.S. population average of about five ppb. The most important factors predicting C8 level were living currently in any of six contaminated water districts, working at DuPont, and being male.
Copyright Environment News Service (ENS) 2011. All rights reserved.