Least Developed Countries Set to Enter Global Green Economy
ISTANBUL, Turkey, May 9, 2011 (ENS) – Leaders of the world's poorest countries should agree on a common position and send a strong political message to the rest of the world on the importance of investing in least developed countries to eradicate global poverty, UN Secretary-General Ban Ki-moon said Sunday.
"The priority for the new program of action is to build strong economies that can withstand external shocks," Ban told a summit of the leaders from 48 poor countries in Istanbul at the start of a UN Conference on Least Developed Countries.
Some 10,000 delegates, including 50 heads of state and government, 10 vice presidents, 94 ministers and chairmen of 47 international organizations, representatives of the private sector, scientists and members of nongovernmental organizations, are attending the event, which is chaired by Turkish President Abdullah Gul.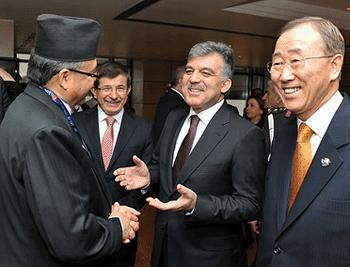 From left: Jhala Nath Khanal, Prime Minister of Nepal; unknown; Abdullah Gul, President of Turkey; UN Secretary-General Ban Ki-moon at the UN Conference on Least Developed Countries, Istanbul, May 9, 2011 (Photo courtesy Office of President Gul)
President Gul said that in the past Turkey has helped to eradicate poverty in least developed countries and will continue to do so.
"As a member of the G-20 and an accession country to the European Union, Turkey has been undertaking major initiatives to share the burdens of the LDCs in their efforts to eradicate poverty," the president said in his opening speech today.
"While there is a bottom billion living on less than $1 a day, the rest of the international community cannot turn a blind eye to their sufferings. This is an alarming situation – not only in moral terms, but also politically as well," said Gul.
"Nothing would make us prouder than if, through the success of this summit and the following process, Istanbul gets to be remembered as the place where the misfortune of almost a billion people had taken a positive turn. Istanbul will then be the place where the first heartbeats of a new and fair world order are heard. We believe this is possible. And Turkey will do everything in its power to make it a reality."
The conference is intended to chart the development path for the least developed countries for the next decade through the Istanbul Program of Action.
While there were 25 least developed countries in 1971, there are 48 today with a population of nearly 900 million struggling to solve chronic problems of economy, development, environment and human resources.
Ban said developed and emerging economies are facing challenges similar to those bedevilling poorer nations, including climate change and soaring food prices, but least developed countries have limited capacity and resources to address these global problems.
Assistance from developed countries to developing ones is not charity but the "politically correct and morally correct" thing to do, the secretary-general said.
During the five-day conference, Ban said enterprises from around the world will be networking, exchanging ideas and establishing relations that can form an enduring basis for cooperation and opportunity.
These boys in Bwagiriza refugee camp in southeast Burundi are from the Democractic Republic of Congo. The camp has its own school and receives food from the UN's World Food Programme. (Photo by Marc Neilson courtesy WFP)
"We hope they will go away from Istanbul with the message that doing business in the LDCs is not charity but a wise and profitable endeavor," said Ban.
The 48 least developed countries are poised to jump to a green economy, finds a new United Nations report released today in Istanbul.
With low-carbon profiles, rich natural resources and promising policy initiatives, LDCs can leapfrog over more developed countries that face substantial costs of decarbonization, and costs linked to retiring inefficient fossil fuel technologies, the report concludes.
UN Environment Programme Executive Director Achim Steiner said, "The shift to a global green economy can put LDCs in an opportune position if the right enabling policies are put in place nationally and internationally – ones that accelerate their development rather than constraining it, ones that value, invest and re-invest in natural assets and low-carbon industries alongside human well-being and social equity."
Steiner points to low-carbon, labor intensive agriculture and community forestry – sustainable practices that have existed for decades in these countries that will be central elements in greening these sectors.
The report cites Nepal's approach to community forest management, which generates employment and income from the sustainable harvesting of timber and non-timber forest products. Sustainable forest management approaches in Nepal have contributed to reversing a trend of decline in forest cover of 1.9 percent a year during the 1990s, to an annual increase of 1.35 percent over the period 2000 to 2005.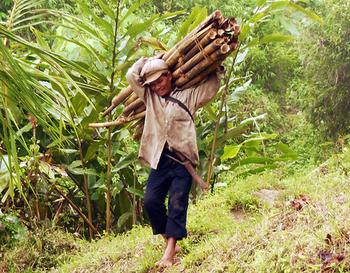 Community forestry worker in West Java, Indonesia harvests bamboo. (Photo by Yayan Indriatmoko courtesy CIFOR)
The report, "Why a Green Economy Matters for the Least Developed Countries," finds that new opportunities offered by a green economy will help least developed countries meet their Millennium Development Goals – a set of eight goals agreed by world leaders in 2000 with a target date of 2015.
"Refocusing policies and investments to target sectors and areas including renewable energy, agriculture, forestry, tourism and enhanced ecosystem services can lead to the economic empowerment of low income populations, be more conducive to inclusive growth and jobs and make a significant contribution to achieving the Millennium Development Goals in the poorest countries," UN agency leaders write in their foreword to the report.
"There are at least four key elements that need to be addressed for least developed countries' successful transition to a green economy," said one of those leaders, Dr. Supachai Panitchpakdi, secretary-general of the UN Conference on Trade and Development, or UNCTAD.
"First, identifying new sources of funding that can be directly applied to transitional efforts; second, creating an enabling environment that is conducive to private investment in green economy markets," said Dr. Panitchpakdi, a former head of the World Trade Organization.
"Third," he said, "taking advantage of trade to create global markets for least developed countries' green goods and services exports; and fourth, designing new and effective mechanisms to transfer green technologies to least developed countries."
Opportunities to leapfrog are being seized where they exist, the report shows. For example, in the aluminum sector, aluminum smelters in Africa are among the most energy-efficient in the world mainly because new production facilities employ the latest smelting technologies.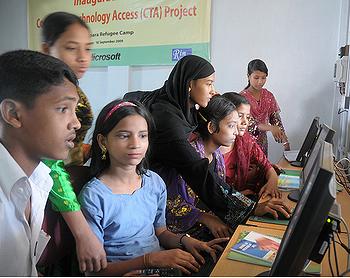 Student refugees from Myanmar learn with solar-powered computers at the Community Technology Access center, Cox's Bazar, Chittagong, Bangladesh (Photo courtesy UNHCR)
Bringing electricity to the rural poor is one of the most important contributions that a green economy can make to LDC economies, says the report.
Lack of modern electricity infrastructure in rural regions and access to the development options that electricity opens are persistent impediments to economic development in least developed countries where 77 percent of the population is without access to electricity.
Most affected are the 71 percent of the population of least developed countries that live in rural regions, who rely on biomass burning as the only source of energy.
Solutions are in the works. The successful Grameen Shakti (Energy) Programme in Bangladesh, for instance, provides soft credits through innovative financial packages to make solar home systems available and affordable to rural populations.
By the end of 2009, more than 320,000 solar home systems had been installed under the program, in addition to biogas plants and improved cooking stoves. Grameen Shakti aims to have installed over one million solar home systems by 2015.
"Least developed countries face unprecedented vulnerabilities across a range of challenges," said Steiner. "UNEP is committed to assisting them to reduce these risks, while growing their economies and achieving their sustainable development objectives."
Copyright Environment News Service (ENS) 2011. All rights reserved.
Environment News Service (ENS) © 2011 – 2012 All Rights Reserved.