Lawsuit: Feds Illegally Fail to Conserve River Herring, Shad
WASHINGTON, DC, September 20, 2010 (ENS) – Commercial and recreational fishermen are taking two government agencies to court for failing to protect river herring and shad from being caught and killed by Atlantic industrial fisheries.
The lawsuit filed today in federal court in Washington, DC pits the Martha's Vineyard/Duke's County Commercial Fishermen's Association and angler Michael S. Flaherty against the Atlantic States Marine Fisheries Commission and the National Marine Fisheries Service.
Under the Magnuson-Stevens Act and the Atlantic Coast Fisheries Cooperative Management Act, both agencies are required to conserve and manage river herring and shad populations to prevent overfishing, rebuild depleted stocks, establish annual catch limits and accountability measures and minimize bycatch – leftover fish usually killed and discarded.
The lawsuit claims the two agencies have failed in these duties.
"Our communities depend on a healthy and abundant fish supply for their prosperity," said Warren Doty, executive director of the Martha's Vineyard/Dukes County Fishermen's Association.
"The game of ping-pong between the Commission and Fisheries Service – where each agency points their finger at the other to act and does nothing themselves – has led to the continued steep decline of river herring and shad," Doty said today. "It's time for these agencies to take action and develop a plan that will rebuild our fish populations."
River herring and shad are separate species of herring that are born in fresh water, migrate to the ocean, and then return to the river where they were born.
They are a critical component of the coastal ecosystem along the Eastern seaboard, providing a food source for fish, birds and mammals.
But the lawsuit states, "River herring and shad populations along the East Coast have plummeted by 95 percent in the last two decades."
"Recreational fishermen have been doing our part for years to ensure river herring populations have the chance to rebound," said Mike Flaherty of Wareham, Massachusetts, a past vice president of the Massachusetts Striped Bass Association. "It's time to close the loopholes and mandate the same from industry."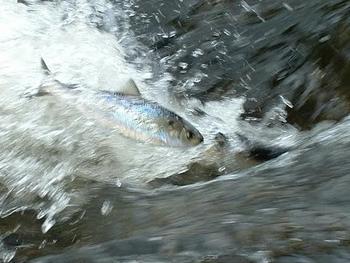 Blueback herring leaps the rapids at Ticonic Falls, Kennebec River, Waterville, Maine. (Photo by Tim Watts)
The plaintiffs claim that shad and herring populations have been wiped out by the unregulated catch by industrial midwater trawl fishermen. These industrial trawlers are up to 165 feet long and can hold more than one million pounds of fish.
Though these ships are targeting sea herring and mackerel, they incidentally scoop up millions of river herring and shad as bycatch, which are either discarded dead or sold along with these other fish as lobster bait.
"We have an unregulated federal fishery for river herring and shad," said attorney Roger Fleming with the public interest law firm Earthjustice, who is representing the plaintiffs. "We are calling on these agencies to do what the law requires them to do – conserve and manage these fish. The time to act was yesterday."
The Atlantic States Marine Fisheries Commission is made up of state fisheries managers from the entire Eastern seaboard whose authority for managing coastal fish species is primarily exercised in state waters.
National Marine Fisheries Service, also known as NOAA Fisheries, is the federal agency charged with managing ocean fish in federal waters, which stretch from the boundary of state and federal waters three miles off the coast to the boundary of the U.S. Exclusive Economic Zone 200 miles out to sea.
River herring spawn in state waters but generally spend the majority of their lives in federal waters.
The plaintiffs claim that neither agency has done enough to manage the take of river herring in federal waters or to prevent the population collapse of river herring and shad.
"Midwater trawling for herring and mackerel is an unsustainable fishing method that threatens all species of river herring, shad, groundfish, and other stocks through overfishing and the disruption of the ocean ecology," said Doty. "Midwater trawling undermines the viability of the traditional, more sustainable fishing methods we support."
Copyright Environment News Service (ENS) 2010. All rights reserved.
Environment News Service (ENS) © 2010 – 2012 All Rights Reserved.