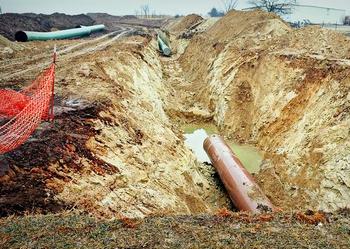 WASHINGTON, DC, April 16, 2013 (ENS) – In a new report, "Cooking the Books: How The State Department Analysis Ignores the True Climate Impact of the Keystone XL Pipeline," environmental groups and scientists opposed to the pipeline warn of "climate disaster" if President Barack Obama allows it to cross the Canada-U.S. border, carrying tar sands bitumen from Alberta to Nebraska.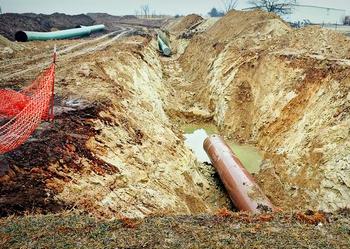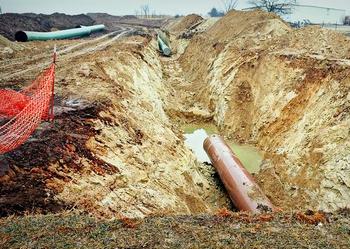 In its latest environmental analysis of the pipeline, issued March 1, the State Department asserts that if the pipeline is not built, the Alberta tar sands will be exploited one way or another and carbon dioxide will be emitted anyway.
"This is simply incorrect," states "Cooking the Books."
The Keystone XL tar sands pipeline would send at least 181 million metric tons of carbon dioxide equivalent each year into the atmosphere, warming the Earth's climate, finds the report's authors Steve Kretzmann, Lorne Stockman, David Turnbull and Paulina Essunger of Oil Change International.
These emissions compare to the emissions from 51 coal-fired power plants or the tailpipe emissions from more than 37.7 million cars – more cars than are now registered in California, Washington, Oregon, Florida, Michigan, and New York combined, calculates the report, which was issued by some of the nation's largest and most influential environmental groups: Natural Resources Defense Council, 350.org, Environment America, National Wildlife Federation, Friends of the Earth, Sierra Club, Greenpeace and Oil Change International.
Alberta-based TransCanada Keystone Pipeline, LP has applied for a Presidential Permit authorizing the Keystone XL pipeline to cross the U.S.-Canada border carrying 830,000 barrels of diluted bitumen per day from the tar sands of northern Alberta to an existing pipeline in Steele City, Nebraska.
The proposed project would consist of 1,204 miles of 36-inch-diameter pipeline, with 329 miles of pipeline in Canada and 875 miles in the United States. It would cross the international border between Saskatchewan and Montana.
It is the State Department's responsibility to determine if granting a permit is in the national interest. President Obama will make the final decision.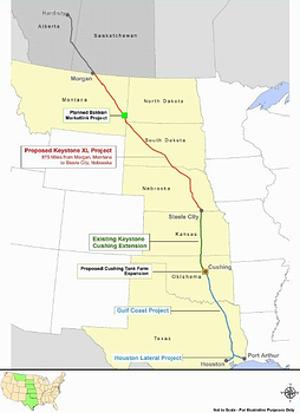 On January 18, 2012 President Obama rejected TransCanada's first permit application, refusing to be pushed by Congressional Republicans who tied the pipeline decision to a bill providing a payroll tax cut extension.
"This announcement is not a judgment on the merits of the pipeline, but the arbitrary nature of a deadline that prevented the State Department from gathering the information necessary to approve the project and protect the American people," Obama said then. "I'm disappointed that Republicans in Congress forced this decision, but it does not change my administration's commitment to American-made energy that creates jobs and reduces our dependence on oil."
House Republicans are still trying to force a decision favorable to the $7 billion pipeline. They plan to vote by Memorial Day on legislation that would go around President and give congressional approval to TransCanada.
House Energy and Commerce Committee Chairman Fred Upton Upton, a Michigan Republican, is a coauthor of the legislation – the Northern Route Approval Act (H.R. 3) – which would clear regulatory and legal hurdles, and remove the project's requirement for a Presidential Permit.
Upton told a House subcommittee April 10, "We have an historic opportunity with the Keystone XL pipeline to create thousands of good-paying American jobs and reduce our reliance on overseas energy." Upton did not mention the pipeline's impact on the planetary temperature.
Environmentalists dispute the "thousands" of jobs to which Upton refers, saying only a few dozen permanent jobs would be created.
The State Department has issued two Environmental Impact Statements, both of which find that the Keystone XL pipeline is "not likely result in significant adverse environmental effects," and "no substantive change in global greenhouse gas emissions."
Scientists and environmental groups disagree with those conclusions.
"When evaluating this project, the State Department should apply a simple test – does its completion bring the U.S. closer to meeting its climate goals? The answer is clearly no, and therefore the project must be denied," said Steve Kretzmann, executive director of Oil Change International, which authored "Cooking the Books."
"A fundamental flaw in the State Department analysis is that it is based on business as usual," Kretzmann told reporters on a telebriefing today. "But what has really changed in past several years is our understanding of a carbon budget."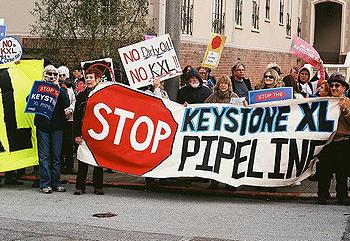 If the world is to stay below two degrees Celsius of warming, which scientists view as the limit of safety, then CO2 emissions must be held to no more than 450 parts per million; the level is now around 390 ppm. The world's existing infrastructure is already producing 80 percent of that "carbon budget," the International Energy Agency said in November 2011.
The IEA has said that two-thirds of known fossil fuel reserves must remain undeveloped if we are to avoid a two degree C temperature rise, which is the stated policy of the United States and has been agreed by world governments at the UN climate talks for the past two years.
Constructing the Keystone XL pipeline and developing the tar sands make that goal far more difficult, if not impossible, to reach, Kretzmann said.
Climate scientist Dr. James Hansen, adjunct professor in the Department of Earth and Environmental Sciences at Columbia University, told reporters on the telebriefing today, "Gases will remain in the atmospheric for millenia. The climate system responds slowly, so we have had the effect of only about half of what's already there and it has resulted in eight-tenths of a degree Celsius of warming – that much more is coming."
"We're already having noticeable consequences. I'm most concerned about those that are irreversible – the effect on ice sheets and effects that will have on sea levels into the next millennium and beyond and the extinction of species – they're gone forever," said Hansen, who from 1981 to his resignation earlier this month was the head of the NASA Goddard Institute for Space Studies in New York.
"The science of climate change, and of human-caused climate change in particular, has become clear over past several years," Hansen said, "and yet the crystal clear implications of this for policy are being ignored by government."
"It's a simple fact, we cannot burn all of the fossil fuels without enormous unacceptable consequences for young people and future generations," said Hansen, hwo has been arrested at several anti-Keystone XL demonstrations in front of the White House.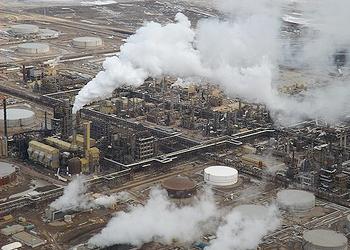 Pointing out that burning heavy tar sands oil releases more carbon dioxide than burning conventional oil, Hansen told reporters, "We should not be approving and allowing to go ahead extremely carbon intensive energy sources."
"As soon as we begin to put a price on carbon that makes them pay their price to society, tar sands oil would be the first to be eliminated," he said.
With "a large number" of other authors, Hansen said he has completed a paper, now in the publication review process, that will make "quantitatively very clear why we need to leave the tar sands in the ground."
"Cooking the Books" states, "Once we accept that tar sands production growth is not inevitable and that Keystone XL – as industry freely admits – is a crucial linchpin in their tar sands growth plans, we can start to uncover the real climate impact of the project," the report states. "As part of this discussion, we can also begin to evaluate the enormous opportunities the United States has to reduce our reliance on oil and all fossil fuels."
U.S. demand for oil has declined since 2005 by 2.25 million barrels per day – or the equivalent of almost three Keystone XL pipelines, the report points out.
"Alberta's premier was just in Washington, DC noting how essential the pipeline is to meeting increased production of the dirtiest oil on the planet. The numbers in this report make it clear that we can't afford to help Big Oil meet that goal," said Elizabeth Shope of the Natural Resources Defense Council, who contributed to the report.
Last week Alberta Premier Alison Redford made her fourth visit to Washington in the past 18 months to persuade U.S. politicians  that the Keystone XL pipeline is of "pivotal importance" to the future of North American energy security and independence.
"Continued and new market access for Alberta's globally-important resources is the single-most critical economic issue facing our province and our country," said Redford. "It is important that we continue to emphasize how responsibly-produced Alberta energy will continue to bolster economies on both sides of the border and provide needed jobs for Canadians and Americans and ensure we can achieve North American energy security and independence."
In 2008, Alberta became the first jurisdiction in North America to legally require large industry such as oil and coal-fired utilities to curb greenhouse gas emissions. Alberta has a $15 per ton price on carbon for those who do not meet legislated limits. The revenue is directed into a clean technology fund. To date Alberta has collected $312 million and has committed $181 million to 49 clean energy projects.
But environmental groups are not persuaded
"Any objective analysis of the impact of building Keystone shows that it would be a climate catastrophe," said Ross Hammond, senior campaigner for Friends of the Earth. "Instead, the State Department seems ready to buy into the pipeline propaganda of an army of lobbyists who are trading on their ties to Secretary Kerry and President Obama to taint the decision. The President must act in the national interest, not the interests of Big Oil, and reject the Keystone XL pipeline."
Copyright Environment News Service (ENS) 2013. All rights reserved.