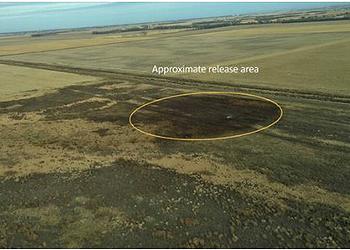 PIERRE, South Dakota, November 17, 2017 (ENS) – TransCanada has shut down its Keystone pipeline after it sprang a leak early Thursday near the small community of Amherst in Marshall County, South Dakota.
The pipeline carrying crude oil from Canada's tar sands will remain shut down as the company responds to the 5,000 barrel (210,000 gallon) spill, TransCanada said in a statement.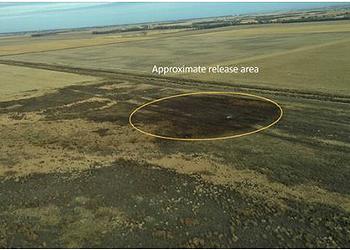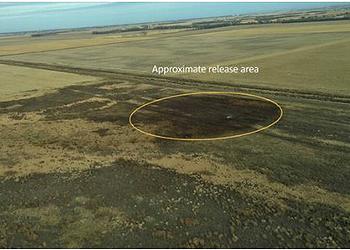 The closure affects the pipeline from Hardisty, Alberta to Cushing, Oklahoma and to Wood River/Patoka, Illinois. The cause of the spill is under investigation.
The company detected a pressure drop in its operating system and says the leaking section of pipe was isolated within 15 minutes and emergency response procedures were activated.
There are currently more than 75 people responding, including specialists in environmental management, metallurgy, engineering, pipeline integrity and emergency response.
Members of the federal Pipeline and Hazardous Materials Safety Administration, the South Dakota Department of Environment and Natural Resources and other state agencies are at the spill site, which is on agricultural land near the North Dakota border.
TransCanada says "the incident is controlled and there is no threat to public safety."
Brian Walsh, an environmental scientist manager at the South Dakota Department of Environment and Natural Resources, told the "Capital Journal" newspaper, "Ultimately, the cleanup responsibility lies with TransCanada, and they'll have to clean it up in compliance with our state regulations."
But the timing of this spill couldn't be worse for the Calgary, Alberta-based energy company. It comes just days before Nebraska regulators are scheduled to rule on TransCanada's Keystone XL extension to the pipeline.
The Nebraska Public Service Commission will announce its decision on TransCanada's permit application to build the Keystone XL pipeline on Monday during its weekly meeting in Lincoln.
President Donald Trump issued a federal permit for Keystone XL in March. The Obama administration had denied TransCanada a permit.
The commission's decision is the last big regulatory hurdle for a project that has faced a host of local, state and federal reviews and lawsuits since it was announced in 2008.
Environmentalists opposed to the Keystone XL pipeline stress that the pipeline should not be routed to cross the Oglalla aquifer, a primary source of drinking water that lies under Nebraska and other Midwestern states.
The spill "should be a stark reminder of the risk Nebraska would be signing up for," said Anthony Swift, director of the Natural Resources Defense Council's Canada Project, which opposes the pipeline. "The likelihood of spills should weigh into their decision."
Last summer, the NRDC asked its supporters to urge the Nebraska Public Utility Commission to stop the Keystone XL pipeline, and activists sent more than 50,000 messages to the commission. Now, the NRDC is asking for a renewed flood of messages to the commission.
But Nebraska state law does not allow pipeline safety to be a factor in the commission's ruling. The state passed a law in 2011 that prevents the commission from factoring pipeline safety or the possibility of leaks into its decisions.
The decision will hinge on testimony and documents generated from public hearings over the summer and from more than 500,000 public comments, Nebraska Public Service Commission spokeswoman Deb Collins told the Lincoln "Journal Star" newspaper.
Initial reports suggest the spill has not impacted surface water, but more investigation needs to done to confirm if groundwater has been affected.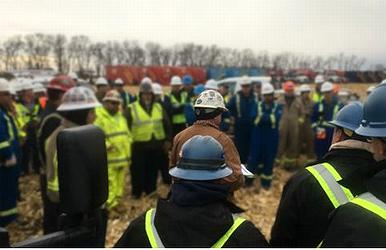 If approved by Nebraska regulators, the Keystone XL pipeline would carry 830,000 barrels a day of tar sands oil through the American heartland, threatening communities along its route with more oil spills.
The Keystone pipeline spill is near the Sisseton Wahpeton Oyate Reservation and less than 300 miles from the Standing Rock Sioux Reservation, serving as a reminder of the protests of the Dakota Access Pipeline at Standing Rock, which were intensifying at this time last year.
Robert F. Kennedy, Jr., president of Waterkeeper Alliance, said, "Pipelines like Keystone XL and the Dakota Access do not benefit the American people. They benefit a few billionaire oil tycoons who make their riches by impoverishing the American people and stripping them of their precious natural resources."
"TransCanada has proven it is unable to keep the drinking water of millions safe. They cannot be allowed to continue their exploitation of America's heartland," said Kennedy.
"How much more proof do we need that fossil fuel pipelines will always leak, spill and explode?" asked Daniel Estrin, advocacy director for Waterkeeper Alliance.
"Early reporting on yesterday's spill is sketchy, but it's sheer luck if no waterways were impacted as the existing Keystone pipeline crosses over 1,000 streams and rivers. A spill of over 200,000 gallons of toxic crude or tar sands oil would devastate a drinking water supply or sensitive ecosystem – perhaps permanently.
"Even new pipelines leak," said Estrin. "It's high time that our nation stops risking public safety and its precious natural resources to enrich Big Oil by approving these dangerous projects. We must transition to a clean, safe, and sustainable energy future."
Copyright Environment News Service (ENS) 2017. All rights reserved.
Environment News Service (ENS) © 2017 All Rights Reserved.