Kansas Court Asked to Overturn Sunflower Electric Coal Plant Permit
TOPEKA, Kansas, August 15, 2011 (ENS) – Earthjustice, representing the Sierra Club, filed a brief in the Kansas Supreme Court Friday seeking to overturn the air pollution permit granted to Sunflower Electric Power Corp. to expand its coal-fired power plant near Holcomb in western Kansas.
The coal plant has been the subject of a multi-year controversy after being denied a permit in the fall of 2007 because the new generating unit would produce too much of the greenhouse gas carbon dioxide. At the time it was the first rejection of a power plant permit anywhere in the United States for reasons related to climate change.
In the spring of 2008, then Governor Kathleen Sebelius three times vetoed a bill that would have allowed Sunflower Electric to expand its Holcomb power plant by adding two new coal-fired units.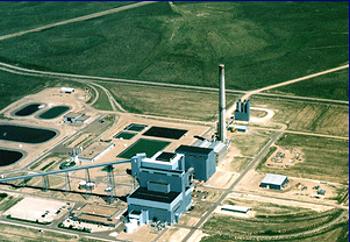 Sunflower's existing coal-fired power plant at Holcomb. In 2003, the facility received a combustion optimization system to reduce NOX emissions. In 2004, Holcomb began a field test of sorbent injection for mercury capture. (Photo courtesy Sunflower Electric)
When Sebelius was appointed Secretary of Health and Human Services in the Obama Cabinet in early 2009, she was succeeded by Governor Mark Parkinson. In May 2009, Governor Parkinson approved an agreement with Sunflower Electric that allows the utility to construct one 895 megawatt coal-fired unit with an unprecedented level of carbon mitigation beside its existing coal plant at Holcomb.
On December 16, 2010, the Kansas Department of Health and Environment issued a new permit to Sunflower.
It is this permit that the Sierra Club is challenging in court.
"When the federal Clean Air Act is violated, as is the case with the Sunflower permit, citizens can go to court to make things right," said Stephanie Cole, representing Sierra Club Kansas. "The Sunflower permit process was so completely hijacked by special interests that a citizen lawsuit became necessary."
The final permit was grant "due to political pressure by the legislature and governor's office" even after the Kansas Department of Health and Environment received nearly 6,000 public comments, many opposed to the project, the Sierra Club argues.
The lawsuit claims that the Kansas Department of Health and Environment:
Issued a permit that falls short of the minimum requirements of the Clean Air Act and will not adequately protect human health and the environment.
Engaged in an improper procedure in the granting of the permit based on a legislative directive, not sound science.
Denied the public a fair opportunity to participate in the process by rushing through review of comments to allow the project to be permitted prior to new greenhouse gas regulations taking effect.
Issued a permit without enforceable limits on nitrogen oxides and sulfur dioxide pollution.
Did not require "best available control technology" on new pollution sources, as required by law.
Allowed weak pollution limits even on hazardous toxic air pollutants in order to save costs.
The Sierra Club contends that the power plant will emit massive amounts of air pollutants, including mercury, sulfur dioxide, nitrogen oxides, and particulate matter on downwind Kansans.
The plant will rely on water from the declining Ogallala Aquifer, the group points out.
Pointing to assertions by both the generating and the receiving electric power companies, the Sierra Club contends there is really no need either in Kansas or in Colorado for the power the new generating unit would produce.
Finally, Sunflower owes the federal government millions of dollars for loans taken out to build the existing coal plant at Holcomb Station. Given Sunflower's massive debt and precarious financial situation, the plaintiffs argue that the company cannot finance this new coal plant itself without putting Kansas ratepayers and American taxpayers at further risk.
In a separate lawsuit, a federal court in Washington, DC recently held that the U.S. government violated the law by allowing Sunflower to proceed with this financially risky plant without first examining its environmental effects and alternative actions.
Anticipating litigation, Sunflower Electric CEO and President Earl Watkins said last week, "The Holcomb Expansion Project meets all state and federal requirements. Opponents would have you believe that by receiving an air permit in December from Democratic Governor Mark Parkinson's administration and by the recent KDHE stay in the 18-month construction commencement, Sunflower has somehow circumvented January 2011 requirements for greenhouse gas controls."
"What many people don't understand," said Watkins, "is that there is no commercial equipment available to control greenhouse gases; there is no "widget" to purchase and install."
"Instead" he explained, "the requirement is now for emission sources (not just electric utilities) to implement the Best Available Control Technology process, a five-step analysis in which proposed emission sources analyze the source based on consideration of energy, environmental, and economic impacts to ensure the most current, cost-effective commercial control technology is implemented."
"Facts are," said Watkins, "that regulating greenhouse gases under the Clean Air Act will slow U.S. investment and job growth and have no significant impact on reducing global greenhouse gas emissions because of the unrelenting construction of new coal plants in China, India and Europe."
But the plaintiff Sierra Club points to a report earlier this summer in the "Kansas City Star" that detailed a "cozy relationship" Sunflower enjoyed with KDHE during the permitting process.
The newspaper analyzed hundreds of emails that revealed that Sunflower was allowed inappropriate influence over the permitting procedure and was allowed to draft responses to public comments for KDHE and influence the terms of its own permit, among other things.
Watkins responds, "Sunflower did not organize the KDHE responses. Rather, the responses were organized by the agency to fulfill its comment-response obligations under the law. Sunflower staff merely organized our comments to be consistent with the KDHE organization already determined."
The emails obtained by the newspaper were not initially submitted to the Court by KDHE. Earthjustice filed a motion to ensure these documents were included in Court records.
Attorney Todd True of Earthjustice, a non-profit, public interest law firm, said, "Kansans deserve clean energy and clean air. Despite numerous attempts by coal-boosters to push through this project, we believe the permit will not withstand the scrutiny of judicial review."
Copyright Environment News Service (ENS) 2011. All rights reserved.