Justice OIG: Prison E-Waste Recycling Endangered Inmates, Staff
WASHINGTON, DC, October 22, 2010 (ENS) – The U.S. federal prison industry that recycled computers and other electronics violated health, safety and environmental laws, according to a scathing report by the Justice Department's Office of Inspector General released Thursday.
The multi-year investigation into the health, safety, and environmental compliance practices of e-waste recycling conducted by Federal Prison Industries, known by its trade name UNICOR, found "numerous instances of staff misconduct and performance failures."
Misconduct included endangering staff and inmates, dishonesty, theft and dereliction of duty.
"In all, we concluded that 11 UNICOR and Bureau of Prisons employees committed either misconduct or performance failures in their work related to the e-waste recycling program," the Inspector General's report states.
The Inspector General's investigators identified "potential criminal conduct" by Bureau of Prisons and UNICOR staff, which resulted in referrals to two other Department of Justice, DOJ, components.
"In February 2007, we referred information to the Environmental Crimes Section in DOJ's Environment and Natural Resources Division indicating that UNICOR managers had knowingly endangered staff and inmates, were aware of unlawful disposals of hazardous waste, and had concealed information from regulators," the report states.
"Following a lengthy investigation that the Environmental Crimes Section conducted in conjunction with the OIG, EPA, FBI, and the U.S. Attorneys' Offices for the Northern District of Ohio and the District of New Jersey," the report states, "no action was initiated because of various evidentiary, legal, and strategic concerns."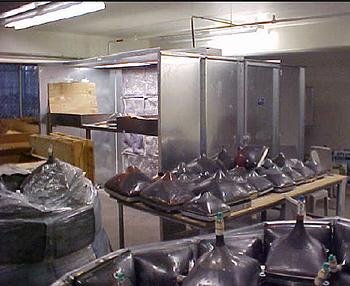 Glass-breaking booth at the U.S. Penitentiary in Atwater, California, a high security facility for adult males, 2002. (Photo courtesy Justice Dept. OIG)
The report validates concerns voiced by a Bureau of Prisons safety manager, Leroy Smith, who first began raising alarms in 2001. Smith is a former safety manager at the United States Penitentiary in Atwater, California, one of the 10 prisons that were subject to investigation for this report.
"In the long tradition of prison labor, these operations employed inmates with hammers but instead of rocks they were breaking computer components with no containment or protective equipment," said Public Employees for Environmental Responsibility Executive Director Jeff Ruch, whose organization aided Smith.
"Coated in toxic dust, prison staff and inmates worked for years, in many cases trailing heavy metals back to their homes and cellblocks," Ruch said.
Many of these conditions were detailed in 2006 in a report by the Silicon Valley Toxics Coalition and the Center for Environmental Health, along with Prison Activist Resource Center and the Electronics TakeBack Coalition.
The Inspector General's investigation undertaken in 2006 looked at prison computer operations in eight states: California, Arizona, Texas, Kansas, Ohio, Pennsylvania, New Jersey and Florida during the years from 2001 to 2009.
The IG's 433 page investigative report found that prison and prison industry officials committed "numerous violations of health, safety, and environmental laws and regulations" in which "staff and inmates were needlessly exposed" to more than 30 heavy metals, particularly lead and cadmium.
The dangers were known but ignored by officials who "concealed warnings about hazards" from the recycling operations. In one instance, officials disabled a factory's fire alarm system for three years so that it would not be set off by clouds of toxic dust. In other instances, UNICOR concealed actual working conditions from inspectors by cleaning up production lines before they arrived.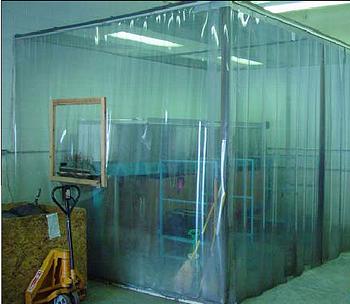 Glass-breaking booth at the Federal Correctional Institution in Marianna, Florida, a medium security facility for adult males, 2007. (Photo courtesy Justice OIG)
While there is what the Inspector General's report called a "strong likelihood" that thousands of prison staff and inmates were exposed to excessive levels of harmful materials over the years, the health effects are unknown because the prisons did no medical surveillance and did not keep required records of injuries and illnesses.
Toxic materials from these e-waste operations found their way into public landfills, the report states. "UNICOR customers who came to the warehouse to purchase items told the OIG that inmates used sledgehammers on the loading dock to break up televisions, and that broken glass from this work as well as from the inside of the semi-trailers, where CRTs often broke during shipping, was placed in the trash. One UNICOR customer stated that inmates would throw electronics and television tubes in a trash dumpster that was sent to a local landfill, especially tubes from console televisions."
"UNICOR also stored broken glass in large open top 'roll-offs,' or dumpsters, similar to those used for construction debris, that were left outdoors uncovered," the report states. "UNICOR staff and a vendor at the warehouse said that rainwater would accumulate in the roll-offs and leak into storm drains that led to a nearby creek."
The Office of Inspector General found that most of the violations had abated by mid-2009, when a new manager was hired, but the most hazardous activity, glass-breaking of cathode ray tubes, ended due to "economic considerations" not safety concerns.
UNICOR is a government corporation within the Federal Bureau of Prisons that provides employment to staff and inmates at federal prisons throughout the United States. UNICOR sells a variety of consumer products and services, such as office furniture and clothing, and industrial products, such as security fencing and vehicle tags.
As of June 2010, UNICOR had 103 factories at 73 prison locations, employing approximately 17,000 inmates or 11 percent of the inmate population.
Starting in 1997, UNICOR began to accept computers, monitors, printers, and other types of e-waste for recycling at federal prisons. UNICOR sold these e-waste items to its customers, sometimes following refurbishment, or disassembled the items into their component parts and sold the parts to recyclers for further processing.
Ruch points out that "profound legacy contamination" from more than a decade of dangerous operations at prison factories has yet to be assessed.
Although the Bureau of Prisons is a unit of the Justice Department, no one is being prosecuted for behavior documented by the Inspector General's report.
The Inspector General referred some Bureau of Prisons officials for criminal prosecution but those referrals were declined by the Justice Department.
"It appears that no responsible official will be held to account for what happened here and this fat report will simply sit on a shelf," said Ruch. "If these violations had been committed by a private business, people would be going to prison, but here they still run the prisons."
The OIG reports that the Department of Justice did not, and still does not, provide health, safety, and environmental compliance oversight of UNICOR and the Bureau of Prison e-waste recycling operations.
Copyright Environment News Service (ENS) 2010. All rights reserved.