GALVESTON, Texas, December 21, 2009 (ENS) – A federal jury in Galveston Friday awarded more than $100 million to 10 plaintiffs who claimed that they were exposed or injured in a series of toxic emissions in early 2007 at the BP oil refinery in Texas City, Texas.
The jury in Judge Kenneth Hoyt's court awarded $10 million in punitive damages to each of the plaintiffs although the company repeatedly denied that leaks of toxic fumes had occurred on four dates in March and April 2007.
BP officials maintain that there was no release of toxic fumes from the refinery, denied the company had harmed any of the workers and said the company intends to appeal the verdict.
"We are shocked and outraged by today's verdict, and we will appeal," BP said in a statement Friday. "The verdict, and punitive damages award in particular, is utterly unjustified, improper and unsupportable."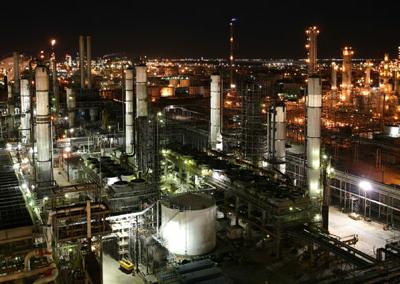 BP's Texas City refinery (Photo © BP p.l.c.)
According to the workers' complaint, BP "suggested to the press that the entire incident may be a hoax by 'disgruntled workers.'"
According to trial evidence, 110 individuals, including the trial plaintiffs, were sent by BP to hospitals for medical treatment after the emissions. At the hospitals, men and women were collectively stripped of their clothes and hosed down for decontamination. Hospital records diagnosed "exposure to toxic chemical."
The three-week trial included claims of the first 10 of 110 plaintiffs with pending negligence and damage claims against BP.
Tony Buzbee, Sean O'Rourke, Nicholas Simon, and Peter Taaffe of the Buzbee Law Firm's Houston office represent seven of the 10 plaintiffs. Arnold & Itkin LLP of Houston represented the other three plaintiffs at trial.
Buzbee said, "This verdict adds to the dangerous and deadly legacy of BP's Texas City plant. The jury recognized the safety problems at the plant and BP's efforts to discredit the workers. BP can claim to be 'outraged' by this jury's unanimous verdict, but the company's safety record in Texas City is abysmal. Serious questions persist about BP's commitment to workplace safety. The fact is, far too many workers have been killed or injured at that plant."
Texas City is BP's largest refinery worldwide and the third-largest refinery in the United States. Several major safety incidents have occurred at the refinery.
In September 2009, the U.S. Occupational Safety and Health Administration hit the company with an $87.4 million fine for not complying with a safety agreement made after a March 23, 2005 explosion and fire that killed 15 workers and injured more than 170 others.
In February 2009, BP Products North America agreed to pay $180 million to resolve another environmental lawsuit over benzene emissions at the refinery. That case involved violations of a 2001 consent decree and Clean Air regulations which were identified during inspections by the U.S. Environmental Protection Agency following the March 2005 blast.
Under that settlement, BP agreed to spend $161 million to address Clean Air Act violations by setting up better pollution controls, enhanced maintenance and monitoring devices and improving internal management practices. Another $6 million was designated to fund a project to reduce air pollution in Texas City and $12 million was paid as a fine.
In October, BP officials defended the company's safety efforts at the refinery.
"We believe our efforts at the Texas City refinery to improve process safety performance have been among the most strenuous and comprehensive that the refining industry has ever seen," said Texas City Refinery Manager Keith Casey. "We remain committed to further enhancing our safety and compliance systems and achieving our goal of becoming an industry leader in process safety."
Located just south of Houston, the plant includes 29 oil refining units and four chemical units spread over a 1,200 acre site. The Texas City refinery makes about 2.5 percent of all the gasoline sold in the United States.
BP Products North America, headquartered in Warrenville, Illinois, operates petroleum refineries in California, Indiana, Ohio, Texas and Washington. BP North America Inc. is a subsidiary of BP p.l.c., headquartered in London, England.
Copyright Environment News Service (ENS) 2009. All rights reserved.