Julia Roberts Accepts Role as Global Ambassador for Clean Cookstoves Alliance
WASHINGTON, DC, May 6, 2011 (ENS) – Actor Julia Roberts will join the Global Alliance for Clean Cookstoves in the role of Global Ambassador, the U.S. State Department announced today.
Working together with U.S. Secretary of State Hillary Clinton, Roberts will help to bring attention to the problem of toxic smoke from unsafe and inefficient cookstoves.
Roughly three billion people cook their food by burning solids, such as wood, dung or coal in crude, polluting stoves. Exposure to the toxic smoke accounts for nearly two million premature deaths annually, with women and young children the most affected, according to the World Health Organization.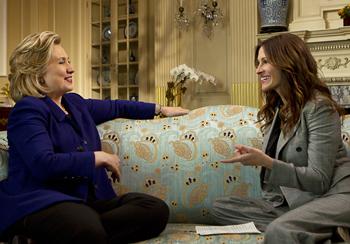 U.S. Secretary of State Hillary Clinton, left, and actress Julia Roberts during an interview for "Extraordinary Moms."
The Academy Award winning Roberts first learned about the Alliance's effort while interviewing Secretary of State Clinton for a show about motherhood airing on the Oprah Winfrey Network.
The program, "Extraordinary Moms," presented and executive produced by Roberts, airs Saturday, May 7 from 8 pm EDT.
"Nearly two million people around the world, mostly women and children, die each year from an activity that many of us take for granted – cooking for our families," Roberts said.
"I am proud to stand with Secretary Clinton to work to reduce the senseless and preventable deaths from unsafe cooking conditions in the developing world and I look forward to contributing to the important work of the Global Alliance for Clean Cookstoves," she said.
The World Health Organization says harmful cookstove smoke is the fifth-worst overall health risk factor in poor, developing countries.
Cookstove smoke contributes to as acute pneumonia in children under five, lung cancer, and other lung diseases. A growing body of evidence suggests links to other conditions, including tuberculosis, cardiovascular disease, cataracts, and low birth weight.
The use of wood, dung or coal for cooking harms the environment by increasing pressures on local natural resources and habitats.
In addition, inefficient, polluting cookstoves contribute to climate change through emissions of greenhouse gases like carbon dioxide and methane, as well as aerosols such as black carbon. The adoption of clean cookstoves would reduce these emissions.
On September 21, 2010, Secretary Clinton announced the Global Alliance for Clean Cookstoves, a public-private partnership led by the United Nations Foundation, create a global market for clean and efficient household cooking solutions.
In her new role, Roberts will work alongside the UN Foundation, and other Alliance partners to help the Alliance achieve its "100 by 20" target – 100 million households with clean cookstoves by 2020.
The United States government has made an initial financial commitment to the Alliance of $50.82 million over the next five years.
The Alliance is a public-private partnership of more than 60 national governments, UN agencies, private companies and nongovernmental organizations working to help overcome the market barriers that impede the production, deployment, and use of clean cookstoves in the developing world.
The State Department says, "Encouraging the development and use of clean cookstoves in cultures, communities, and countries throughout the developing world is consistent with the core principles of U.S. foreign policy and development efforts, which focus on improving the lives of the world's most vulnerable populations."
Copyright Environment News Service (ENS) 2011. All rights reserved.