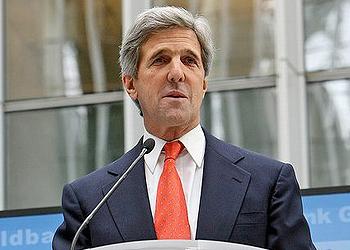 WASHINGTON, DC, January 31, 2013 (ENS) – Combating climate change is important to Senator John Kerry of Massachusetts, who was confirmed by the Senate 94-3 on Tuesday as the Obama Administration's new Secretary of State.
"Global climate change and energy security are two of the greatest challenges facing the United States today. America's contributions to global climate change and our oil dependence are endangering our national security, our economy and our environment," Kerry says on his website. "But the global climate crisis is more than an urgent scientific imperative; it is also a tremendous economic opportunity to secure America's leadership in creating the low-carbon global economy and our future prosperity."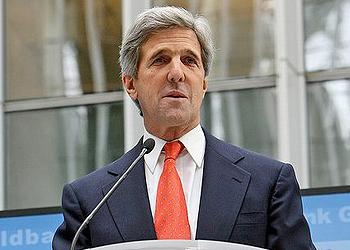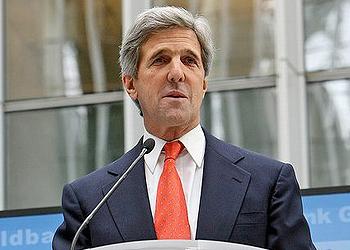 This view corresponds with that of President Barack Obama, who said, "I am pleased that the Senate has confirmed John Kerry as our next Secretary of State with overwhelming bipartisan support. From his decorated service in Vietnam to his decades in the Senate as a champion of American global leadership, John's distinguished career has prepared him to guide American diplomacy in the years ahead."
Kerry will be sworn in on Friday afternoon by Supreme Court Justice Elena Kagan and his first day at the State Department will be Monday.
Outgoing Secretary of State Hillary Clinton said that Kerry must deal with climate change. "If we don't deal with climate change, food security, energy access that is sustainable, we could have increasing conflict over resources," Clinton said. "That's not in the headlines today, but in 10 years, it could be."
Senate Majority Leader Harry Reid of Nevada calls him "a leading supporter of efforts to combat global climate change."
"Senator Kerry has convened eight major hearings and roundtables on climate change and energy security since taking the gavel of the Foreign Relations Committee in 2009," said Reid.
In 2009, Kerry supported legislation to control the greenhouse gases responsible for climate change by establishing a market-based cap-and-trade system to trade emissions permits. It passed the House but failed in the Senate.
Speaking in his role as chairman of the Senate Foreign Relations Committee, Kerry said, "I recognize that protecting Americans from the impacts of climate change requires global reductions in carbon pollution through tough, verifiable international efforts. I am committed to working towards achieving these goals while also maximizing opportunities for American leadership."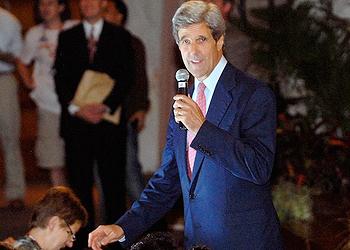 Kerry has a long history of involvement in international climate negotiations. While serving as a Massachusetts senator, he was  a delegate to the United Nations Rio Earth Summit in 1992 and the Kyoto climate talks in 1997. He has spoken at the UN Bali climate negotiations in 2007 and at the Copenhagen climate talks in 2009.
As his last legislative move, Senator Kerry co-sponsored a bill to make the nation stronger in the face of extreme weather caused by climate change. The Strengthening The Resiliency of Our Nation on the Ground (STRONG) Act was introduced December 19 2012 in response to the devastation wreaked by Hurricane Sandy along the Atlantic coast.
Kerry said then, "We've all been shaken by the images of Hurricane Sandy even as we've watched with pride as the nation rallied to help our neighbors. "But we owe it to people everywhere to strengthen our ability to respond to the next Sandy, in whatever form it may come."
"Hurricanes, flooding, drought and other extreme weather take an immense toll on communities, homeowners, the local economy, and our first responders. This bill would help support and encourage state and local governments to prepare for extreme weather," Kerry said.
During his 28 years in the U.S. Senate, Kerry has earned what the League of Conservation Voters calls "an impressive 91 percent lifetime score" on LCV's National Environmental Scorecard.
LCV President Gene Karpinski said, "Senator Kerry is a true leader on climate change and other environmental issues and has spent his career advocating for policies that are good for our planet and our national security. LCV looks forward to working with Secretary-designate Kerry to combat the climate crisis, reject dirty fuels and build on Secretary Clinton's extraordinary record of success."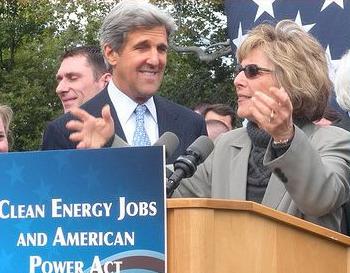 The environmental community sees Kerry's selection as a signal that President Obama plans to push for action on climate change during his second term of office.
Environmental Defense Fund President said, "President Obama's decision to put climate change at the heart of his second-term opens the prospect for Secretary Kerry to push for real and measurable progress on climate change in a range of bilateral and multilateral forums."
"We look forward to the opportunity to work with Secretary Kerry and his team as they redouble America's commitment to diplomatic leadership in confronting the climate challenge," said Krupp.
Sierra Club Executive Director Michael Brune said, "Now, one of the strongest champions for climate action in the Senate will be our nation's top climate negotiator."
"We are excited that he will bring his strong credentials on climate to the critical decisions facing our planet, including increasing access to affordable clean energy options and stopping the expansion of dirty tar sands and coal worldwide," said Brune, highlighting two of the Sierra Club's most prominent campaign goals.
Frances Beinecke, president of the Natural Resources Defense Council, said, "In nearly three decades in the U.S. Senate, John Kerry has distinguished himself as a champion for action against climate change, an advocate for the international cooperation we need to protect the natural resources of a changing world, and a visionary promoter of American jobs in the fast-growing market for clean energy worldwide."
Copyright Environment News Service (ENS) 2013. All rights reserved.