Italy Says Goodbye to Nuclear Energy
ROME, Italy, June 15, 2011 (ENS) – Italy will not return to nuclear power any time soon, as Italian voters Monday rejected a referendum proposal by the government of Silvio Berlusconi to restart the country's moribund nuclear energy program.
The year after the 1986 Chernobyl nuclear disaster, Italy decided to decommission its four nuclear power plants, and the last one was shuttered in 1990.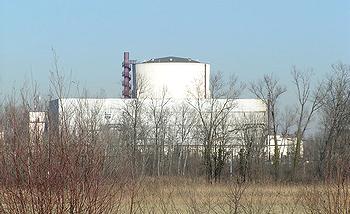 Italy's Caorso Nuclear Power Plant operated from 1978 until 1990, when it was closed following a referendum in November 1987. It was the last nuclear power plant to go online in Italy. (Photo by Simone Ramella)
Berlusconi reversed this decision in 2008. Former Industry Minister Claudio Scajola had proposed building as many as 10 new nuclear reactors.
But in view of Japan's nuclear disaster triggered by the March earthquake and tsunami, Berlusconi announced a one-year moratorium on plans for new reactors. But with the referendum he expressed his intention to rekindle Italy's nuclear energy program.
The Berlusconi government had planned to get 25 percent of Italy's energy mix from nuclear power by 2020. Italian voters have now blocked that plan.
Italy, heavily dependent on imports for its energy needs, now receives about 10 percent of its energy by importing power generated by nuclear power plants in France.
Some 55 percent of registered voters went to the polls to decide on four ballot measures – two on the privatization of water, one proposing a return to nuclear energy and a fourth allowing the premier to miss hearings in his trial on charges he had sex with an underage prostitute. He denies the charges.
"The high turnout demonstrates the will of Italians to participate in the decisions of our future and that cannot be ignored," Berlusconi said in a statement.
"We must probably say goodbye to the possibility of nuclear power stations and we must strongly commit ourselves to renewable energy," Berlusconi said.
Japan's ongoing struggle to curb releases of radioactive materials from the Fukushima Daiichi nuclear plant the country's Pacific coast has convinced Germany as well as Italy to forsake nuclear power development.
German Chancellor Angela Merkel announced May 30 that her government has decided to close all 17 nuclear power plants in the country by 2022.
In the wake of Japan's Fukushima nuclear disaster, and amidst widespread public protests against nuclear energy, Merkel said Germany plans to replace atomic power generation with renewable sources of energy.
Copyright Environment News Service,ENS, 2011. All rights reserved.