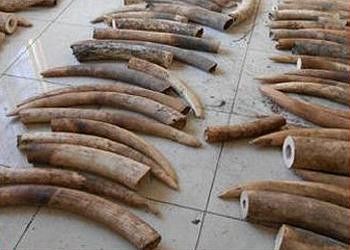 LYON, France, January 2, 2016 (ENS) – Illegal wildlife poaching and trafficking are still going on across Africa, but there are 376 fewer criminals in the trade after an international police operation last year.
An Interpol-led operation targeting ivory trafficking in Africa has resulted in 376 arrests, the seizure of 4.5 tonnes of elephant ivory and rhino horn and the investigation of 25 criminal groups involved in the illicit trade, the police agency said in a year-end statement.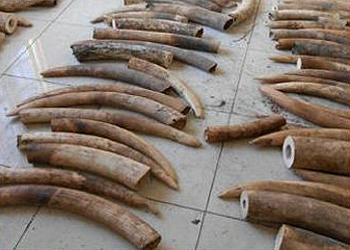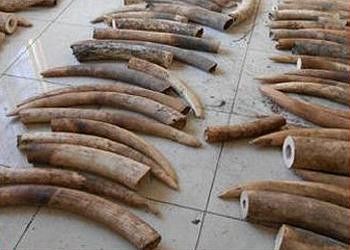 Francis Rwego, head of the Interpol Regional Bureau for East Africa in Nairobi, said, "Operation Worthy II was a very successful initiative for the countries involved, in particular the pre-operation meetings and workshops which provided officers with the necessary skills to carry out the operational phase effectively."
Operation Worthy II took place from January to October 2015 and involved law enforcement across 11 African countries: Ethiopia, Kenya, Malawi, Mozambique, Namibia, South Africa, Sudan, Swaziland, Tanzania, Uganda and Zambia.
"This operation could not have achieved such success without the on-the-ground actions by national law enforcement supported by Interpol's global network," said Rwego.
Along with the ivory and rhino horn, thousands of other wildlife products were also seized, including 2,029 pangolin scales, 173 live tortoises, 55 kg of sea cucumber, warthog teeth, big cat, pangolin and python skins and impala carcasses, as well as 532 rounds of ammunition, five firearms and two home-made rifles.
In one case, officers in Tanzania discovered 11 rhinoceros horns hidden in a modified fuel tank.
Poached impalas were recovered in Zambia in addition to the seizure of 173 live tortoises in Tanzania.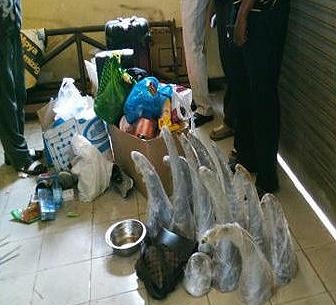 The aim of the operation was to enhance coordinated law enforcement responses to wildlife crime through cross-border, multi-agency collaboration, systematic intelligence exchange and analysis, and the use of advanced investigative techniques.
It was supported by Interpol's Project Wisdom which targets the illicit trade in ivory and rhino horns.
Project Wisdom aims to disrupt and dismantle the major transnational criminal syndicates engaged in the illegal trade of African elephant ivory and rhinoceros horn, by encouraging communication, cooperation and collaboration with respect to intelligence exchange, cross-border investigations, and capacity building.
The participating countries issued 25 Interpol notices, or international alerts, during the operation: seven Red Notices for wanted persons, four Blue Notices to gather information about individuals, 10 Purple Notices providing information on common modus operandi, and one Green Notice warning other countries about known criminals.
During the operation investigative support teams were deployed to Kenya and Tanzania and also to Asian countries, including Singapore and Thailand, where several tonnes of elephant ivory and rhinoceros horn were seized.
National coordination meetings were held in the pre-operational phase to enable police, wildlife and customs agencies to set their priorities for action in the field.
To this end, Sudan conducted a National Environmental Security Seminar in May, with the support of Project Wisdom and the Interpol Regional Bureau in Nairobi.
Operation Worthy II was supported by The Wildcat Foundation and the International Fund for Animal Welfare through Interpol's Project Wisdom.
Copyright Environment News Service (ENS) 2016. All rights reserved.
Environment News Service (ENS) © 2016 All Rights Reserved.