International Year of Forests Dawns With Hope for Conservation
NEW YORK, New York, February 2, 2011 (ENS) – Forests for People is the theme of the UN's International Year of Forests 2011 – launched at a ceremony today at UN Headquarters in New York attended by world leaders, Nobel Peace Laureate Wangari Maathai and forest experts.
While the worldwide rate of deforestation remains "alarmingly high," the UN says in its latest biennial report on the state of the world's forests, the rate of forest loss is slowing. Europe has more forests than any other region, due to the vast forests of Russia, while Latin America and the Caribbean had the highest net forest loss over the last decade.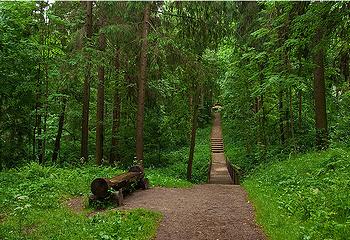 Path through a forest about 40 miles north of Moscow, Russia (Photo by Dmitry Morochko)
At least 1.6 billion people depend on forests for their daily livelihoods and subsistence needs, and the world's forests are home to more than 60 million people, many of them members of indigenous communities, the UN says.
The UN General Assembly designated 2011 as the International Year of Forests, and today Secretary-General Ban Ki-moon said this year will be used as a pathway to raise awareness about the management, conservation and sustainable development of all types of forests.
"By declaring 2011 as the International Year of Forests, the United Nations General Assembly has created an important platform to educate the global community about the great value of forests – and the extreme social, economic and environmental costs of losing them," said Ban.
Dr. Maathai, who founded Kenya's Green Belt tree-planting movement, said today that the value of the International Year is the opportunity to "explore the value of the trees, the forests and the environment, as well as the value of the environmental services that these resources give us."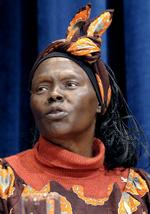 Dr. Wangari Maathai helps launch Year of Forests 2011. (Photo by Evan Schneider courtesy UN)
Too often forests and the services they provide are taken for granted and seen as resources that are unlimited, said Maathai. "But we all know now that we are facing situations where these forests are disappearing," she told reporters.
Forests cover about 31 percent of the planet's total land area, amounting to just under four billion hectares, according to data from the UN Food and Agriculture Organization, which today released its "State of the World's Forests" report.
Published every two years, the report stresses that the forest industry forms an important part of a "greener" economy and wood products have environmental attributes that appeal to people.
Today's ceremony, led by General Assembly President Joseph Deiss, is part of the high-level segment of the UN Forum on Forests, an intergovernmental policy forum that consists of all 192 members of the United Nations.
Deiss pointed out that the International Year of Forests follows the International Year of Biodiversity 2010, which concluded with the adoption of a new strategic plan containing targets on significantly reducing, by 2020, the rate of loss of all natural habitats, including forests, and sustainably managing forestry to ensure biodiversity conservation.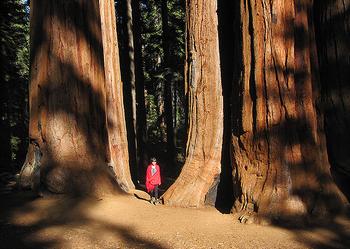 Giant sequoia trees in California are the largest living creatures on Earth and can live as long as 2,000 years. (Photo by UniWong)
"Every one of us, all seven billion people on Earth, has our physical, economic and spiritual health tied to the health of our forest ecosystems," said Jan McAlpine, director of the Forum's Secretariat. "Throughout 2011, we will celebrate this intricate, interdependent relationship between forests and people," she said.
Achim Steiner, executive director of the UN Environment Programme, said forests represent "priceless" spiritual, aesthetic and cultural dimensions of the human experience. "But they are also cornerstones of our economies, whose real value has all too often been invisible in national accounts of profit and loss," he said.
The forest products industry is responding to numerous environmental and social concerns by improving sustainability of resource use, using more waste materials to make products, increasing energy efficiency and reducing emissions, the UN said in a statement.
Last year, 37 percent of total forest production came from recovered paper, wood waste and non-wood fibers, a figure the UN says is likely to grow to up to 45 percent by 2030, with much of that growth from China and India.
"What we need during the International Year of Forests is to emphasize the connection between people and forests, and the benefits that can accrue when forests are managed by local people in sustainable and innovative ways," said FAO Forestry Director Eduardo Rojas.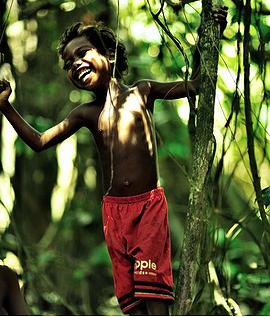 A boy of the Batek, a hunter-gatherer people of Malaysia, at play in the forest. (Photo by Lye Tuck-Po)
The FAO report stresses that urgent action is needed to protect the values of forests that sustain local livelihoods in the face of climate change.
Recent decisions taken in Cancun, Mexico at the UN climate summit in December 2010 on REDD+, which stands for Reducing Emissions from Deforestation and Degradation, should be aligned with broad forest governance reform and enable the participation of indigenous people and local communities, the report underlined, emphasizing that their rights should be respected in national REDD+ activities and strategies.
Countries will need to adopt legislation to clarify carbon rights and to ensure equitable distribution of costs and benefits from REDD+ programs.
Forestry measures can reduce the impacts of climate change on highly vulnerable ecosystems and sectors of society, says the FAO report.
Forest roles in adaptation to climate change include mangrove development and conservation in Bangladesh, forest fire prevention in Samoa and reforestation programs in Haiti.
The report points out that the close links between forests, rural livelihoods and environmental stability underline the need for financial support for forest adaptation measures.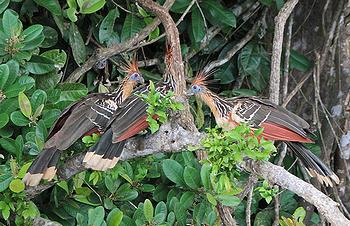 Birds of the Peruvian Amazon called hoatzins, Opisthocomus hoazin, live in riverine forests and mangroves. (Photo by Daniel Virella)
As part of the launch, international filmmaker Yann Arthus-Bertrand premiered his short film "FOREST." The ceremony also featured clips from winning films from the International Forest Film Festival, which was organized by the UN Forum on Forest Secretariat in collaboration with the Jackson Hole Wildlife Film Festival.
A separate report released Tuesday by the International Union for the Conservation of Nature, IUCN, finds that a better evaluation of what forests are worth will generate direct benefits for poor forest dwellers, open up new markets and affect global economic growth. The economic benefits of forests are massively under-valued by governments and donor agencies, the IUCN reports.
Forests are traditionally valued for their main commercial resource, timber. But they are home to 80 percent of terrestrial biodiversity and provide a wide range of ecosystem services such as clean water, protection against floods and other natural disasters, estimated at more than US$720 billion a year for national and global economies.
"When deciding how to spend their budgets, governments usually don't factor in the economic returns to investing in locally-controlled forestry," says IUCN's Lucy Emerton, one of the authors of the report. "They thereby miss a critical opportunity to invest in stimulating economic growth, sustainable development and poverty reduction."
"Locally-controlled forest management is a highly profitable public investment and development assistance option," says Stewart Maginnis, IUCN's Director of Environment and Development, who spoke at the UN ceremony today in New York. "We are talking about an absolutely revolutionary way of changing the world economy – and changing it for the better."
Copyright Environment News Service (ENS) 2011. All rights reserved.