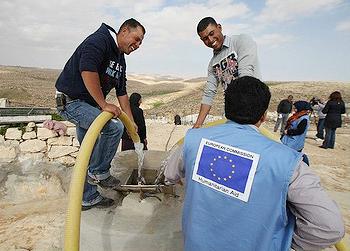 NEW YORK, New York, March 22, 2013 (ENS) – "Water is central to the wellbeing of people and the planet," UN Secretary General Ban Ki moon said in his video message for the International Year of Water Cooperation 2013. "We must work together to protect and carefully manage this fragile, finite resource."
The fulfillment of basic human needs, the environment, socio-economic development and poverty reduction are all dependent on water, said Ban. "Cooperating around this precious resource is key for security, poverty eradication, social equity and gender equality."
Today, on the 20th anniversary of World Water Day, declared by the UN General Assembly, more than 780 million people do not have access to improved sources of drinking water and 2.5 billion people are without improved sanitation. Population growth together with changing consumption patterns, especially in cities, is driving an increase in water demand.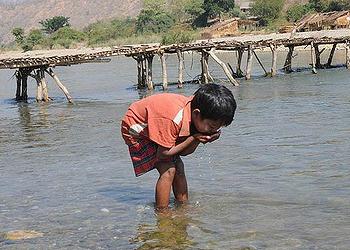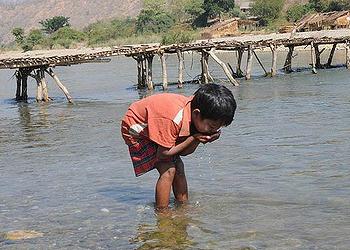 With the world population expected to grow from a little over seven billion today to eight billion by 2025, water withdrawals should increase by 50 percent in developing countries and by 18 percent in developed countries. Water for irrigation and food production is one of the greatest pressures on freshwater resources.
Drinking unsafe water harms children, causing waterborne diseases such as diarrhea, cholera, intestinal worms and typhoid. But many children have no other option.
An estimated 148 countries share a basin with one or several other countries, which is a potential source of conflict, as actions upstream have impacts on downstream countries. The Danube, for example, is shared by 19 countries, and the Nile River by 11. Water over extraction, diversion, pollution, scarcity and the neglect of existing agreements are often at the roots of water tensions.
"Governments must commit to finding inclusive and cooperative solutions to water challenges," said Irina Bokova, a Bulgarian who serves as director-general of UNESCO, in her messages on the occasion of World Water Day. "For this, we must take decisions that involve all relevant actors, from investors to users," she said.
A new UN Water analytical brief on water security released today demonstrates that shared waters provide opportunities for cooperation across nations and support political dialogue on broader issues such as regional economic integration, environmental conservation, and sustainable development
At the official ceremony of World Water Day 2013 taking place in The Hague, UN Water has recognized two projects that contribute to the fulfillment of international commitments made on water and water-related issues this year.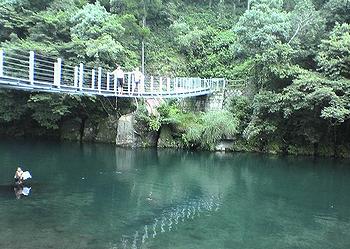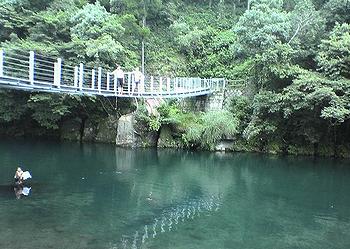 The UN Water "Water for Life" Best Practices Award was given to a project implemented in the city of Kumamoto in Japan for the conservation of groundwater resources and to the "Safe Water and Sanitation for All" initiative in the Republic of Moldova, aimed at improving coverage in rural areas of the country.
Peace advocates in Israel and the Palestinian Authority have sent President Barack Obama a "road map" to Middle East peace that starts with water. The proposal was delivered through U.S. Ambassador to Israel Dan Shapiro, the "Jerusalem Post" reported. It is timed to coincide with President Obama's visit to the region that took him Thursday to Jerusalem and to Ramallah on the West Bank.
Encouraging an agreement on water issues could only benefit both populations, wrote the roadmap's authors – Israel Director of Friends of the Earth Middle East Gidon Bromberg and Oded Eran, senior research associate at Tel Aviv University's Institute for National Security Studies and a former Israeli ambassador to the European Union and Jordan.
Because of the Palestinian Authority's "dire need" for water, Israel's increased water supply due to desalination, and their joint need to deal with untreated sewage, the issue of water could serve as a catalyst for generating a future overall peace agreement, according to the road map.
In Europe, the International Federation of Private Water Operators, AquaFed, marked World Water Day calling on European institutions to enshrine the human right to safe drinking water and sanitation in the European Charter on Fundamental Rights.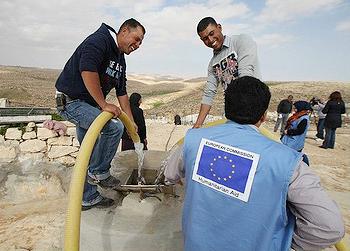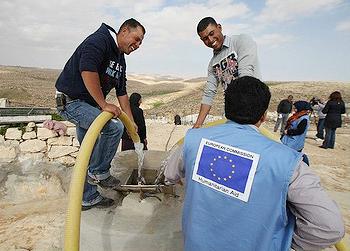 Although the 27 EU member states are parties to the International Conenant on Economic, Social and Cultural Rights, the European Union has yet to formally recognize the human right to safe drinking water and sanitation in EU law.
In a joint statement, EU Commissioner for Environment Janez Potocnik, EU Commissioner for Development Andris Piebalgs, and EU Commissioner for Internal Market and Services Michel Barnier said that while on average Europeans use between 200 and 600 liters of water per day, 20 million Europeans don't have access to quality water and safe sanitation.
While Europe is considered to have adequate water resources, many of its regions, in particular in the South, suffer from water scarcity.
In the UK, the nongovernmental organization Sustain has developed the world's most comprehensive water footprint food calculator. Input of the precise ingredients of any meal, plus the country of origin, gives the most accurate reading to date of a meal's water footprint.
Sustain's Craig Jones, who led the development of the calculator, explained that if the importance of water footprinting as a world issue was to increase, then consumers would need to know much more than they do about the footprint of each food item they eat.
In the United States, Dr. Peter Gleick and the Pacific Institute were honored with the first Lifetime Achievement Award at the Silicon Valley Water Conservation Awards ceremony in San Jose, California. Gleick is president and co-founder of the Oakland organization that, over 25 years, has built a reputation in California and around the world.
"Water is closely connected to each of the vital resource issues of our time – human and ecosystem health, poverty, conflict, energy, food, sustainable communities, and strong economies," said Gleick. "The heart of the Pacific Institute's work is to identify and forge a new path for water, create new concepts and tools, and educate and change our thinking about water, from our local communities to the world as a whole. We work to both tackle root causes of water problems and drive fundamental changes in current systems."
In China, people are calling for cleaner water. "Today marks World Water Day. We should not only conserve water, but also pay attention to and expose water pollution," said Xue Manzi, a well-known investor, on Sina Weibo, the Chinese version of Twitter.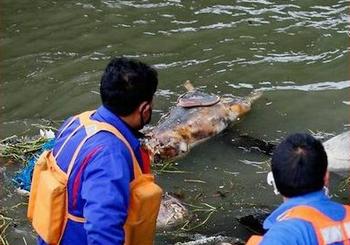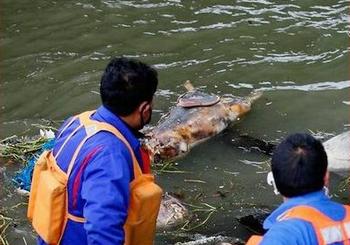 "Dead pigs float on rivers and sewage is discharged untreated into rivers and underground," Xue told the state-run news agency Xinhua.
Earlier this month, thousands of pig carcasses were discovered in the Huangpu River, which provides 22 percent of Shanghai's tap water. The incident raised public concern, although local authorities tried to assure local residents that the water was safe.
"The quality of drinking water can only be ultimately ensured after industrial zones and agricultural farms are separated from water resources," Deng Nianhua, a lake protection expert with the Jiangxi Academy of Sciences, told Xinhua.
To mark World Water Day, the Greenpeace International office in Beijing, called on industry to help create a clean water future. "Today we remember those who are suffering from industrial water pollution and celebrate the bravery, passion and persistence of the people around the world working tirelessly to create a toxic-free tomorrow," said Tianjie Ma, Head of Greenpeace East Asia's Toxic Campaign.
"Just last month the Chinese government acknowledged for the first time the existence of 'cancer villages' linked to pollution from hazardous chemicals, and signaled their willingness to address toxic water pollution in an open and transparent manner," said Ma.
"Industry also has a crucial role to play in creating a toxic-free future, and as one of the major contributors toward toxic pollution the textile industry needs to both take responsibility for the issue and work to champion the solutions," Ma said.
Since launching in July 2011, Greenpeace has convinced 17 international brands including Zara, Levi's and Victoria's Secret to commit to eliminate all hazardous chemicals from their supply chains and products.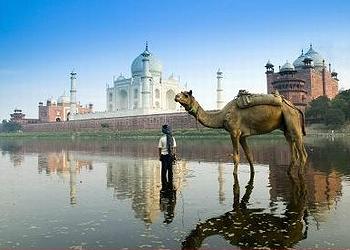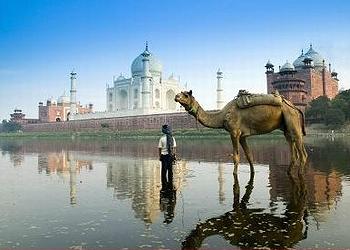 In India, thousands of people are marching from Vrindavan to Delhi to advocate for their lifeline, the River Yamuna. Not a drop of Yamuna water can be found in the river at Vrindavan, and the marchers complain that upstream communities take all the drinking water, leaving them only the waste water of upstream cities.
The marchers are demanding that adequate flow be maintained at all times in the river downstream of the Hathnikund barrage and that no waste water be dumped into the Yamuna.
"The Hindu" newspaper takes the view that their cause is "not only just (it being violative of the Water Act) but as enunciated by the Supreme Court, it is also their constitutional fundamental "Right to Life" under Article 21, that the state is bound to uphold."
As part of the Catch Every Drop initiative, the Indian city of Bangalore will celebrate World Water Day with events all over the city. People can visit homes, apartments, and public places that have harvested rainwater, treated their sewage, and acted as water stewards.
Out of a Bangalore population of 8.7 million, some 2.2 million people are currently suffering from water scarcity. "If we collected all of the water that is being wasted down stormwater drains, and if we treated our sewage water, we could serve the water needs of 53 percent of Bangalore's population," says Catch Every Drop on its website.
On the commercial side, Ford said today the company has reduced the average amount of water used to make each vehicle by 8.5 percent between 2011 and 2012 – putting the company more than halfway toward its current goal of using an average of just four cubic meters per vehicle globally by 2015.
Copyright Environment News Service (ENS) 2013. All rights reserved.