WASHINGTON, DC, December 2, 2009 (ENS) – The heads of the world's largest international financial institutions today called for a comprehensive agreement to combat climate change at this month's United Nations conference in Copenhagen and agreed to further coordinate their own efforts to help achieve the meeting's ambitious goals.
In a joint statement, the financiers called for governments to agree on an "ambitious, comprehensive, and equitable global climate change regime that enables all countries to achieve sustainable development along climate-resilient and low greenhouse gas emission-intensive paths."
They pledged to use their own organizations' mandates, expertise and resources to help authorities combine with the private sector to confront the challenges of climate change and to make the best possible use of available financing.
The heads of the African Development Bank, Asian Development Bank, European Bank for Reconstruction and Development, European Investment Bank, Inter-American Development Bank, World Bank Group and International Monetary Fund committed their organizations to the use of technical assistance and funds to further support their environmental goals.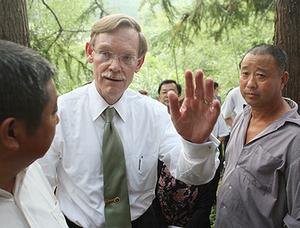 World Bank President Robert Zoellick at the site of a World Bank-supported forestry project in Anhui, China.
(Photo by Wu Zhiyi courtesy World Bank)
"Climate change is one of the most complex challenges of our young century. No country is immune," said World Bank Group President Robert Zoellick from his office in Washington.
"No country alone can take on the interconnected challenges posed by climate change, including difficult political decisions, daunting technological change, and far-reaching global consequences," said Zoellick.
"Changes of this magnitude will require substantial additional finance for adaptation and mitigation, and for intensified research to scale up promising approaches and explore bold ideas," Zoellick said. "It is crucial that countries integrate development needs with climate actions."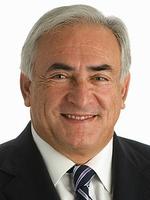 IMF Managing Director Dominique Strauss-Kahn
(Photo courtesy IMF)
But civil society groups warn that multilateral development banks can worsen climate change through their financing of fossil fuel development projects.
Former president of Ireland Mary Robinson and Senior Fellow at the Miller Institute Alice Miller published an article Tuesday arguing that if the World Bank is going to be the institution for climate financing, it can improve its practices to live up to this role, particularly its energy portfolio.
The financiers themselves are concerned that global economic crisis not distract the world from tackling climate change. International Monetary Fund Managing Director Dominique Strauss-Kahn said, "Sustaining the recovery and putting in place effective climate change policies can be mutually reinforcing with the right policies implemented resolutely," he said.
"Global cooperation, including among international financial institutions, will help countries to confront the challenges from climate change. These require innovative and long-term solutions, which have a part to play in supporting the recovery and sustainable growth. The IMF can assist in its areas of expertise to advise on policies and support countries that are most vulnerable to economic and climate challenges," said Strauss-Kahn.
From December 7-18, the UN climate talks take place in Copenhagen with representatives of more than 170 world governments and dozens of heads of state and government set to attend.
The negotations are aimed at crafting an agreement from 2013 to further limit greenhouse gas emissions that are already warming the planet. The agreement will take effect when the Kyoto Protocol's first commitment period expires at the end of 2012. The first commitment period 2008-2012 required 35 developed countries to cut their emissions by an average of 5.2 percent.
"Climate change is a major threat to sustainable development in all regions of the world and, in particular, to the achievement of the Millennium Development Goals," the financiers said in their joint statement today. "Scientific evidence reveals unequivocal proof of the human footprint on the global climate and the adverse impacts that will ensue."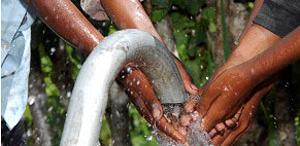 Access to clean water is a challenge in arid regions of Africa.
(Photo courtesy African Development Bank)
"The impact of climate change on Africa is already evident," said Donald Kaberuka, president of the African Development Bank. "It adds a significant additional burden to existing challenges of poverty, of inadequate access to energy, water, and basic infrastructure. Additional resources are needed urgently to help Africa adapt, to protect its lakes and forests, and to maintain growth. Together we must rise to these challenges; the African Development Bank stands ready to play its part."
"It is critical that developed countries continue to take the lead in the mitigation of climate change by adopting adequate quantitative emissions reduction targets beyond 2012, and support and enable nationally appropriate mitigation actions by developing countries with technology, financing, and capacity-building," they declared.
The United Nations' chief climate negotiator Yvo de Boer has denied suggestions the Copenhagen meeting will be a failure. As executive secretary of the UN Framework Convention on Climate Change, UNFCCC, de Boer is confident the conference will deliver an agreement, with ambitious emissions targets from developed nations, and commitments to cut emissions growth by the developing world. But he says a legally binding treaty is not likely to be completed until June 2010.
In view of the complex and contentious climate negotiations, the financiers said today that a new and higher level of cooperation between the private and public sectors is essential to master this challenge.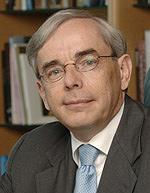 EBRD President Thomas Mirow
(Photo courtesy EBRD)
Thomas Mirow, president of the European Bank for Reconstruction and Development, today called climate change, "the overriding challenge of the 21st century."
"The EBRD will further step up its own financing and help leverage private sector investments to win the battle against energy waste and greenhouse gas emissions – a key priority especially in eastern Europe," said Mirow. "This will only achieved by ensuring an unprecedented level of cooperation between the private and public sectors."
European Investment Bank President Philippe Maystadt said, "This joint statement shows the strong commitment of the European Investment Bank and the other international financial institutions to coordinate further their support to the UNFCCC Parties. We must innovatively deploy the full arsenal of instruments and resources at our disposal to maximize the use of financial flows by our client partners."
The financiers agreed to provide and facilitate "country-driven, comprehensive packages of technical assistance and financing which may include blends of loans, grants, equity, carbon finance, and guarantees as appropriate and available."
"We will also seek to leverage public funds with private financial flows so as to mobilize market-based financing for climate investments," they said.
Asian Development Bank President Haruhiko Kuroda sees economic opportunity in the process of curbing global warming.
"Climate change presents a daunting challenge – perhaps the biggest ever faced by humanity. But it also provides an opportunity to transition towards a more sustainable growth path," said Kuroda from his office in Manila.
"Developing countries cannot be denied the chance to share in the planet's wealth. They can, however, choose to approach economic development differently by leapfrogging directly to more energy-efficient and sustainable solutions," Kuroda said. "Since infrastructure investments can establish a country's pattern of resource use for decades to come, the time to act is now – before this infrastructure is set in stone."
The financiers pledged "to further coordinate their financing of climate actions within a common framework" and said such a framework "will benefit from lessons learnt from our cooperation past and present, including recently-established Climate Investment Funds."
On July 1, 2008, the World Bank Board of Executive Directors approved the creation of the Climate Investment Funds to assist developing countries vulnerable to climate change implement low carbon technologies. On September 26, 2008 donors gathered to pledge over US$6.1 billion. These funds are managed by the World Bank and implemented jointly with the Regional Development Banks.
"Developing countries have shown that practical solutions to the challenge of low carbon growth and climate resilient development are available right now," said Inter-American Development Bank President Luis Alberto Moreno.
"The challenge is to scale up these solutions through both public and private financing," Moreno said, "and in this area the multilateral development banks can contribute by providing technical and financial assistance to enable effective use of concessional finance such as the Climate Investment Funds and to help increase access to the carbon market."
However, civil society groups have long been concerned about the negative impacts of international development banks on the environment and on indigenous peoples, as well as on the prospects for genuine economic and democratic reform, according to the Bank Information Center based in Washington and Bangkok.
This nonprofit, nongovernmental organization says it will work to ensure that the Climate Investment Funds and Forest Carbon Partnership Facility are governed transparently and consistently with United Nations Framework Convention on Climate Change principles and decisions.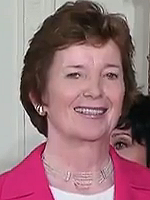 Mary Robinson
The role of the World Bank in receiving and disbursing climate change funding "remains contentious," say Robinson and Miller in their new article. "Many governments and civil society organizations believe that the bulk of climate change funding should be coordinated by and through the UN body responsible for the Convention itself, the UNFCCC."
They point out that in an address at the Bank's annual meetings, the UNFCCC's de Boer called attention to critiques of the World Bank and said that, "developing countries are by and large dissatisfied with the existing governance system. They have pointed out … that it doesn't safeguard their needs; they don't have an equitable voice in it; disbursement is too slow; and the international financing system is fragmented."
A report released in October by former Mexican President Ernesto Zedillo calls for reforms at the World Bank Group such as "parity in voting, addressing the anomaly of one major donor having effective veto power within the institution, and calls for greater independent evaluation of the institution," write Robinson and Miller.
"Despite these concerns and critiques, until donors put significant additional funds into the UNFCCC, the World Bank by default is the world's leading institution addressing climate change – what some have now dubbed 'the Climate Bank,'" write Miller and Robinson, who served as United Nations High Commissioner for Human Rights from 1997-2002.
Miller and Robinson call on the World Bank to reform its energy portfolio, saying, "The Bank must acknowledge that its continued financing of new coal and other fossil fuel projects undermines its credibility. Its increasing portfolio of renewable energy projects is very welcome. But this proportion is still overshadowed by financing for coal and other projects that represent a huge investment in cumulative increased CO2 for decades to come."
The World Bank is undertaking a review of its energy investment strategy. Robinson and Miller urge the bank to provide greater energy access for the poor, prioritize local energy needs over export, and emphasize human rights standards in its work.
They write, "A process must be developed for building an equity and rights metric to assess Bank projects and strengthen internal and external accountability."
Copyright Environment News Service (ENS) 2009. All rights reserved.
Environment News Service (ENS) © 2009 – 2013 All Rights Reserved.