Innovative Eco-Technologies Earn 34 Businesses $2 Million in EPA Grants
WASHINGTON, DC, April 5, 2010 (ENS) – The NEI Corporation based in Somerset, New Jersey today was awarded nearly $70,000 to develop a self-healing nanocomposite material to protect drinking water pipes from corrosion.
The award to this nanoscale materials development company is part of the U.S. Environmental Protection Agency's Small Business Innovation Research program, which today awarded $2.38 million to 34 small businesses to develop innovative, sustainable technologies to protect human health and the environment.
"Innovation is the lifeline of progress and scientific and technological innovation are essential to the progress we seek to make in protecting people and the planet," said Dr. Paul Anastas, assistant administrator for EPA's Office of Research and Development. "These small businesses are key to helping us reach that goal."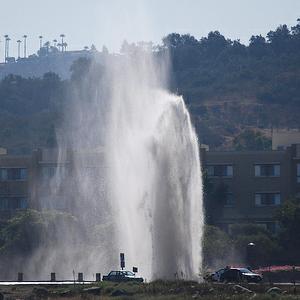 Water main break in San Marcos, California (Photo by Ed Philbrick)
The award to NEI seeks a solution to the pipe leaks and water main breaks that occur due to aging, corroding water pipes. In the nation's major water systems, about 30 percent of the pipes are at least 40 years old, and 10 percent are more than 80 years old.
In addition, as fresh water sources dry up there is a growing need to use alternate water sources, such as reclaimed and produced waters, for purposes where drinking water quality is not required.
But alternate water sources often contain high levels of dissolved salts, ammonia, and other constituents that can corrode the piping materials.
Available corrosion-control materials do not have the self-healing ability except for chromium, but the use of chromium for waste water treatment is now banned due to its negative health effects.
NEI Corporation proposes to overcome the problem of corrosion by developing a self-healing nanocomposite surface treatment to protect the piping materials even at high contaminant concentrations. The focus of the grant is on metal pipelines.
"The EPA's SBIR program is very competitive, and we are pleased to have been awarded this research and development grant," said Dr. Ganesh Skandan, CEO of NEI. "Our experience developing self-healing, anti-corrosion coatings and commercializing them through our American Nanomyte subsidiary positions us as a strong candidate to both find and implement solutions that address our country's aging water infrastructure."
Today's awards to businesses in 16 states focus on 10 key environmental research areas:
increasing the efficiency of green building materials and systems
manufacturing innovation
prevention, monitoring, and control using nanotechnology
reducing greenhouse gases
new treatment technologies for drinking water
improving water infrastructure
reducing emissions from small air pollution sources and vehicles and biofuels production facilities
new approaches for cleaning up and monitoring hazardous waste sites
new tools for homeland security systems
Most of today's awards are for amounts close to $70,000.
In Albany, Oregon, the company Lao K, LLC will use its award develop a new soy-based adhesive that can be used to produce plywood without toxic materials.
The Aspen Products Group, Inc. of Marlborough, Massachusetts will develop a microstructured filter that will trap and oxidize emissions of particulate matter and volatile organic compounds from commercial cooking establishments.
The EPA estimates there are 945,000 restaurant and food service outlets across the country, most which contain cooking equipment that emits hazardous air pollutants. The proposed technology is adaptable to a wide variety of emissions and offers the potential for improvements in urban air quality, the agency says.
The company Technology Specialists of Fort Wayne, Indiana will develop and evaluate a new process for converting biomass waste into diesel fuel as a direct substitute for ultra low-sulfur diesel.
Any biomass material or solid waste, such as forest wood biomass, grassland biomass, organic non-recyclable components of municipal solid waste, and cellulosic waste material, can be converted to fuel in the proposed high-yield process. The environmental benefits include reduced greenhouse gas emissions from on-road diesel vehicles, and converting waste materials into useful fuel products.
EPA's Small Business Innovation Research program was established to ensure that new technologies are developed to solve priority environmental problems. EPA is one of 11 federal agencies that participate in the SBIR program, enacted in 1982 to strengthen the role of small businesses in federal research and development, create jobs, and promote technical innovation in the United States.
To be eligible to participate in SBIR, a small business must have fewer than 500 employees, and at least 51 percent of the business must be owned by U.S. citizens.
EPA is also requesting applications for the development of new environmental technologies. The application deadline is May 11. Click here to learn about applying for funds. Click here for more information on the 2010 SBIR awards.
Copyright Environment News Service (ENS) 2010. All rights reserved.