India's New Wild Tiger Census Shows Population Increase
NEW DELHI, India, March 30, 2011 (ENS) – India's population of endangered tigers has increased by 225 animals since 2007, according to the results of the latest census released at the International Tiger Conservation Conference underway in New Delhi.
The government estimated tiger numbers at 1,706, up from 1,411 during the last count in 2007.
However, the 1,706 figure includes an additional tiger reserve in the count, the Sundarbans, that contained 70 tigers. This area was not counted in 2007.
So, when comparing the previous survey with the current one, the official estimate stands at 1,636, excluding the Sundarbans, or an increase of 225 animals.
Announcing the new numbers Monday at the opening of the conference, Environment Minister Jairam Ramesh said that close to 30 percent of the estimated tiger population is outside India's 39 Tiger Reserves. "We do not have complete strategies to deal with this," he said.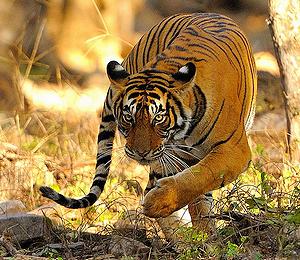 Wild tiger in Ranthambore, Rajasthan, India, December 2010 (Photo by John Kok)
There is a considerable rise of tiger numbers in southern states, where Karnataka shows the highest figure of 320 estimated tigers, he said.
The count was conducted by India's National Tiger Conservation Authority with key nongovernmental partners in the largest tiger population survey ever undertaken.
Numbering more than 100,000 at the turn of the 20th century, tigers have lost more than 97 percent of their population and 94 percent of their home range in just 100 years.
Today, India has half of the world's remaining wild tigers, and the government supports tiger recovery.
Poaching for body parts, illegal trade and habitat degradation have reduced the world tiger population to about 3,200. Lately, conflict with people has emerged as one of the major threats in tiger conservation, particularly in India.
Water Resources Minister Salman Khurshid said, "We came late on industrial revolution of our country, unlike western parts. We have many challenges to ensure that balance is maintained between development and environmental ecology. Tiger has become a national symbol, so we need to save tiger. Development and environment have to go together."
Hosted by the government of India, the conference is being held in collaboration with the Global Tiger Forum and the Global Tiger Initiative. The participants include leaders from all 13 tiger range countries, scientists, and conservation organizations, including WWF, the International Fund for Animal Welfare and the Wildlife Trust of India.
"These numbers give us hope for the future of tigers in the wild, and that India continues to play an integral role in the tiger's recovery," said WWF International Director General Jim Leape. He is chairing a conference session on the role of international and national partners in implementing the Global Tiger Recovery Programme, the first formalized international initiative to save the species from extinction.
This worldwide plan to bring the species back from the brink of extinction by doubling the world tiger population by 2022 was forged last November at an international tiger conservation meeting in St. Petersburg, Russia hosted by Russian Prime Minister Vladimir Putin.
"As seen from the results, recovery requires strong protection of core tiger areas and areas that link them, as well as effective management in the surrounding areas," said Mike Baltzer, who heads WWF's Tigers Alive Initiative. "With these two vital conservation ingredients, we can not only halt their decline, but ensure tigers make a strong and lasting comeback."
"The good news is that we can save the tiger," said Azzedine Downes, executive vice president of the International Fund for Animal Welfare. "To do so, the world community must find new ways of working together and the political will to translate talk into action. The global action plan's goal to double the wild tiger population by 2022 is a positive step in that direction."
Vivek Menon, executive director of the Wildlife Trust of India and IFAW's regional director for South Asia, is on the front lines of tiger conservation. "We have provided training and equipped more than 8,500 frontline staff in India alone. Our field officers have also played a crucial role in securing tiger habitats in a number of Indian states, by facilitating granting them protected area status," he said.
Montek Singh Ahluwalia, deputy chairman of India's Planning Commission said that developmental activities are not always against conservation of wildlife. He said, "It is very important to conserve tigers. It is not just matter of money, it is matter of keeping human intervention sufficiently at bay."
Wild tigers are now found in Indonesia, Malaysia, Cambodia, Vietnam, Laos, Thailand, Myanmar, Bangladesh, Bhutan, India, Nepal, China and Russia.
Copyright Environment News Service (ENS) 2011. All rights reserved.