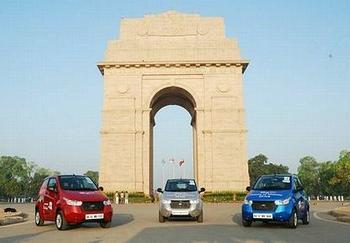 NEW DELHI, India, July 11, 2013 (ENS) – India's Prime Minister Manmohan Singh Wednesday put his government's stamp of approval on the rapid development of hybrid and electric vehicles, despite "uncertainties on the horizon."
India has the potential to emerge as a "global manufacturing hub for electric and hybrid vehicles," Prime Minister Singh and the High Level Committee on Manufacturing concluded at a meeting in New Delhi.
The meeting was convened to draw a roadmap for boosting competitiveness and output in three "strategic" industries –  electric and hybrid vehicles, civilian aircraft manufacture, and advanced materials and composites as well as in two "important" sectors – textiles and steel.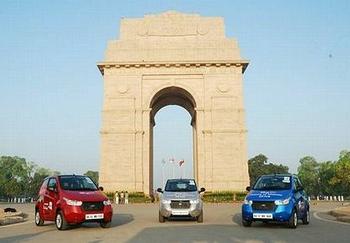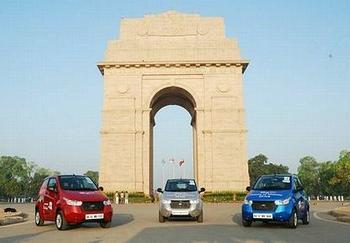 All the ministers and officials of departments relating to the manufacturing sector were in attendance, including the ministers of science and technology, micro, small and medium enterprises, heavy industry, civil aviation, steel, textiles and the deputy chairman of the Planning Commission.
The discussion centered around the proposals made by the National Manufacturing Competitiveness Council, which were presented by the Chairman Dr. V. Krishnamurty.
Prime Minister Singh said, "On electric and hybrid transport, civilian aircraft production and advanced materials, I agree that we should start working for the future, even if it takes time and even though there are uncertainties on the horizon."
"There are certain manufacturing sectors which have undoubtedly done well over the last 20 years. Automobiles, auto-components, pharmaceuticals, metals and cement are some such areas which quickly come to one's mind," he said. "However, we have not been able to leverage our strengths both in traditional industries and in emerging sectors to the extent we could have."
That is about to change as the structure of India's economy shifts from agriculture to manufacturing, said the Prime Minister.
Electric and hybrid vehicles "are the key to low carbon transport," because they do not generate pollution while moving, the Committee concluded, agreeing to proceed with electric and hybrid vehicle development projects in India's largest cities.
The Committee endorsed the launch of public transport pilot projects for electric and hybrid vehicles, such as three wheelers, mini buses and larger buses.
The first trials will take place in Delhi to be followed by other metropolitan areas after necessary approvals are obtained.
The Committee decided that these pilot projects would be implemented by city-specific special purpose vehicles – not motor vehicles but business associations similar to companies that help in separating risk and freeing up capital for big projects.
Within four weeks an Inter-Ministerial Group that includes the Chief Secretary of Delhi will work out implementation details for the first pilot project in Delhi, which is targeted for launch in August.
Copyright Environment News Service (ENS) 2013. All rights reserved.