Hybrids 25 Percent Safer in a Crash
ARLINGTON, Virginia, December 19, 2011 (ENS) – The odds of being injured in a crash are 25 percent lower for people in hybrids than people traveling in nonhybrid models, new research by the Highway Loss Data Institute shows.
The Highway Loss Data Institute, HLDI, is an affiliate of the Insurance Institute for Highway Safety, an independent, nonprofit, scientific, and educational organization dedicated to reducing deaths, injuries, and property damage from crashes on U.S. highways.
"Weight is a big factor," says Matt Moore, Highway Loss Data Institute vice president and an author of the report. "Hybrids on average are 10 percent heavier than their standard counterparts. This extra mass gives them an advantage in crashes that their conventional twins don't have."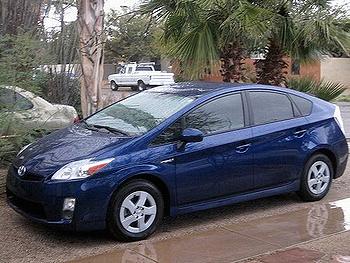 Toyota Prius hybrid (Photo by Laura)
For the study, HLDI estimated the odds that a crash would result in injuries if people were riding in a hybrid versus the conventional version of the same vehicle.
The analysis included more than 25 hybrid-conventional vehicle pairs, all 2003-11 models, with at least one collision claim and at least one related injury claim filed under personal injury protection or medical payment coverage in the period 2002-10.
Even with advances in occupant protection, larger vehicles still are safer choices than smaller ones, and in the past downsizing vehicles to improve fuel efficiency has resulted in safety trade-offs.
Moore says it's well known that size and weight influence injury likelihood. In a collision involving two vehicles that differ in size and weight, the people in the smaller, lighter vehicle will be at a disadvantage.
The bigger, heavier vehicle will push the smaller, lighter one backward on impact. This means less force on people in the heavier vehicle and more on the people in the lighter one.
Greater force means greater risk, so people in the smaller, lighter vehicle are more likely to be injured. Even in single-vehicle crashes, heavier vehicles have an advantage because they are more likely to move, bend, or deform objects they hit.
The trend among automakers has been to boost fuel economy by designing more efficient internal combustion engines and by adding hybrids to their fleets.
Hybrids may share the same footprint and structure as their conventional counterparts, but the battery packs and other components used in dual-power systems add hundreds of pounds.
At about 3,600 pounds, a hybrid Honda Accord midsize sedan, for example, can weigh as much as 480 pounds more than a conventional Accord. A hybrid Toyota Highlander, a midsize SUV, weighs about 4,500 pounds, compared with about 4,170 pounds for the conventional Highlander.
Until recently, car buyers had to choose between economizing on fuel or driving a heavier but safer vehicle, because fuel-efficient cars tended to be smaller and lighter. Now, consumers have more options than ever when it comes to picking an environmentally friendly – and crashworthy – vehicle.
The finding is good news for green-minded drivers who want improve safety while also improving fuel economy, said Moore. "Saving at the pump no longer means you have to skimp on crash protection."
Copyright Environment News Service (ENS) 2011. All rights reserved.