Hurricane Irene Blasts Puerto Rico, Heads for U.S. Mainland
MIAMI, Florida, August 22, 2011 (ENS) – Hurricane Irene became the first hurricane of the 2011 Atlantic hurricane season as it struck Puerto Rico with Category 1 force overnight.
Blowing 80 mph with higher gusts, Irene caused Puerto Rican rivers to overflow their banks, flooded streets, and upended trees and power poles across the island, leaving more than a million people without power. San Juan airport was closed but re-opened today. No fatalities have been reported.
Irene is moving over the northern coastal regions of the Dominican Republic this afternoon and tonight. The storm is forecast to become a major Category 3 hurricane on Thursday, as it nears the central Bahamas.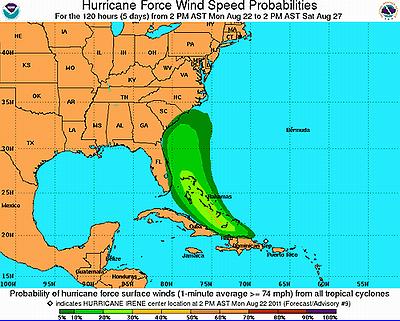 Map shows the forecast path of Hurricane Irene over the five days following 2 pm August 22, 2011. (Map courtesy National Hurricane Center)
The National Weather Service warns the storm could impact the south Atlantic coast of the United States later this week. If that occurs, Irene would be the first hurricane to make landfall in the United States since Ike in 2008.
As Hurricane Irene intensifies, the Federal Emergency Management Agency is coordinating federal response efforts to support territory and local officials in Puerto Rico and the U.S. Virgin Islands.
"FEMA, along with the entire federal family, is closely monitoring Hurricane Irene, and is coordinating with all of our state and territorial partners that have or could potentially be impacted by this storm," said FEMA Administrator Craig Fugate. "We stand ready to support the areas that have already been impacted and encourage those residents to continue listening to the instructions of their local officials."
"For residents in states that may be affected later this week, it's critical that you take this storm seriously and take steps now to prepare your families, homes and businesses," said Fugate. "Visit Ready.gov or Listo.gov to learn how."
In Puerto Rico, FEMA has more than 200,000 liters of water, more than 400,000 meals and more than 1,400 cots and blankets. These commodities are meant to supplement territorial resources if needed, Fugate said. He encouraged everyone to prepare for hurricane conditions. "It's critical that individuals and families build their own emergency supply kits," he said, "so that in the event of a disaster, state and local resources can be focused on our most vulnerable residents."
FEMA encourages everyone, regardless of whether or not they live in a hurricane-prone area, to ensure their family, homes and businesses are prepared for a possible emergency.
Fugate says important items to have ready in case of an emergency include a battery-powered radio such as a NOAA Weather Radio, flashlight, extra batteries, medicines, non-perishable food, hand-operated can opener, utility knife and first aid supplies.
Important documents, such as medical records, contracts, property deeds, leases, banking records, insurance records and birth certificates, should be copied and kept in a safe place.
State and local officials make decisions on issuing evacuation orders, so Fugate urges people to listen to local officials and know their evacuation routes in case orders are given to evacuate ahead of a hurricane.
Copyright Environment News Service (ENS) 2011. All rights reserved.