Hurricane Earl Batters Caribbean Islands, Heads for U.S. East Coast
MIAMI, Florida, August 31, 2010 (ENS) – A major storm blowing across the northeastern Caribbean Sea has strengthened to a Category Four hurricane, generating sustained winds of 135 miles per hour with higher gusts.
Hurricane Earl has been ripping roofs off buildings, toppling trees and cutting power to islanders on a course that could threaten the eastern United States later this week.
Cruise ships were diverted and flights canceled across the eastern Caribbean region Monday. Hurricane Earl has damaged homes on several islands including Antigua and Barbuda, where emergency response officials said about 350 people were in shelters.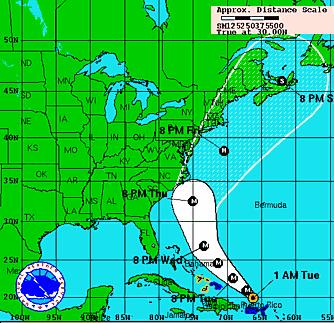 Five day forecast track for Hurricane Earl (Map courtesy NOAA)
On the island of St. Martin, 186 miles east of Puerto Rico, winds hit 88 miles per hour and there were numerous reports of power outages and flooding Monday.
The storm is expected to gain even greater strength before heading northwest towards the United States, where it is aimed directly at the North Carolina coast.
Forecasters are warning people from the Carolinas north to New England that Earl is a major hurricane that could cause "catastrophic" damage if it strikes land.
Jeff Orrock, a meteorologist at the National Hurricane Center in Raleigh, North Carolina, said the Hurricane Earl forecast track comes along the North Carolina coast on Thursday night and into early Friday morning with winds of 120 mph.
"On its current track hurricane force winds will be possible along the Outer Banks and Sounds with tropical storm force winds possible as far inland as Interstate 95 all depending on the actual storm track," Orrock said.
But there is no telling yet how great the danger to the East Coast actually will be. The National Hurricane Center in Miami said tonight, "There is still considerable uncertainty as to how close the hurricane will come to the U.S. East Coast.
Currently, the National Hurricane Center has issued a tropical storm warning for Puerto Rico, including the islands of Culebra and Vieques, the U.S. Virgin Islands, the British Virgin Islands and the Turks and Caicos Islands.
Packing heavy rains and strong winds, the storm has now passed by the Virgin Islands. It is currently northeast of Puerto Rico, and is moving west-northwest at about 14 miles per hour.
Tonight the central eye of Hurricane Earl is forecast to pass about 60 miles north of Puerto Rico where north-facing beaches will take a pounding by the heavy surf and a storm surge of up to four feet.
The National Weather Service in San Juan, said hurricane force winds will not strike Puerto Rico, but the island will face tropical storm strength winds of up to 74 mph.
Puerto Rico Governor Luis Fortuno declared a state of emergency today that authorizes $4 million for the payment of insurance policies for flood control for low-income families that live in areas low-lying areas.
Governor Fortuno closed non-essential government agencies at midday Monday and schools sent students home early. Fortuno said most government workers and all public school students would be excused from work or school on Tuesday except for workers performing essential services.
The island's ports have been shut down until Earl blows through. "We have enough food. There is no emergency," the governor said.
Canceled flights stranded hundreds of travelers at Luis Munoz Marin International Airport in Isla Verde. American Airlines announced cancellations from San Juan to Tampa, Miami, New York, Philadelphia, Santo Domingo and Caracas. American Eagle suspended all flights through 2:00 pm Tuesday.
By Monday afternoon, power had been knocked out to some 190,000 Puerto Rico Electric Power Authority customers and some 3,000 residents were left without water service.
The National Weather Service in San Juan says the outer rain bands of Hurricane Earl will continue to bring periods of torrential rainfall and tropical storm force winds to Puerto Rico and the U.S. Virgin Islands through the morning hours.
Due to saturated soils across the local islands, flash flooding as well as mudslides can be expected, and a flash flood watch remains in effect, forecasters said.
Hurricane Earl is being followed closely by Tropical Storm Fiona, which formed Monday afternoon and is currently east of the Leeward Isles with winds of up to 35 miles per hour.
Hurricane Danielle continues to swirl northwards across the central Atlantic Ocean at Category 1 strength and is not forecast to make landfall.
Copyright Environment News Service (ENS) 2010. All rights reserved.