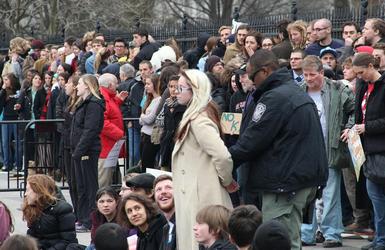 WASHINGTON, DC, March 2, 2014 (ENS) – Police arrested more than 370 young people who tied themselves to the White House fence on Sunday to protest the proposed Keystone XL tar sands oil pipeline.
Called XL Dissent, the protest was organized by college and university students to urge President Barack Obama to reject the northern leg of TransCanada's proposed Keystone XL pipeline, which needs presidential approval because it would cross an international border on its way from the Alberta tar sands to refineries in Texas.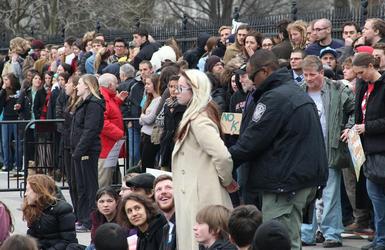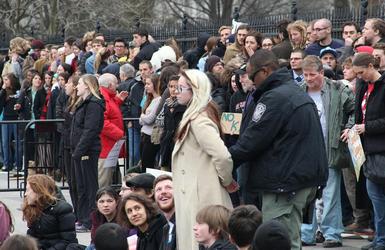 Organizers said the event was an opportunity for young people "to raise our voices in solidarity with communities most impacted by extreme energy. These include Indigenous First Nations in Alberta resisting tar sands extraction, people along the pipeline route opposing TransCanada's use of eminent domain, and those near major refineries in Texas fighting environmental racism."
"Approval of the pipeline would ensure that our generation will also experience environmental devastation," they said. "We are coming together to register our dissent."
The protesters represent over 50 colleges and universities taking action as the fight over the Keystone XL tar sands pipeline is nearing a final decision. The State Department has completed its final supplemental environmental impact statement and Secretary of State John Kerry is expected to make a recommendation to President Obama shortly.
The protest began at Georgetown University. As they marched, hundreds of college students and others chanted "climate justice now" and carried signs saying "don't tarnish the earth." They are asking Obama to reject the pipeline to protect them "from a future defined by climate chaos."
Before reaching the White House the protesters rallied outside Secretary Kerry's house on O Street with a banner reading, "Sec. Kerry: Don't Tar Your Legacy" to push him to recommend that President Obama reject the pipeline.
Protesters were orderly and cheered as U.S. Park Police warned them that blocking the sidewalk or strapping themselves to the White House fence would get them arrested. In total, 372 were arrested, police said.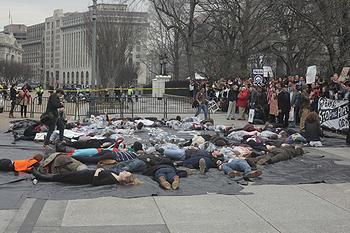 President Obama was at the White House on Sunday, but he was preoccupied with the incursion of Russia into Ukrainian territory. The President spoke separately Sunday afternoon with the leaders of Germany, Poland and the UK and issued a statement with the other G-7 leaders that activities leading to the scheduled G-8 Summit in Sochi, Russia in June would be suspended.
If approved, the Keystone XL pipeline would carry 830,000 barrels of diluted bitumen a day from the Alberta tar sands to link up with existing pipelines in Nebraska that would move the bitumen to refineries on the Texas Gulf coast.
TransCanada and its supporters argue that the extraction, transport, refining and burning of this heavy oil would not significantly increase greenhouse gas emissions.
They contend that the United States and the world need this energy and and say it would create thousands of temporary jobs, while acknowledging it would create just a few dozen permanent jobs in the United States.
Speaking at the University of Oregon Law Conference on Saturday, climate scientist James Hansen, who worked for decades with NASA before retiring last year, said about XL Dissent, "These people who are willing to put themselves on the line are real heros because our leaders do not understand the importance of this."
"For them to rule that there's no environmental impact is pure scientific garbage. We have to leave those dirtiest fuels in the planet in the ground. We can still do that," said Hansen, who has himself been arrested for protesting the pipeline in front of the White House.
"There's only a teeny fraction of tar sands that have been extracted so far," he said. "If we keep that pipeline from being built and get a fee on carbon, all of that stuff will be left in the ground. But we better stop the pipeline first."
As part of the protest, hundreds of students from across the country met Saturday to share strategies and tactics for the growing fossil fuel divestment movement that has spread to over 300 colleges and universities.
The Fossil Free movement maintains that it is wrong to profit from wrecking the climate.
As Wesleyan sophmore Maya McDonnell Friday, "We don't want our education being funded by climate destruction. Wesleyan should invest in our future – not in companies that are poisoning communities and destabilizing our climate."
Copyright Environment News Service (ENS) 2014. All rights reserved.