House Republicans Would Slash Ten Environmental Programs
WASHINGTON, DC, January 21, 2011 (ENS) – USAID, Energy Star, high speed rail, organic certification and weatherization are among the federal environmental and sustainable business programs that would be eliminated by the House Republicans' plan to cut government spending by $2.5 trillion over the next 10 years.
Made public Thursday, the Spending Reduction Act of 2011 is proposed by members of the conservative Republican Study Committee, which is chaired by Ohio Congressman Jim Jordan.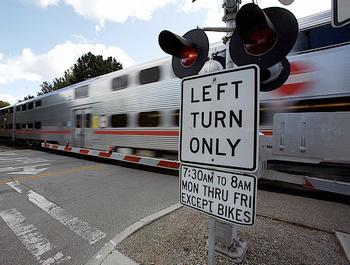 Rail travel would be slashed under the Spending Reduction Act. (Photo by Governing Magazine)
"The national debt has grown from $8.6 trillion four years ago to more than $14 trillion today," said Jordan. "This mountain of debt, nearly the size of our entire economy, threatens to create a whole new financial crisis."
"Every day we refuse to change course and instill some fiscal responsibility, the problem grows even larger," Jordan said. "Unless Washington acts soon to cut spending, massive tax hikes, economic stagnation, and national bankruptcy will rob our children of the opportunity to reach for the American Dream."
The Spending Reduction Act starts by taking current spending back to 2008 levels and repealing $45 billion in unspent funds from the American Recovery and Reinvestment Act of 2009, President Barack Obama's $787 billion economic stimulus law.
Under the proposal, at the beginning of the next fiscal year on October 1, 2011, spending would be further reduced to 2006 levels and frozen there for the next decade.
The bill specifically targets over 100 budget items and spending reform, 10 of them environmentally-related.
The environmental programs that would be cut if this proposal makes it through the legislative process and is signed into law by President Obama would save the government a little over $8 billion, according to savings estimates provided by the Republican Study Committee.
They are:
Intercity and High Speed Rail Grants. $2.5 billion annual savings
New Starts Transit capital investments in public transit to reduce congestion and improve air quality. $2 billion annual savings
U.S. Agency for International Development. $1.39 billion annual savings
Applied Research at Department of Energy. $1.27 billion annual savings
Department of Energy Grants to States for Weatherization. $530 million annual savings
FreedomCAR and Fuel Partnership. $200 million annual savings
Beach Replenishment. $95 million annual savings
Eliminate the National Organic Certification Cost-Share Program. $56.2 million annual savings
Energy Star Program. $52 million annual savings
Eliminate taxpayer subsidies to the United Nations Intergovernmental Panel on Climate Change. $12.5 million annual savings
The plan was criticized today by the Wildlife Conservation Society. John Calvelli, WCS's executive vice president for public affairs, said, "Efforts by lawmakers to eliminate the U.S. Agency for International Development could have disastrous consequences for the effective implementation of our nation's foreign policy goals."
"From Afghanistan to Somalia to Darfur, control of natural resources drives many of the world's conflicts today," said Calvelli.
"Funds provided by USAID to help nations better manage those resources creates necessary stability," he said. "Their absence provides opportunities for illegal activities like the drug trade and the growth of terror networks, which operate easily in unmanaged wilderness areas."
Calvelli added, "Support from USAID has enabled global health experts to quickly respond to avian flu and other contagions threatening humans. … Removing this pillar of diplomacy harms all Americans."
Founded in 1895 and based at the Bronx Zoo in New York, the WCS addresses what it calls "four of the biggest issues facing wildlife and wild places: climate change; natural resource exploitation; the connection between wildlife health and human health; and the sustainable development of human livelihoods."
Copyright Environment News Service (ENS) 2011. All rights reserved.
Environment News Service (ENS) © 2011 – 2012 All Rights Reserved.